Please note that all school sport will continue throughout the examination period. There will be a new timetable available in the first week of May to assist with planning. The On-the-Move and Social sports sessions will commence at 12:45.
Parents, please access the winter sports fixtures on the link below:
RGHS WINTER SPORT FIXTURES 2022
School Sports
Hockey
Hockey Report v Curro Durbanville/Herschel
Our U14, U16 and U19A teams were able to enjoy their final pre-season preparations before the league commences over the weekend. We welcomed Curro Durbanville onto our beautiful campus on Friday and it was an absolute spectacle. Having supporters back on our stands, balls girls for our first team game and a great vibe on our campus, was amazing.
Our U19B team played against Herschel U19C at Herschel in a preparation game and walked away with a great result.
Results were as follows:
| | | | |
| --- | --- | --- | --- |
| Opponent | Venue | Result | Goal Scorers |
| Curro Durbanville U14A | RGHS | 0-3 | |
| Curro Durbanville U16A | RGHS | 6-0 | Ally Goulding x 3, Christy Augustine x 2, Ashleigh Briers-Danks |
| Curro Durbanville U19A | RGHS | 3-3 | Nina von der Heyden x 2 & Leah Hofmeyr |
| Herschel U19C | Herschel | 4-1 | Ashleigh Rix, Simone De Villiers & Taybah Williams x 2 |
Congratulations to all our hockey teams.
Netball
RHENISH DERBY DAY [PREMIER INTERSCHOOLS x SUPERSPORT SCHOOLS] SATURDAY 23 APRIL
An amazing day out in Stellenbosch on Saturday 23 April, where Rustenburg travelled with their "A" Netball teams to Rhenish to compete in the Premier interschools' competition that was televised on Supersport and the Supersport Schools App.
The under 14, 15 and 16A teams had a tough day out against the Rhenish sides losing their games on the day – scores were 14-21 (14As), 6-21 (15As) and 10-21 (16As). Despite these results, plenty of fight and spirit were on display. The junior teams showed tenacity and determination throughout the 30 minutes of play.
Our Rustenburg 1st and 2nd teams took the game to Rhenish and broke the losing streak with some fantastic Netball. The 2nd team had a close encounter, edging victory by just 1 point in a thriller match ending 11-10. The 1st team ended the Saturday on such a high for our Rustenburg Netball, beating Rhenish 1st team 25-16. All players contributed with outstanding performances, and Coach Vanessa was pleased with the effort from the team. One player, in particular, had done some damage to the Rhenish defence by dominating the goal attack position. Zeetha Gain (Grade 11), who missed only one shot, ultimately won the Player of the Match Award.
The Rustenburg teams were nothing short of character and commitment on the day. No matter the result, every player gave it their all and played their hearts out. We are extremely proud of our teams!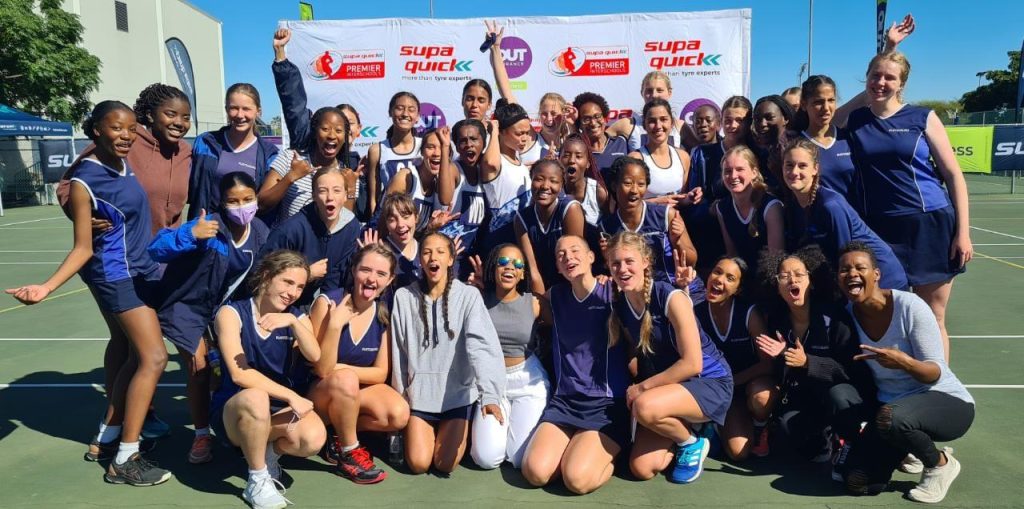 Squash
Our 1st Squash Team enjoyed their first league match of the season. We played at Westerford against Westerford on Monday 25 April winning our first fixture. The results are as follows:
| | | | |
| --- | --- | --- | --- |
| RGHS PLAYER | Result | Games | Points |
| 1. Tara Neville-Smyly | Won | 3-0 | 1 |
| 2. Amy Basson | Lost | 0-3 | 0 |
| 3. Isla Barbour | Won | 3-1 | 1 |
| 4. Emma Phillipson | Lost | 2-3 | 0 |
| +2 bonus points for a win | | 8-7 | Win 10-7 |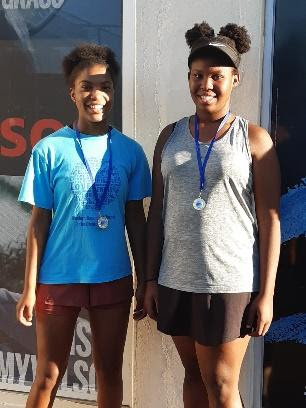 Tennis
Maggie Krieg (Grade 9) – pictured right – and her partner won the gold medal this past weekend in the doubles at the Cape Town Mini 4 U16 tournament.  The final score was 6-0; 6-2. Well done, Maggie.
Non School Sport
Biathle & Biathlon
Skye Micklethwaite (Grade 10) has again most recently excelled. Skye achieved 10th place at the SA Biathlon Nationals. In Biathlon, Skye competes in the U17 section and is required to run 800m and then later in the day swim 100m for time.
This past weekend Skye took part in the Western Cape Biathle Championships and achieved a new personal best, shaving a minute from her previous PB and placing second in the U17 section. Biathle is a continuous event and includes a 1200m run; 200m swim; 200m run.
Congratulations, Skye, on these great achievements.
Highland Dancing
After more than a 2-year break, a Highland Dancing competition took place in Cape Town on Saturday 23 April. Bella Francisco (Grade 11) and Lexi Vervoort (Grade 10) participated in 8 dances each with excellent results.
Bella placed 1st 6 times and placed 2nd once.
Lexi placed 1st once; 2nd twice; 3rd once and 4th twice.
Isabella won both sections of Highland and National dancing while Alexa was runner up in the Highland section. Congratulations on these outstanding results.
Open Water Swimming
Bianca Bysshe (Grade 12) took part in the Robben Island Relay Swim to raise money for the NSRI Drowning Prevention Program. They teach young children how to be safe in and around water.
Bianca wrote: "We swam on Thursday 21 April. It was a day (and night) filled with nerves. I don't think any of us got a good night's sleep the night before. Heading over to Robben Island, it was really foggy and we couldn't see 5m away, let alone the island. Fortunately, it cleared and so we started. My swim was cold (water temperature 12,5°C) but once I found a rhythm it was good. It was an incredible experience and I'm definitely going to do it again, hopefully the full crossing."
Congratulations, Bianca.