Rustenburg host the U16 Hockey and Netball Champions Cup tournament on 8 and 9 April this year. It is the 6th edition of this tournament after the 2-year pandemic. We have 15 Hockey Teams and 14 Netball teams attending our tournament. In total, we have 450 participants – players, coaches and management. We have secured a sponsor for the event, Varsity College. T-shirts and goody bags are currently being manufactured and printed, however, we are still looking for goodies to place in the goody bags. If there is someone out there who can provide 450 of an item for us to swell these bags we would so appreciate you making contact with us. Thanks in advance should you be able to assist us.
Sign-up for Winter sport started on Monday 21 March and closes on Friday 25 March at noon. Please make sure you are on one of the Sports registers for Terms 2 and 3.
Our 1st Football and Netball Teams will be competing in the Reddam Tournaments from 31 March to 2 April. Our U19A Fairmont Easter Tournament team will be participating from 30 March to 2 April at Fairmont and the surrounding schools. We wish all our players and coaches the best of luck.
School Sport
On-the-Move
The On-the-Move activity started in March 2021 and has become very popular with the participants. Anyone may participate in this activity on Tuesdays and/or Thursdays. Learners walk or run the trail route on the campus up to a maximum of 3 laps in an afternoon. In this way, they accumulate kilometres and work their way into the Rusty Runners Club (RRC).
Membership of the RRC starts with 25km completed.
The Awards are as follows:
Bronze standard – 25km
Silver standard – 50km
Gold standard – 75 km
Platinum standard – 100km
Double Gold standard – 150 km
Double Platinum standard – 200km
We are very excited to announce our first member to achieve the PLATINUM standard.
TOTAL kms
NAME
SURNAME
FORM
NEW PLATINUM 100km+
101
Morgan
Hunter
B4
The following participants have reached new milestones this past term:
TOTAL kms
NAME
SURNAME
FORM
NEW GOLD 75km +
88
Sienna
de Pomeroy-Legg
B5
85
Danica
Turner
C6
82
Isabella
Wright
B5
81
Ameera
Coe
B
80
Meera
Beattie
C5
79
Alex
Arendse
B
77
Mthombo
Gwadiso
B
TOTAL kms
NAME
SURNAME
FORM
NEW SILVER 50km +
63
Michaela
Smith
C3
62
Megan
McKenzie
D
59
Ella
Booysen
C6
58
Madison
Bailey
B
55
Natalie
Mawman
E6
53
Aa'ishah
Khan
E
51
Jorja
Annison
D
51
Rania
Higgins
C5
50
Caitlin
Jackson
D
50
Sihle
Maswana
B
Special mention should be made of Lizé Solomons in Grade 8 who has already completed 30 kilometres in her first term at Rustenburg.
TOTAL kms
NAME
SURNAME
FORM
NEW BRONZE 25km +
38
Tayla
Alberts
C3
38
Madison
Bailey
B5
33
Maya
Vogt
B2
31
Vedika
Kalan
B
31
Logan
Johnston
B1
31
Genna
Van Der Walt
B4
30
Isabella
Ghignone
B
30
Aaliyah
Ismail
B
30
Lucy
James
C1
30
Lizé
Solomons
A4
29
Sarah
Essack
B
29
Lirandzu
Simango
B6
28
Rachel
Van Schalkwyk
D
28
Raya
Nathoo
B
28
Tamsyn
Arendse
C
28
Megan
Damstra
B6
28
Catherine
Hayward
B
28
Lindokuhle
Mdunyelwa
C2
28
Khanyisile
Nokwali
B5
27
Payal
Somai
D
27
Nia
McGowan
C
27
Tina
Tsutsu
B
27
Gemma
Forbes
C5
27
Haniya
Hashim
B4
27
Jenna
Thomas
B1
26
Lucy
James
C
26
Isabel
Gomes
B
26
Genna
Van Der Walt
B
26
Huda
Kasker
C
26
Cassidy
Philander
C3
25
Asiyah
Adams
B5
25
Hannah
Dammert
B
Outdoor Hockey
Hockey Report for DF Malan and Milnerton
For the second consecutive weekend, our teams were out at various pre-season festivals.
The RGHS U14A team played in the SALT DF Malan Tournament, where matches were played at DF Malan and Durbanville High School. It is great to see how happy all the learners are, and a massive thank you to the U14A Coach and Parents for a wonderful weekend.
SALT DF Malan U14A Results:
| | |
| --- | --- |
| OPPONENT | SCORE |
| Paarl Girls | 0-1 |
| Bloemhof | 0-5 |
| Rhenish | 0-0 |
| Parel Vallei | 0-0 |
| DF Malan | 0-0 |
| Paarl Gim | 0-2 |
| Stellenberg | 0-0 |
Congratulations to our U14A SALT DF Malan Tournament Team.
While our U16A team got a break and are looking forward to playing in the Rustenburg Champions Cup on 8 and 9 April, the RGHS U19 team took part in the Milnerton Hockey Festival. The matches were played at Edgemead High School and Elkanah House.
Milnerton Hockey Festival Results:
| | | |
| --- | --- | --- |
| OPPONENT | SCORE | SCORERS |
| | | |
| Edgemead | 3-0 | Ally Goulding, Amber de Villiers & Christy Augustine |
| Elkanah | 5-0 | Jodie Blows x 3, Nina von der Heyden & Christy Augustine |
| Parel Vallei | 5-0 | Jodie Blows x 3, Nina von der Heyden & Christy Augustine |
| The Settlers | 3-1 | Lucy Kane x 2 & Isla Barbour |
Congratulations to our U19A Milnerton Hockey Festival Team.
Netball
RGHS U19A (1st Team) played a warm-up match against Westerford on Tuesday 22 March. The team played exceptionally well and won 36-15. This bodes well for a good season ahead.
Well done to Coach Vanessa and our players.
Swimming
It was fun to enjoy another A-league gala and we thank Rondebosch Boys High School for hosting this event. We do hope that we will be back to the wonderfully newly renovated 50m pool at Newlands in 2023. Results of the A-league gala swum at RBHS on Wednesday 16 March.
| | | |
| --- | --- | --- |
| 1st | Herschel | 232 |
| 2nd | St Cyprians | 217 |
| 3rd | Springfield | 177 |
| 4th | Stellenberg | 164 |
| 5th | Rustenburg | 156 |
| 6th | DF Malan | 131 |
| 7th | Fairmont | 115 |
| 8th | Milnerton | 78 |
| 9th | DSK | 64 |
Individual Swimming news:
Skye Micklethwaite (Grade 10) competed in the Level 3 Championships held this past weekend.
Skye swam exceptionally well and PB'd in 6 out of her 8 events and qualified for the South African Regional Championships in one of her events.
Skye placed first in the 200m backstroke and 100m fly events and second in the 400m freestyle.
Her all-female relay team came first in all their events and her mixed team came third in their one relay.
Congratulations on these outstanding and well-deserved results.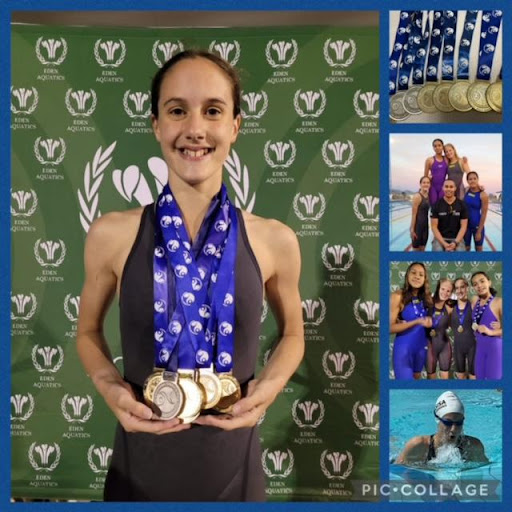 Touch Rugby
Exciting news for 4 of the RGHS WP Touch Rugby players as they have been included in a U18 Squad to potentially represent SA at the 2023 World Cup in Manchester, UK. Congratulations to Alhaan Emeran; Saarah Magiet; Azra Mahmood (Grade 11s) and Loren-Kate Dicks (Grade 10).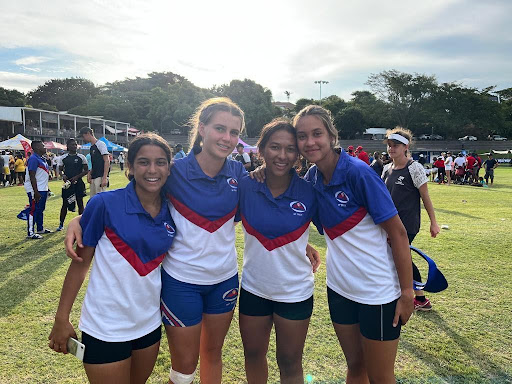 Non-School Sport
Deepsea Angling
Karla Rautmann (Grade 11) has been selected to represent WPDSAA (Western Province Deep Sea Angling Association) in the U19 team at the Junior Bottom Fish Nationals to be fished in Port St Francis from 27 March to 2 April 2022.
Karla was also selected to represent SADSAA (South African Deep Sea Angling Association) in the U19 team to fish in the Senior Bottom Fish Nationals to be held in East London from 26 April to 1 May 2022. SADSAA colours is the intermediate phase between Provincial Colours and National/ Protea Colours and as such, selection for a SADSAA team is a tremendous achievement and honour. Huge congratulations on your selection and good luck for the upcoming tournaments.