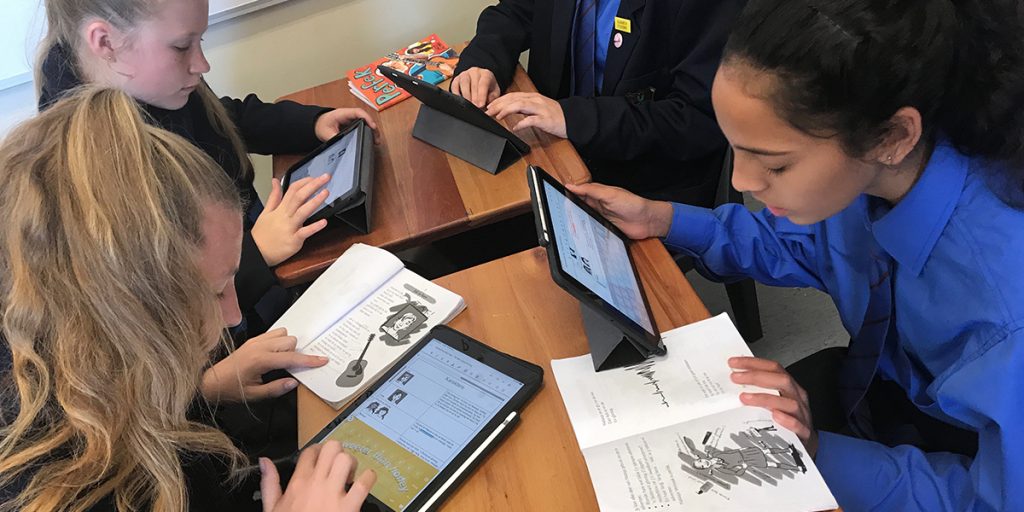 The concept of a Bridging programme for all Grade 8 pupils was proposed midway last year when teachers discussed the impact of junior school pupils, across some 59 feeder schools, experiencing two disruptive academic years because of Covid-19. These ideas were refined in September 2021 at an open-invitation think-tank. It was decided that the 2022 focus could be on Literacy (English Home Language) and Numeracy (Mathematics), key aspects of learning which impact subjects across the board.
Bridging currently exists only as a working title. Changes and amendments will be incorporated based on the feedback offered by Grade 8 teachers as they reflect on academic progress during this year.
Ms Jacobs is responsible for the Capacity Building and Skills section. Pupils have been taught how to use Goodnotes on their iPads, as well as how to draw mind-maps and mnemonics to brainstorm ideas visually. There will be a special focus on study skills, managing stress, and preparation in the build-up to the midyear examinations. Ms Jacobs also teaches Grade 8 Life Orientation, along with Ms Tame. These classes assist learners emotionally with the transition from junior school to high school.
Mr Skelly runs the Literacy component, which focuses on comprehension skills (Reading for Meaning and Understanding). It is understood that language competency impacts all subjects. All departments have been advised to focus especially on vocabulary extension.
Ms Norval supervises Peer Tutoring, now incorporated within the Academic portfolio rather than as one of Rustenburg's service groups. Peer tutors, often from Grade 11 or Grade 12, can be partnered with Grade 8 learners who request additional support in particular learning areas. Grade 8s can also make appointments with the school counsellors for individual assistance.
Another essential component of the programme involves learning how to use technology effectively. iPads were first introduced at Rustenburg a few years ago. Ms Myers teaches Information Technology fundamentals. Ms Ngaka is responsible for Microsoft Office skills, needed for submissions of project work and assignments. Mr Neethling focuses on how technology can help pupils to be more organized in their learning.
The Mathematics Department, under the leadership of Mr van Koersveld, has risen to the challenge and been proactive in adopting a distinctively Bridging approach. All Grade 8 pupils underwent thorough diagnostic testing. These assessments allowed teachers not only to place learners into sets, so that each receives mentoring according to current aptitude, but also revealed from the outset those aspects of the junior school curriculum needing consolidation.
It must be noted that Bridging does not replace the specific subject-support strategies of individual teachers and intervention by Subject Heads. Grade 8 parents or guardians, who have any academic concerns, are asked to continue corresponding with their child's tutor as the first port of call or directly with the relevant teachers in the case of subject-related matters. Tutors will be able to redirect queries elsewhere, where necessary.