We are so very excited to be hosting the 6th edition of the U16 Hockey and Netball Champions Cup tournament this weekend. We have 15 Hockey Teams and 14 Netball teams participating. Please do pop in and support us on Friday (12 noon to 20:00) or on Saturday (07:15 – 20:00). The links to the fixtures are below:
Champions Cup Netball Fixtures
Sport as per the Winter Sports Timetable will start on Monday 11 April. Some Netball and Hockey teams do still need to be confirmed – please be patient as we work to finalise these teams.
School Sport
Football
The RGHS 1st Football team played in the Reddam Football Tournament on 31 March and 1 April. Our players have been training very hard under the guidance of Lungile Oliphant and Ashraf Calvert, so we were excited to finally line up at a tournament.
In the first match vs St Cyprians on Thursday afternoon, our players were nervous and lacked confidence. We went down 1-4 to a more confident team on the day. Our goal was a brilliant goal scored by Tadiwa Manyeruke. Later that afternoon we played against Reddam U19. Our players played with far more confidence and belief in themselves, defending brilliantly. The score was 0-0.
On Friday afternoon we again played a very strong match and drew 0-0 to Rhenish. Our last match of the tournament was against Pinelands High School who appeared to be the strongest team in our pool. Again Although we were unfortunate to lose this game 0-1, the commitment and improvement of our team was phenomenal.
The Player of the tournament for Rustenburg must go to Innie Song, our goalkeeper. Special mention to Aqeelah Ismail and Naadirah Adam. Coach Lungile had this to say about them: " Virtually tireless. These two players destroyed attacks by the opposition and protected the defence ferociously".
Congratulations to all players, coaches and supporters. Rustenburg is extremely proud of you.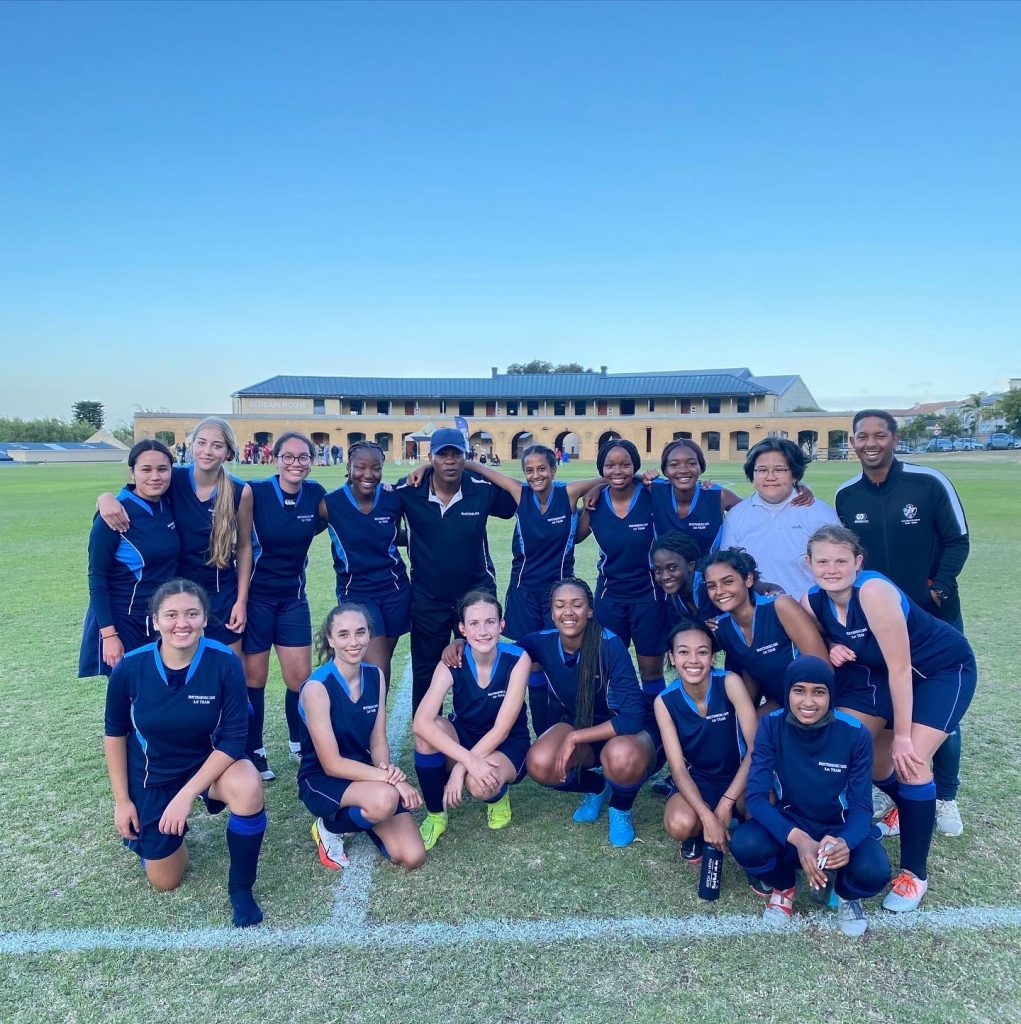 Hockey
Fairmont Easter Hockey Tournament
RGHS was invited to take part in the Fairmont Easter Hockey Tournament that took place during the holidays from 30 March – to 2 April.
160 matches were played over the 4 days, with RGHS playing 7 matches in a tournament that had 24 teams in the boys' and girls' sections respectively.
The team selected to represent RGHS at the tournament finished in 6th place, losing just one game in regulation time along the way. We are incredibly proud of this massive achievement and wish the learners every success for the upcoming season.
Matches were played at a number of schools in the Northern Suburbs. Results below:
| | | | |
| --- | --- | --- | --- |
| DATE | OPPONENT | SCORE | SCORERS |
| 30 March 2022 | Milnerton High School | 3-0 | Lucy Kane, Tatum Malherbe & Jodie Blows |
| 30 March 2022 | Framesby High School | 5-0 | Jodie Blows x 3, Lisa Penney & Lucy Kane |
| 31 March 2022 | Hoerskool DF Malan | 2-0 | Lucy Kane & Jodie Blows |
| 31 March 2022 | Somerset College | 2-3 | Christy Augustine & Tatum Malherbe |
| 1 April 2022 | Oudtshoorn High School | 10-0 | Jodie Blows x 2, Leah Hofmeyr x 2, Tatum Malherbe x 2, Christy Augustine x 2 & Lucy Kane x 2 |
| 1 April 2022 | York High School | 4-1 | Jodie Blows x 2, Tatum Malherbe & Lucy Kane |
| 2 April 2022 | ES Academy Invitational | 1-1 (Lost 3-2 in showdowns) | Lisa Penney |
Congratulations to Jodie Blows (Grade 11) who was selected as part of the tournament team at the end of the tournament.
Netball
The RGHS Netball Team that participated in the Reddam Festival from 31 March to 2 April was a combination of 1st and 2nd team players. These players, under the guidance of Coach Vanessa Lingeveldt, did a sterling job. They played 2 matches on Thursday, 2 matches on Friday and another 3 matches on Saturday. All the matches were made up of 4 quarters of 10 minutes.
The RGHS team were the only team to win 7/7 matches, so are congratulated on a brilliant start to the season. Player of the RGHS team for the tournament goes to Result Machiya (Grade 12).
The scores were as follows:
RGHS 23 Reddam U19A 22
RGHS 24 Reddam U16A 23
RGHS 25 Crawford International Lonehill 20
RGHS 17 Westerford 15
RGHS 52 AISCT 0
RGHS 32 Springfield 15
RGHS 25 Fish Hoek 24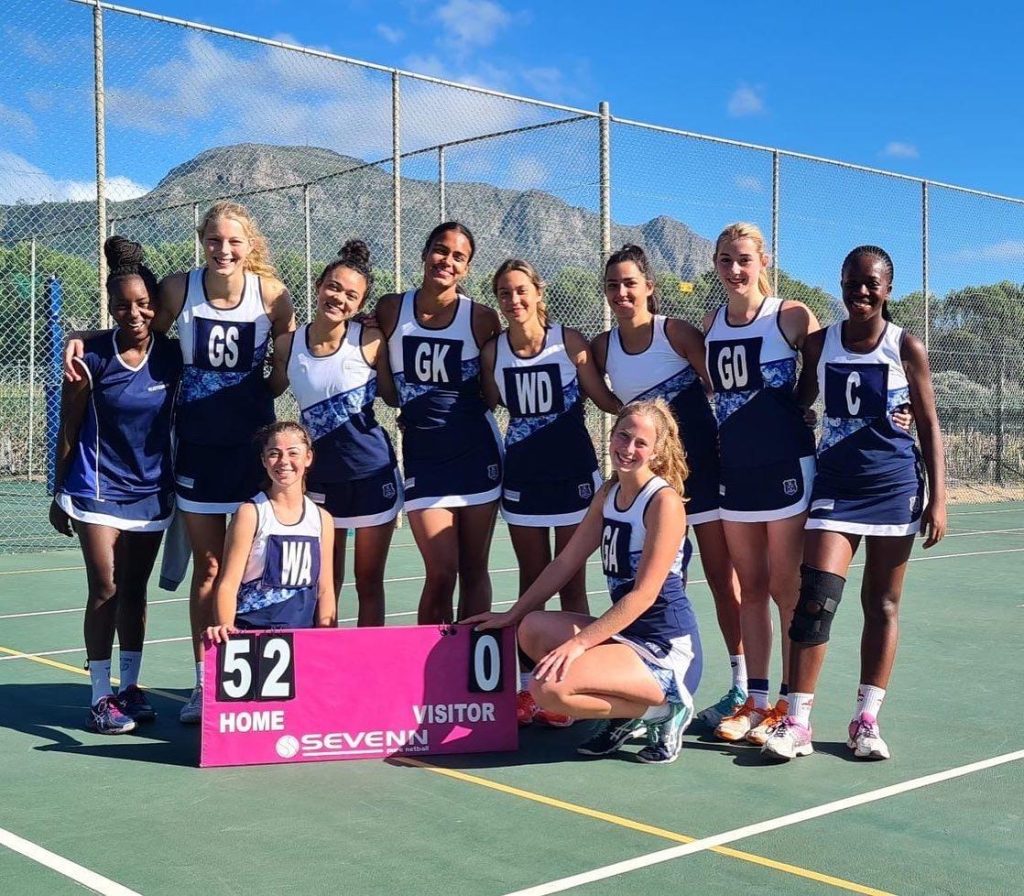 In other Netball news:
Zeetha Gain (Grade 11) took part in the Inter-Provincial Tournament this past holiday. Her team came home with the bronze medal. Zeetha was also selected for the SA Squad. This means that she has been invited to trial for the SA U19 team in 2023. Congratulations on this achievement.
Swimming
Learn-to-Swim and Social Swimming feedback: TERM 1
In Term 1 Social swimming took place on 3 afternoons per week and Learn-to-swim shared the pool with them on 2 afternoons. We introduced an additional afternoon for our Learn-to-Swim participants on a Friday afternoon. On Fridays, they had the use of all 5 lanes, 2 coaches and our resident lifeguard, Kate Biggs (Grade 11). Attendance was exceptional and our coaches and Kate must receive a huge thank from us. The newly renovated pool was extremely well utilised and very much appreciated by so many of our learners.
We did a short request for feedback from our Learn-to-swim and Social swimmers. Read some of their comments below:
Coach taught me how to improve my butterfly rhythm and taught me how to swim faster. I really learnt a lot from her social swimming lessons and I always look forward to the lessons every week.
This term has definitely helped me improve my skills in swimming. It has been so much fun this season and a new skill that I have learnt would probably be to tumble turn. Otherwise, I absolutely love social swimming and would love to do it again.
I had the best term ever, I learnt so many new skills like tumbles turns (which are so painful to do), diving the right way and I finally swam 4 continuous laps.
My coach has taught me so much even more than what I've learnt in my 3yrs of LTS.I have learnt how to tumble, dive, touch the ground of the pool and do the butterfly which is very hard. 😅
She encouraged me to face my fear of the deep end and I always looked forward to LTS because of my coach.
I wasn't a huge fan of swimming but I have really enjoyed our sessions.
I thoroughly enjoyed social swimming this term. I think that the excersises/training allowed me to push myself and get fitter. We learnt tumble turns, how to do butterfly, I progressed in weaker strokes, we practised diving and we did lung busters. Social swimming made me look forward to Mondays 🙂
It has been an amazing experience. The coaches have been so patient and helpful when it came to learning new strokes and even when I struggle with something for too long. Thank you to the LTS coaches and the Friday lifeguard.
I have learnt how to move when I swim because when I first came I couldn't, but now I can and I'm proud of myself. I can also float on my back without the floating board now. I'm really proud of myself 🙂
I learnt how to swim freestyle properly and how to do a backstroke tumble turn.
Social swimming always put me in a better mood. Coach was super friendly and cared about each individual's progress. I learnt many new drills and had fun.
The past few Fridays were literally a COOL experience and fun. l may not have mastered swimming just yet but l learned more helpful tricks that could make me more agile in swimming. I can move my arms and legs better, blow bubbles more calmly and can dive. In short, practice makes perfect.
Non-School Sport
Surf Lifesaving
Ellen Hodgkinson participated in the SA Championships from 24 – 26 March and secured the following results:
Under 15 Female single Surfski: 3rd place in final / Bronze Medal
Under 19 Female Double Surfski: 8th in final
Under 15 Female Beach relay: 9th in final
Junior Taplin Team Under 19: 3rd in final / Bronze Medal
Congratulations to you, Ellen.
A GOOD NEWS STORY and THE IMPORTANCE OF BEING ABLE TO SWIM
Jayde Wilson (Grade 9) was the hero in a sea rescue. An onlooker described her as "the hero of Buffelsbaai"
"While bodyboarding at BuffelsBaai on the afternoon of 25 March two children in the group got caught in a rip current / strong backward currents. Jayde had just entered the water and did not hesitate for 1 second to swim out to rescue the children.
There were no lifeguards on duty at the time and no other people in the water to help. Jayde was able to use her years of swimming experience to relatively quickly get to the one child who was swept further out. This was a great struggle due to all the currents. While doing this she kept calm and focused on the task at hand and managed to call out to the child to keep them calm at the same time. She knew that panic was the biggest threat now.
When she got to the child who was in difficulty she continued to keep her calm and ensured she hung onto the board to assist with the exhaustion that was setting in. She also worked with the child to swim sideways out of the worst of the current. Her fast actions and efforts to get to the child quickly meant she was able to keep her from being swept further out and kept her calm until another onlooker could reach them and together, they fought the currents to get the child to shore safely.
Jayde is commended for putting her fear of the ocean and the pain of a sprained finger aside. She put herself in danger and discomfort to save the child. She was able to use her swimming gift to save a life. She kept her focus and a calm state of mind to prevent herself or the child from progressing into a state of panic.
She was praised by a few onlookers / fellow rescuers for her determination, bravery, and skill – as they themselves were unable to get out to the child at the speed that Jayde did.
We are extremely proud of this young lady and how she put others ahead of herself and changed the situation into a positive outcome.
While heading out to sea with no rescue equipment could probably be seen as a little silly we would not normally encourage people to do the same – rather call the right authorities who have the right equipment. However, Jayde had no other choice, as there was no one else available at that point in time – no surfers, lifeguards or adults. Jayde's Mum tried to alert someone to help – but after failing she too had to head into the water as the only option available."
This is SUPERHERO STATUS, well done to you, Jayde.