It's been another very full week of sport as we conclude many of the Summer sports codes with end-of-season tournaments. We still look forward to the finals of the Touch Rugby tournament league on Friday afternoon, 11 March and the A-league gala on Wednesday 16 March to be hosted at Rondebosch Boys' High School.
Winter Sports trials will continue in term 2, however the last of the trials for this term will be the U15 and U16 Netball trials to be held on Monday 14 March 15:15-17:30.
All Social sports and Football will continue until Friday 18 March. Please continue to attend your sessions.
Sign-up for other winter sport codes will commence in the last week of Term 1. The programme offers Cross Country; Football; On-the-Move and Squash (off-campus at Kelvin Grove Club) (There are no trials for these sports).
The Winter sports schedule is available on the link below:
Good luck to all parents and learners who may be riding the Cape Town Cycle Tour on Sunday 13 March. Stay safe and enjoy our beautiful peninsula.
School Sport
Indoor Hockey
PGSGU Indoor Hockey Report
After what has felt like forever, we were able to finally have a PGSGU Inter-schools Indoor Hockey tournament, hosted by St Cyprian's on 3 March.
Our 1st Team was exposed to tournament hockey for the first time as a team. A number of lessons had to be learnt very quickly, and our young team carried themselves well against some very strong opponents. As the only team with no matric learners, we look forward to challenging for top honours next year.
Results were as follows:
| | | |
| --- | --- | --- |
| Opponent | SCORE | Goal Scorers |
| St Cyprian's | 1-3 | Alhaan Emeran |
| Wynberg | 1-2 | Alhaan Emeran |
| Herschel | 0-2 | |
| Springfield | 1-0 | Lisa Penney |
Congratulations to all RGHS learners who took part in an exciting tournament for their respective PSi franchises at the Inter-Cities tournament.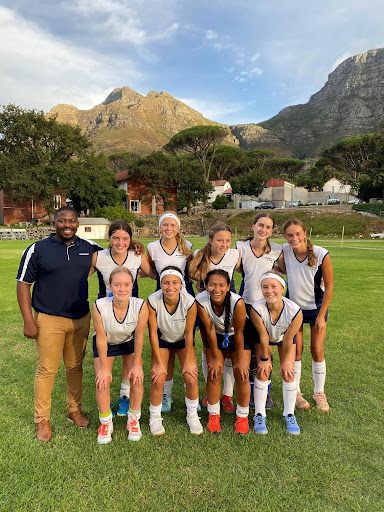 Netball
The Netball Umpires course advertised below is open to any learner or parent who may be interested in learning a new skill and getting involved in Netball not as a player. Please contact Anne directly should you be interested.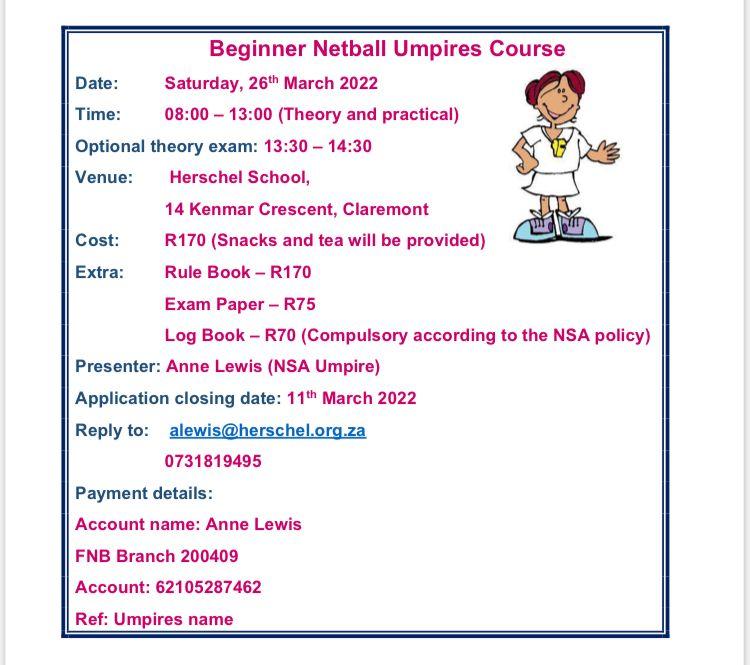 Swimming
Final results of the gala swum at Rondebosch Boys High School on Thursday 3 March:
Girls:
1st
Herschel
233pts
2nd
Rhenish
228
3rd
St Cyprians
222
4th
Rustenburg A
197
5th
Rustenburg B
141
6th
Bergvliet
113
7th
Groote Schuur
104
Congratulations to Tyra Phipson (Grade 12) on winning the 100m freestyle in an excellent time of 1:06.14.
Results of the PGSGU Gala held at Springfield on Tuesday 8 March:
1st Herschel (81pts); 2nd St Cyprians (80pts); 3rd Springfield (52pts); 4th Rustenburg (47pts)
Congratulations to Jenna Renecle (Grade 11) on winning the 50m freestyle in an excellent time of 31.18.
Jade Jarvis (Grade 8) placed second in U14 50m butterfly; Anna Gray placed second in U19 50m breaststroke and our U19 team placed second in both the medley and freestyle relays.
Congratulations to all our swimmers.
Tennis
TENNIS RESULTS Week starting 28 February 2022
LEAGUE
1st LEAGUE
2nd LEAGUE
3rd LEAGUE
3rd LEAGUE
TEAM
RGHS 1st
RGHS 2
RGHS 3
RGHS 4
DATE
See PGSGU RESULTS
4 Mar
4 Mar
8 Mar
OPPOSITION
in Tennis report
Westerford 1
Herschel 6
Wynberg Girls 1
SCORE
Drew 6-6
Lost 4-8
GAMES
Games 31-31
Games 16-34
LEAGUE
4th LEAGUE
4th LEAGUE
5th LEAGUE
Gr 8 LEAGUE
TEAM
RGHS 5
RGHS 6
RGHS 7
GRADE 8
DATE
1 Mar
1 Mar
1 Mar
3 Mar
OPPOSITION
Herschel 8
BYE
St Cyprians 7
Const Waldorf Gr 8
SCORE
Lost 0-12
Lost 4-10
Cancelled by Waldorf
GAMES
Games 14-36
Games 28-28
Rustenburg hosted the PGSGU Tennis tournament on Friday 4 March. It was a warm day with a strong breeze that challenged all the players.
Our results were very pleasing; RGHS tied for first place in the Junior section and placed 2nd in the Senior section.
Full results below:
FINAL PGSGU TENNIS SENIOR RESULTS 2022
SENIOR COUPLE 1

SEN

IOR COUPLE 2

SENIO

R COUPLE 3
SENIOR TOTAL
FINAL PLACING
Herschel
19
19
14
52
1
Rustenburg
14
11
11
36
2
Springfield
0
2
2
4
4
St Cyprians
9
10
15
34
3
FINAL PGSGU TENNIS JUNIOR (U15) RESULTS 2022
| | | | | |
| --- | --- | --- | --- | --- |
| | JUNIOR COUPLE 1 | JUNIOR COUPLE 2 | JUNIOR TOTAL | FINAL PLACING |
| Herschel | 9 | 7 | 16 | 4 |
| Rustenburg | 12 | 12 | 24 | 1 |
| Springfield | 9 | 15 | 24 | 1 |
| St Cyprians | 12 | 8 | 20 | 3 |
Congratulations to all our players:
U19
Couple 1: Juliana and Lisa
Couple 2: Catalina and Rachel
Couple 3: Lucy and Robyn
U15:
Couple 1: Maggie Krieg (Grade 9) and Tara Neville Smiley (Grade 8)
Couple 2: Ally Goulding (Grade 9) and Jenna Edge (Grade 8)
MORE TENNIS NEWS:
Rustenburg has 3 players who will be representing the Western Cape Disas in the Tennis SA Interprovincial Tournament in Pretoria from 18-22 March. They will play against all the other provincial teams as well as Namibia and Zimbabwe.
Congratulations on being included in these top Cape Town (WP) teams:
U15 Maggie Krieg (Grade 9)
U19 Juliana Barrish (Grade 12) and Lisa Penney (Grade 11)
Touch Rugby
Touch Matches – 4 March
On Friday, we held an exciting afternoon of touch rugby in preparation for our final games on 11 March. Our 2nd and 3rd teams played against each other, while our 1st team played against Groote Schuur High School. We saw some excellent touch rugby being played and a huge congratulations to our first team, who will be playing Wynberg Girls' High School in the league finals.
We are excited to invite all of our touch rugby parents/guardians to join us for the prizegiving being held after our final matches this Friday (11 March). The fires for the braais will be lit at 16:00 and we would love it if you are able to pack your own picnic/braai basket. Halaal grids will be available. We look forward to seeing you all there!
| | | |
| --- | --- | --- |
| Teams: | Results: | Try-scorers: |
| RGHS 1 vs Groote Schuur | 8-0 (to Rustenburg) | Azra Mahmood (3); Loren-Kate Dicks (1); Saarah Magiet (2); Trinity Ngaka (1); Georgia Haarhoff (1) |
| RGHS 2 vs RGHS 3 | 2-0 (to Rustenburg 2) | Zaina Kazi (1); Nihaal Effendi (1) |
Water Polo
RGHS played St Cyprians this past Friday and the results were as follows:
U19A won 12-1
U19B won 15-2
U16A won 9-4
U14A drew 5-5
Congratulations to the U14A and U16A Teams who made it through to the Semi-finals of the Waller Cup tournament being played Wednesday 9 March.
Non-School Sport
Open Water Swimming
Michaela Labuschagne (Grade 9) and Ashlee Pretorius (Grade 11) participated in the SA Open Water Swimming Championships held in Jeffreys Bay this past weekend. Their results are as follows:
Michaela – 14-16 age category swam 3km in 43.51 AND 5km in 1h15.51
Ashlee – 17-18 age category swam 3km in 44.00.58.
Congratulations on these excellent swims.
Rowing
Congratulations to our Rustenburg Girls who represented the Peninsula Girls Rowing Club (PGRC) this past weekend at the South African Schools Junior Rowing Championships in Gauteng.
The learners who rowed and represented RGHS and PGRC were:
Robin Day, Darcy Gliddon, Hannah Murphy, Lyla Cahill and Sienna Calow.
The PGRC girls rowed as RGHS at the South African Schools Rowing Championships this past weekend in Gauteng and did us all very proud.
Lyla Cahill came 4th in the U15 scull heat amid tough competition from the Gauteng schools.
Robin Day, Darcy Gliddon and Hannah Murphy placed 4th in each of their U16 scull heats.
In the U16 quad our 4 rowers were coxed by Sienna Calow (Grade 9) and raced really well to place 3rd in their heat and earn a place in the final where they came 6th.
In the doubles, Hannah and Lyla came 5th in their U16 heat and Darcy and Robin placed 3rd in their heat, both qualifying for the final.
Coach Sam James said they "rowed bravely and beautifully" to come 5th (Darcy and Robin) and 8th (Hannah and Lyla) in the U16 doubles finals.
Western Cape schools excelled this year and these girls supported their fellow crews, showing great sportsmanship as Peninsula Girls' Club and Rustenburg Girls.
Under Water Hockey
Alex Bonaconsa (Grade 12) has done extremely well in underwater hockey. At the start of last year, Alex made the U19 Western Province junior side. At the end of 2021, she was selected to play in a national club tournament, where she captained the Cape Town Clubs' women's B side.
This past weekend, she was selected to play in a national senior tournament for the Western Province A women's side and they came 3rd. Alex has also been selected to play in the U19 junior national tournament next month, where she will be captaining the girls' team.
Alex has shown immense commitment and dedication, which has paid off in something that she absolutely loves.
Congratulations on these fantastic achievements. Rustenburg is delighted for you and wishes you well as you captain the U19 team.