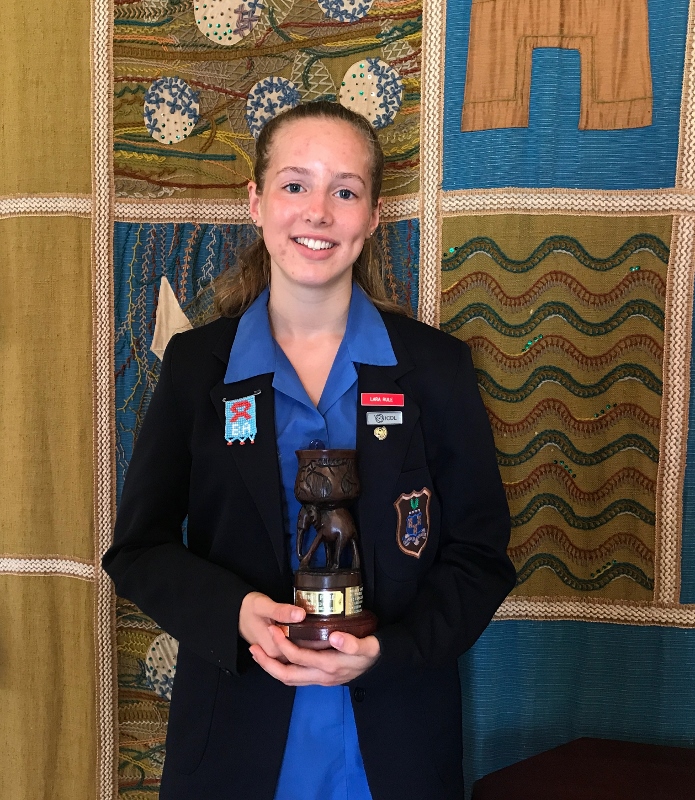 This year's Ubuntu Award winner is Grade 11 student, Lara Rule. Lara was presented with the award at this year's Founders' Day Assembly.

The Award (instituted by the Es of 1956) is presented each year to the girl who shows awareness of and concern for the plight and needs of others and reacts compassionately and humanely to these needs. Lara displays many characteristics that make her highly qualified for the award.

Her selfless nature and devotion to the community is shown through her involvement with many volunteering initiatives including: Lerato's Hope, for whom she is a brand ambassador collecting food and funds for families affected by poverty and HIV Aids; Pinelands Village Veterinary Clinic, where she is a support assistant during consultations and surgery and Maitland Cottage Orthopaedic Hospital and Red Cross War Memorial Hospital, where she is a surgical society volunteer.
Lara also helps out at WOOF, as a dog walker, promoter and home checker; Cape Animal Medical Centre and Vandelpark Dierenkliniek, as a veterinary support assistant during consultations and the Greenpop tree planting initiative as part of the week-long volunteer reforestation in the Knysna area after the fires.
Lara is not only devoted outside of school but also actively participates in school activities. She is a member of the Interact and Earth Children committees and has an active lifestyle, taking part in Cross Country, Athletics and Cycling. Lara is a proud representative of the Western Province Cross Country team and achieved First Aid Level 3.
Kumi Scott asked Lara Rule a few questions about how she felt about receiving the UBUNTU Award, to hopefully inspire other women.

What or who inspired you to do community work?
My appreciation for being in such a privileged position made me want to give back as much as I can and sparked my intense passion for volunteering.
Why do you do it and why do you love it?
I love volunteering because every experience gives me more perspective and it helps to ground me.
What part do you love the most?
I love the rewarding smile or gratitude that you can see in an animal or human face when you have done something that shows that you care about them.
Which part do you struggle to enjoy?
I struggle with accepting the sad parts of volunteering such as witnessing the effects of abuse in shelter animals.
What are your goals?
My only goal with my volunteering is that I make the most of every volunteering opportunity that I get and to be as selfless as I can.
What is your proudest moment?
My proudest moment whilst volunteering is when I was able to sleep at TEARS dog shelter and I got to physically see the colossal impact that I had made in that dog's life.
What do you have to say to fellow Rustenburg learners?
To my fellow members at school, I wish that we make use of all the opportunities that we get to be able to give back. We should use our privilege for the greater good.