Notices
The SPORTS Calendar for Terms 2 and 3 (WINTER) is available here.
Emails will be sent on Monday 16 March to enable parents to sign their daughters up for SELF-DEFENCE and/or YOGA classes via a Google Doc. The classes will be filled up on a 'first-come-first-served' basis. An email will be sent requesting payment if your daughter has a place in a class and thereafter there is a 48-hour payment period. If payment is not received, we will offer her place to the next learner on the waiting list.
CONGRATULATIONS to all parents and girls who successfully completed the Cape Town Cycle Tour on Sunday. What an incredible experience and privilege for ourselves and for our daughters to be part of the 31 000 to participate in this exceptionally well organised event. Rest and recover well!
All 1st Term sport has come to an end.
The following teams who are representing RGHS at the NGSF in Bloemfontein in May will practise on Wednesday 18 March from 07:30 – 08:30:

Tennis team to meet Coach Hayley Nel on the courts.
Cross Country runners to meet Coach Viv Williams on the field.
Cricket
Although Cricket is a social sport it has become very popular with our learners.
We were fortunate to be able to end the season with a match against Pinelands High School on Wednesday 4 March, played at Pinelands. Our new cricket coach and former SA Schools player, Aaqil Ebrahim, had this to report:
"The team did well with regards to how they played and the circumstances given with selection. We missed a few of our key players to hockey trials but nevertheless the team pulled through to produce a tight game, dragging it out to the last ball. I was very pleased with how individuals in the team took up certain leadership roles. For a majority of the team it was their first match and there were lots of nerves rushing through, but they handled themselves well. Unfortunately, it was a game of extras but definitely something that can be coached. They showed great commitment on the day."
Well done to all our budding cricketers.
Indoor Hockey
PGSGU RESULTS
Date
Team
Result
Score
Opposition
07-Mar
RGHS 1st
Lost
1 – 4
Springfield
07-Mar
RGHS 1st
Won
1 – 0
Herschel
07-Mar
RGHS 1st
Drew
1 – 1
Wynberg
07-Mar
RGHS 1st
Lost
0 – 2
St Cyprians
Placed 4th overall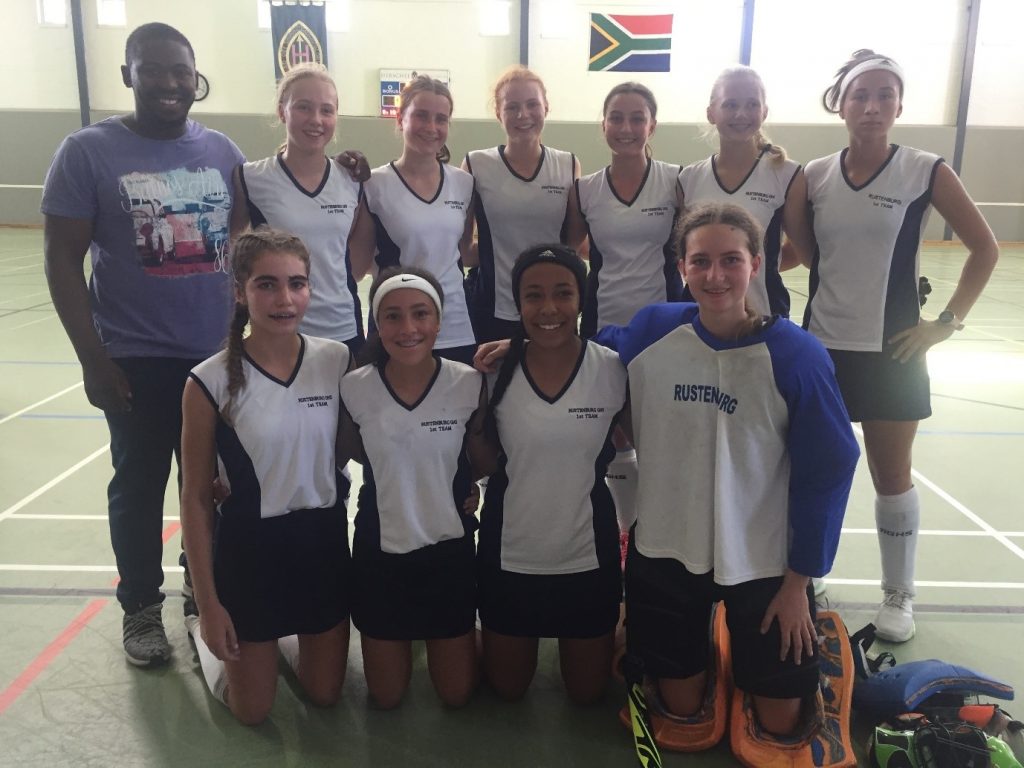 Hockey
On Wednesday 4 March we held U14 Hockey trials and selected an U14 Tournament Team, which was announced on Thursday. They had one practice session on Friday at 07:15 and then represented Rustenburg at the DF Malan Tournament on Saturday 7 and Sunday 8 March.
Coach Sasha Sivertsen was very complimentary and really enjoyed coaching these girls. At the final prize-giving we won the Unity Award. Rachel Kane won the 'most promising RGHS player' award and Lucy Kane won the 'most coachable RGHS player' award.
One of the parents had this to say: "They are playing so well – every game they seem to be getting stronger and more cohesive.  Such a pleasure to watch – and what an amazing coach, filling them with such enthusiasm and confidence.  I think my daughter's growth on astro and exposure to proper coaching is going to see her game grow exponentially.  So exciting".
As can be seen by the results below, there was improvement from start to finish.
| | | | | |
| --- | --- | --- | --- | --- |
| Date | Team | Result | Score | Opposition |
| 07-Mar | RGHS U14 TT | Lost | 0-2 | Paarl Girls |
| 07-Mar | RGHS U14 TT | Lost | 0-2 | Bloemhof |
| 07-Mar | RGHS U14 TT | Won | 1-0 | DF Malan |
| 07-Mar | RGHS U14 TT | Lost | 0-4 | Somerset College |
| 08-Mar | RGHS U14 TT | Drew | 1-1 | Stellenberg |
| 08-Mar | RGHS U14 TT | Won | 2-0 | Fairmont |
| 08-Mar | RGHS U14 TT | Won | 3-0 | Strand |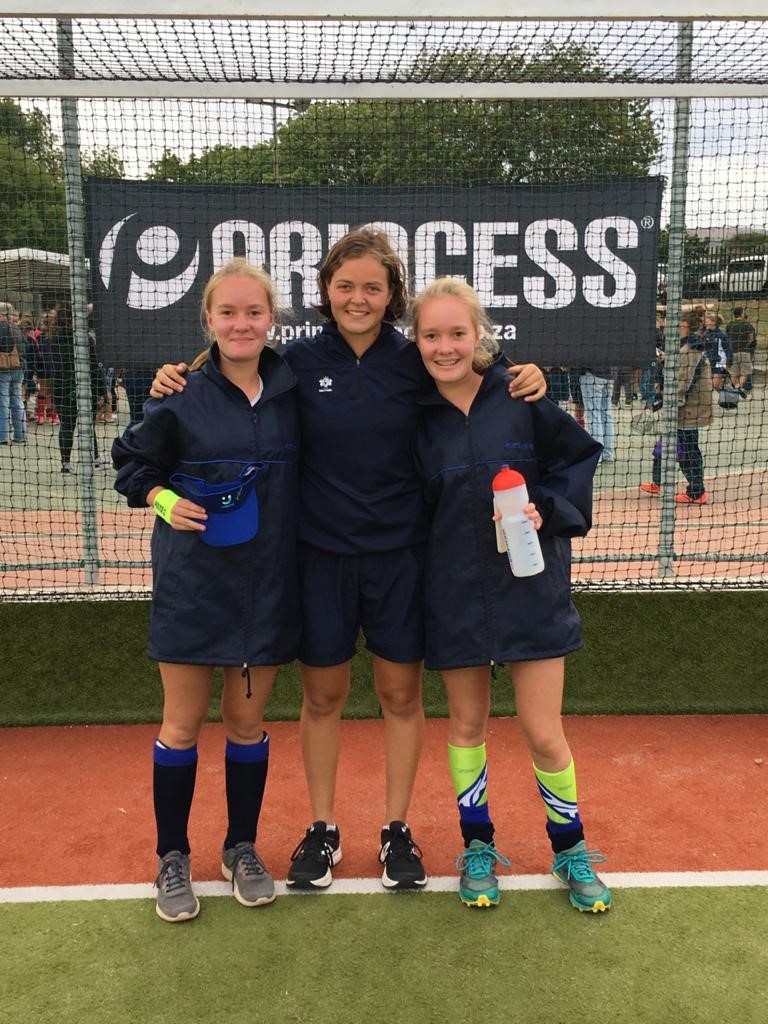 Tennis
Well done to our Tennis girls who played in the PGSGU tournament on Friday 6 March in 36+ degree heat.
Our Senior team place 2nd and our Junior team placed 4th.
Touch Rugby
Well done to our Touch Rugby girls who played in the Finals of the WP League tournament on Friday 6 March in 36+ degree heat.
Our 1st team won the trophy for the eigth year in a row and our 2nd team placed 3rd.
RGHS 1 beat Wynberg Girls HS (7-1) in the final.
RGHS 2 beat Norman Henshilwood HS 1 (4-1) in the 3rd and 4th playoffs
RGHS 3 lost to Claremont HS (0-4)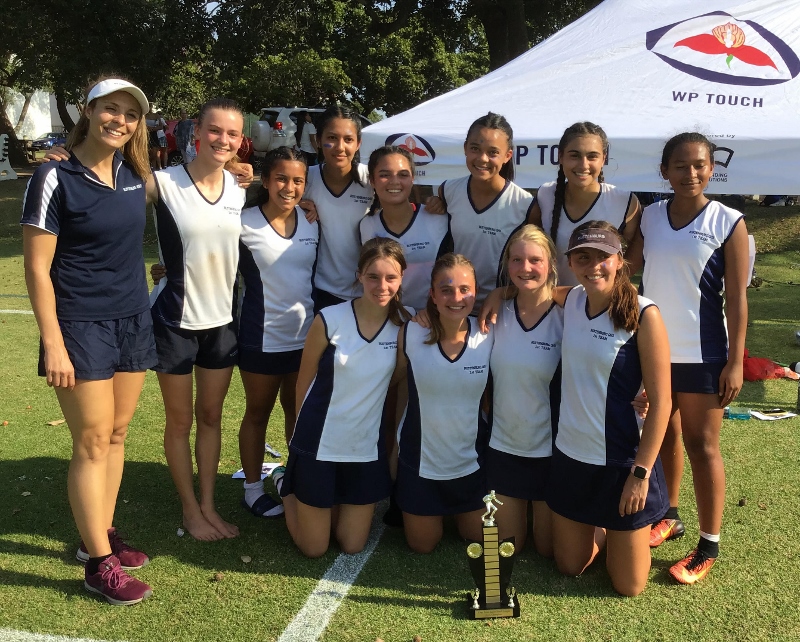 Water Polo
The U14 and U16 teams played in the semi-finals of the Knock Out Tournament on Wednesday 11 March. Both teams played against Reddam.
The scores were as follows:
U14 RGHS 3 Reddam 14
U16 RGHS 1 Reddam 15
Non-School Sports
Highland Dancing
Alexa Vervoort (Grade 8) took part in the Edgemead Highland Dance Festival on Saturday 7 March. Alexa took part in six dances and placed 1st in five of them, winning the Intermediate Section.
Irish Dancing
Alexa Steyn (Grade 8) competed in the Edgemead Irish Dancing Festival on Saturday 7 March. She achieved the following excellent results: 1 x Gold medal, 2 x Silver & 1 x Bronze medals.
Rowing
The Rustenburg Rowers placed well for their club at the National Championships at Roodeplaat dam in Pretoria this past weekend.
The podium results were as follows:
Kirsten McArthur, Alice Wannell and Danielle Henry each achieved a 1st place.
Robin Day achieved a 1st and a 2nd place.
Amy Basson and Hannah Murphy each achieved a 2nd place.
Eryn Jacobs achieved a 2nd and a 3rd place.
Congratulations on these excellent results.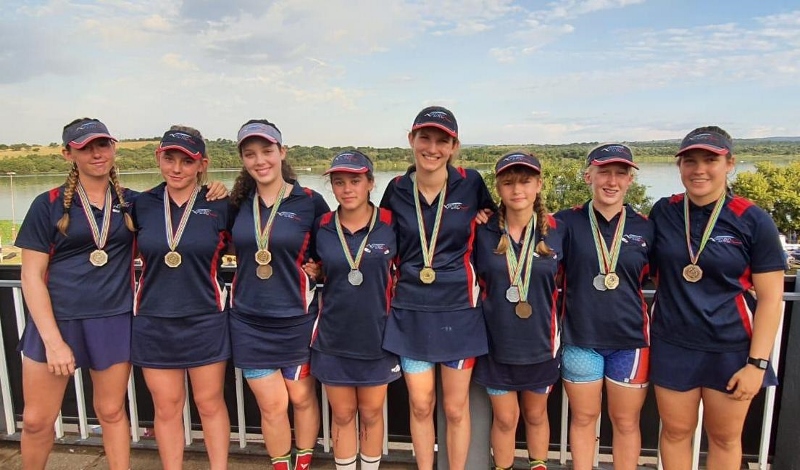 Surf Lifesaving
Hannah Hillman (Grade 11) was selected as one of the top eight competitors to represent Big Bay Surf Lifesaving Club at the Llandudno 8 Man Classic on Saturday 8 March. She was the only female in the team. This is a competition that tests your skills in the big surf at Llandudno and you have to be able to do all the events – in other words, be an all-rounder Lifeguard. 
Hannah showed great surf skill and bravery competing against mainly boys and men. She managed to walk away with the prize for 'Wave of the Day'. She had an epic recovery in the board-run-board event coming down a massive big wave, disappearing in the white water and then coming out in one piece with no broken board.
Hannah is one of the smallest competitors but has the biggest, bravest heart. Congratulations on this wonderful performance.