Welcome back to school. There are only 4 weeks of sport before the exams start. Please encourage your daughters to attend their sessions. We will be offering a very limited sports programme during the exam weeks. Please note that sports attendance during the exams is not compulsory.
Good luck to all our parents and staff who will be participating in the Cape Town Marathon on Sunday 17 October. Special good luck to Ms Viljoen who will be running her debut marathon.
School Sports
On-the-Move Update
Congratulations to ONE new learner who has achieved the SILVER (50kms) standard:
| | | | |
| --- | --- | --- | --- |
| RR Total in km | FIRST NAME | SURNAME | FORM |
| 50 | Isabella | Wright | A5 |
Congratulations to the following learners who join the Rusty Runners Club (RRC). There are now 51 members in the RRC.
Bronze Award:
| | | | |
| --- | --- | --- | --- |
| RR Total in km | FIRST NAME | SURNAME | FORM |
| 29 | Nia | Magcoba | B5 |
| 28 | Aaliyah | Ismail | A5 |
| 26 | Sihle | Maswana | A5 |
| 25 | Saarah | Ebrahim | A1 |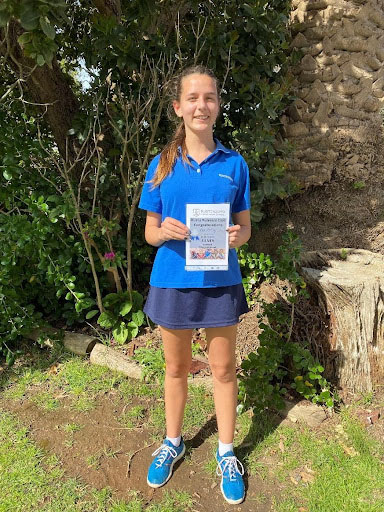 Tennis
Juliana Barrish (Grade 11) played in an Interprovincial Tournament in Cape Town from 24-26 September. 6 teams participated. Juliana represented Cape Town U19 (WP) team. They played against 2 Eastern Cape teams, a developmental Three Anchor Bay team, and 2 Boland teams: Eden and Cavaliers. Each player played singles, doubles and mixed doubles against all the teams. They played 15 matches all together and points were awarded for each set won which was added to the team's score. Juliana's team placed fourth and all players played extremely good tennis as the scores were sometimes very close. Well done, Juliana.
More news on Juliana's achievements:
Juliana Barrish (Grade 11) played in 2 tournaments during the holidays. In the Grand Prix in Cape Town, she placed fifth in Singles and won the Doubles Tournament with her partner, Jessica Hess. The next tournament she played in was ITF J3 in Stellenbosch, where she really enjoyed the strong international competition. Juliana will be competing again in the J2 tournament in Stellenbosch this weekend should she get into the qualification draw.
Congratulations on your results and best of luck with your upcoming tournaments!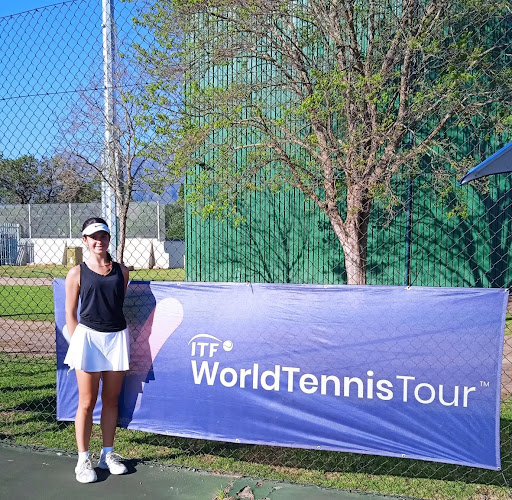 Water Polo
RGHS was fortunate to have two weeks of pre-season water polo which was used to build a solid foundation for the learners' strength, agility, and fitness.
At the end of Term 3, water polo trials were held for all age groups. These trials were held over three days and it was exciting to see the level of water polo and calibre of players at our school. Water polo teams were announced for the 2021/2022 season at the beginning of Term 4.
Planning for the 2021/2022 water polo season is well underway. In February of 2022, we plan to attend the Old Petrian's 1st Team Girls Water Polo Tournament as well as the Alex Road Festival. In addition, we plan to attend local tournaments.
A number of our players attended Western Province Water Polo trials at the end of Term 3. The official Western Province Water Polo team announcements are going to be distributed to schools shortly.
Non-School Sport
Rhythmic Gymnastics
We are extremely proud of two of our learners who participated in the South African Rhythmic Gymnastics Championships on 6 October.
Katherine McCree (Grade 10) is the South African Rhythmic Gymnastics Level 9 Champion for 2021! Katherine placed 1st overall at the SA Gym Games held in Pretoria over the holidays (out of 28 gymnasts). Rustenburg is extremely proud of your outstanding achievement.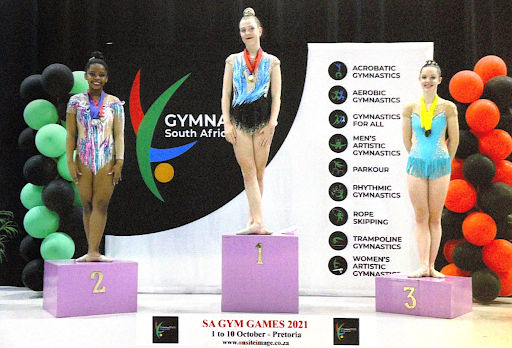 Tamsin de Villiers (Grade 10) also competed in the South African National Gym Games for Rhythmic Gymnastics. She competed in the U15 level 9 category and performed ball, hoop and clubs routines. For hoop she received a silver medal, for clubs she placed 4th and for ball she placed 6th. Overall, Tamsin placed 3rd and received the bronze medal. Congratulations, Tamsin.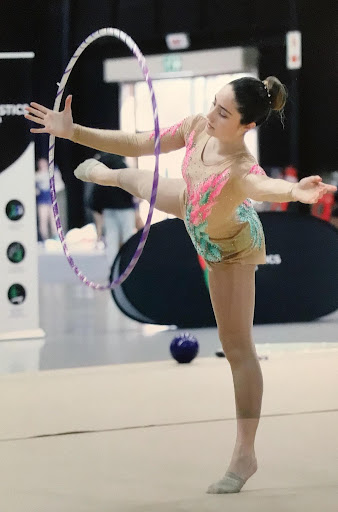 Thanaa Phillips (Grade 8) also achieved excellent results at the SA Gym Games. Thanaa placed third overall in the Level 5 category. She also placed first for the floor apparatus. Congratulations, Thanaa.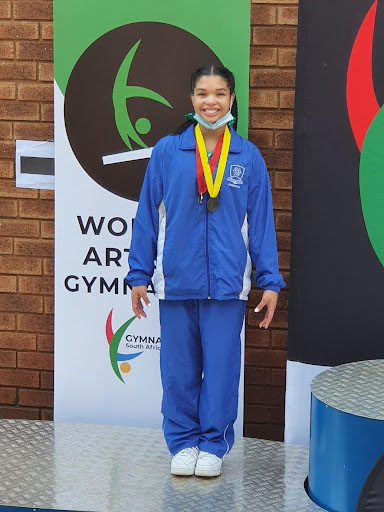 Road Cycling
Congratulations to all our learners and their parents who completed the CTCT – Cape Town Cycle Tour. What a privilege it is that Cape Town hosts this incredible event.
Nina von der Heyden (Grade 11) rode with her Mom and Dad.
Sarah Williams (Grade 9) rode on a tandem with her Dad.
Michaela Smith (Grade 9) rode on a tandem with her Dad.
Mrs Brown (RGHS Music Administrator) also completed the tour.
See their photos on Instagram @RGHSSport
Sailing
Nika du Preez (Grade 11) participated in the ILCA Laser Nationals which were held in PE from 1-4 October. This was her first Nationals in the Laser 4.7 class and her first time sailing in the sea. Congratulations, Nika.