Sport will start on Monday 11 October. Your daughter will enjoy four more weeks of the Summer Sports programme before the examinations start.
During the exam period, there will be a revised sports programme in place. This will be shared with you closer to the time. Participation in the Sports extra-mural programme during exams is NOT compulsory.
School Sport
Hockey
Western Province Hockey representatives
The 6 hockey players who were selected to represent Western Province U16 and U18 teams will be taking part in a Mini-Series Tournament that will be played on 1-3 October 2021.
The matches will be contested by Western Province and Boland teams. The venues for this tournament are Bishops and SACS astroturfs. We would like to send our best wishes to the learners representing their various teams at the tournament.
WP U16A:
WP U16B:
Saarah Magiet; Kyrah Naidoo and Lisa Penney
WP U18A:
WP18B:
WPU18B Coach:
On-the-Move Update
Congratulations to the following learners who join the Rusty Runners Club (RRC). There are now 47 members in the RRC.
Bronze Award:
| | | | |
| --- | --- | --- | --- |
| RR Total in kms | FIRST NAME | SURNAME | FORM |
| 25 | Jenna | Meredith | B5 |
| 25 | Emma | September | D6 |
| 26 | Levi-Reese | Bowers | B1 |
| 25 | Catherine | Bisset | A1 |
| 25 | Zoë | Valentine | B1 |
Tennis
Maggie Krieg (Grade 8) got invited to play for the Three Anchor Bay Tennis Development Centre at an Interprovincial Tournament that took place from 24-26 September 2021 in Cape Town. Their team played extremely well and they ended up in 3rd place, behind Cavaliers (Boland) and the Eastern Cape. Congratulations on some great tennis, Maggie.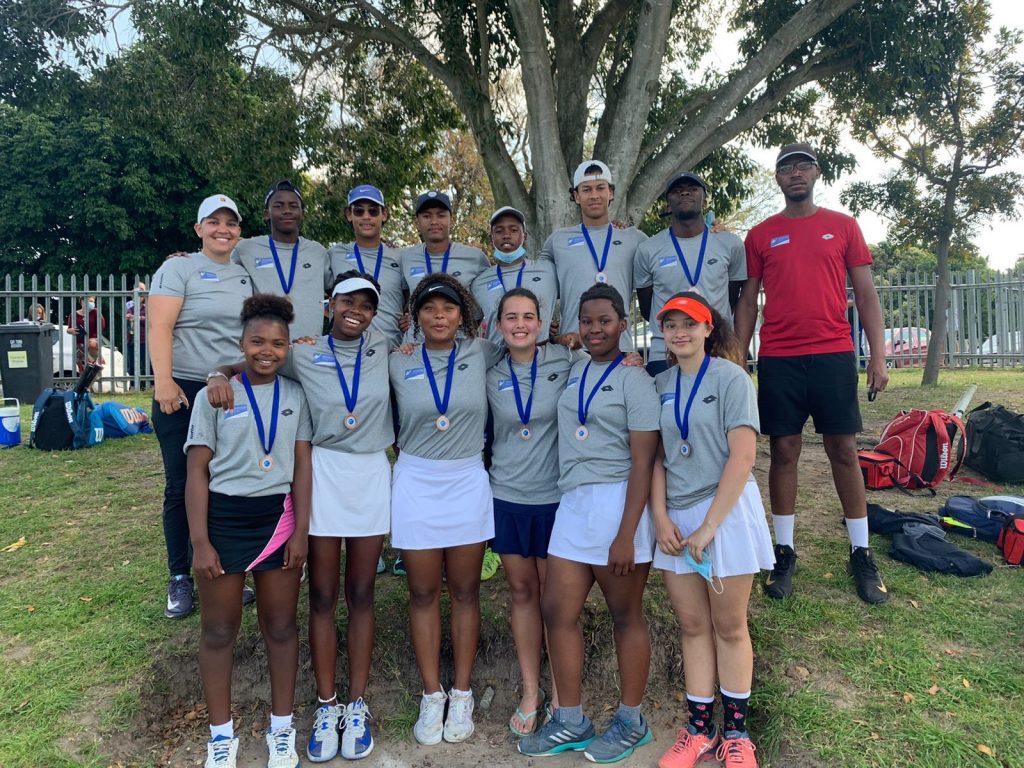 Non-School Sports
Open Water Swimming
Michaela Labuschagne (Grade 8) Participated in a 3km Open Water race at the Quaggaskloof Dam on Saturday 25 September. She placed 5th overall and 3rd female. With an excellent time of 47:20 Michaela has qualified to compete in the SA Open Water championships. Congratulations, Michaela.
Sailing
Nika du Preez (Grade 11) will be participating in the ILCA Laser National Championships being held from 1-4 October and hosted by Algoa Bay Yacht Club in Port Elizabeth. This will be Nika's first regatta sailing a laser 4.7 and her first regatta sailing in the sea. Good luck, Nika.
Artistic Gymnastics
Tamsin de Villiers (Grade 9) participated in the 2021 Western Cape Artistic Gymnastics Championships that took place on 5 September. She competed in the U16 Level 9 category. Tamsin did routines for ball, hoop and clubs and received a silver medal for ball and was selected for the Western Cape team. She will be competing at the National Gym Games in Pretoria on Sunday 3 October. Congratulations on your excellent result and selection and we wish you all the best for a successful showing at the National Championships.