September has arrived and with it, we hope to experience some warmer weather. There is only one more week of the Winter Sports Programme.
On Wednesday 1 September all Rustenburg learners were sent the new Term 4 Sports Sign-Up App via their school email addresses. Please remind your daughters to sign-up for a sport in Term 4. The programme starts on Monday 13 September and ends on Friday 5 November. There will be no extra-mural sports programme during the end-of-year examination weeks.
Grade 8s and 9s are reminded that participating in an extra-mural session is compulsory. Should your daughter wish to be exempt for a medical reason please ask that she collects a sports exemption form from the sports office. Applications for an exemption from school sport is granted on a termly basis.
School Sport
Cross Country
To celebrate the start of Spring on 1 September, a group of runners from St Cyprians came to Rustenburg to run a 3km route around our campus. On a fairly challenging 2 x 1.5km course the first runner came home in a time of 12:27. Congratulations to all 16 Rustenburg girls who participated. Rustenburg had 4 runners in the top 10; Skye Micklethwaite (2nd); Annie Malherbe (3rd); Biancha Witbooi (9th) and Alex Bonaconsa (10th). The Rustenburg runners have been so committed to their training all season even though they have had no races to test their fitness. This was a wonderful way to test themselves and a lot of fun was had by all.
Hockey
Hockey Report vs Paarl Gimnasium
We were back on the turf on Friday 26 August to play against Paarl Gimnasium. What started as a clear-skied, beautiful winter's afternoon, ended as a frosty evening, with the U19A game interrupted by a large hail storm and subsequently postponed. 3 games were completed on Friday with the U19A game rescheduled to Monday 30 August at RGHS. Some phenomenal hockey was on display in all 4 matches. Thank you to Paarl Gimnasium for making the trip.
Results were as follows:
| | | |
| --- | --- | --- |
| TEAM | ASTRO | SCORE |
| U14A | RGHS | 0-4 |
| U16A | RGHS | 0-4 |
| U19B | RGHS | 0-5 |
| U19A | RGHS | 0-7 |
Southern Titans Report
Over the weekend, 3 of our learners who had been selected to represent the Cape Town-based Southern Titans franchise, travelled to Johannesburg to play in the HJ Winter Cup. While they battled the Gauteng altitude and freezing temperatures, Isla Barbour, Leah Hofmeyr and Tatum Malherbe did exceptionally well and brought back the tournament gold. Leah was also the captain of the team.
They won all 4 of their pool games, sending them through to a nail-biting semi-final, that they won in a penalty shootout, and brought it home with a 2-1 win against the Johannesburg based Fourways Foxes.
At their internal team awards, Leah Hofmeyr was named as the Southern Titans' Player of the Tournament, while Tatum Malherbe was named as the Southern Titans' Forward of the Tournament.
We are very proud of Isla, Leah and Tatum. Congratulations.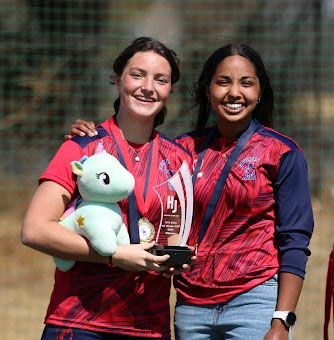 On-the-Move Update
Congratulations to the following learner who joins the Rusty Runners Club (RRC). There are now 27 members in the RRC.
Bronze Awards:
| | | | |
| --- | --- | --- | --- |
| RR Total in kms | FIRST NAME | SURNAME | FORM |
| 24 | Anvesha | Srivastava | A5 |
Squash
On Monday 30 August our 1st Team were hosted at Herschel and played their 3rd Team.
Congratulations to Isabella Rossouw, Amy-Raie Bernberg, Emma Phillipson and Amy Basson for putting up a great fight. RGHS won 2 matches and lost 2 matches.