Notices
INDOOR HOCKEY – Change to calendar. Matches vs Durbanville on Wednesday 4 March have been moved to Tuesday 3 March (times stay the same).
TENNIS – Matches scheduled for Friday 21 February have been postponed.
WATER POLO – Good luck to our U14 team who are participating in the Dave Pitcairn Tournament, hosted by Reddam House, Constantia from 13-16 February. The team is coached by Tamarah Pike. The players are: Kylie Henry (Captain), Caroline Macdonald (Vice-Captain), Nurah Abrahams (GK), Safara Ackerman, Sophia Gruber, Isabella Keytel, Gaby Sampson, Ella Truter, Caitlyn Walter, Sophia Webster, Sarah Williams, Anna Zylstra.
Indoor Hockey
Results of matches played at Westerford on Wednesday 5 February:
| | | | | |
| --- | --- | --- | --- | --- |
| Date | Team | Result | Score | Opposition |
| 05-Feb | RGHS 1st | Lost | 0-4 | Westerford 1 |
| 05-Feb | RGHS 2nd | Lost | 0-3 | Westerford 2 |
| 05-Feb | RGHS 3rd | Lost | 0-1 | Westerford 3 |
Swimming
At the third gala of the year hosted by Rondebosch Boys' High School on Thursday 6 February, Rustenburg were placed 7th out of 10 schools. This was an Individual Gala.
Skye Micklethwaite (Grade 8) also participated in the Swimming Grand Prix, 31 January – 2 February. She swam the 200m IM, 200m free, 100m free and 100m back. She swam a personal best in all four events. Congratulations on your improvements, Skye.
Inter-house Gala results
Thursday 6 February
INDIVIDUAL RACES WINNERS
U19 100M INDIVIDUAL MEDLEY
HANNAH FAURE
U19 50M FREESTYLE
ROBYN VAN ZIJL
U19 50M BREASTROKE
GEORGIA GRANT
U19 50M BACKSTROKE
HANNAH FAURE
U19 50M BUTTERFLY
HANNAH FAURE
U16 100M INDIVIDUAL MEDLEY
ERIN DAFFARN
U16 50M FREESTYLE
ANNA GRAY
U16 50M BREASTROKE
ERIN DAFFARN
U16 50M BACKSTROKE
TYRA PHIPSON
U16 50M BUTTERFLY
JENNA RENECLE
U14 100M INDIVIDUAL MEDLEY
SKYE MICKLETHWAITE
U14 50M FREESTYLE
SOPHIA WEBSTER
U14 50M BREASTROKE
TAMSIN DE VILLIERS
U14 50M BACKSTROKE
SKYE MICKLETHWAITE
U14 50M BUTTERFLY
SKYE MICKLETHWAITE
U19 OVERALL RESULTS
POINTS
1ST HANNAH FAURE
15
2ND ROBYN VAN ZIJL
13
3RD HANNAH HILLMAN
11
U16 OVERALL RESULTS
1ST ERIN DAFFARN
13
2ND TYRA PHIPSON
12
3RD ASHLEE PRETORIUS
10
U14 OVERALL RESULTS
1ST SKYE MICKLETHWAITE
15
2ND MORGAN RUSSEL
12
3RD JENNA BISCHOFF
6
OVERALL POSITIONS HOUSE POINTS
POINTS
1ST MARCHAND
99
2ND INNES
94
3RD BLEBY
91
4TH CAMBRIDGE
74
5TH MICHEL VOS
48
SPIRIT CUP
BLEBY
Tennis
Tennis matches played 3 – 7 February:
RGHS 3rd Team
8 (35)
Won
Springfield
4 (37)
RGHS 4th Team
8 (29)
Won
St Cyprians
4 (23)
RGHS 5th Team
8 (42)
Won
Herschel
4 (33)
RGHS 6th Team
6 (23)
Lost
Springfield
6 (33)
Points (Games won in brackets)
Touch Rugby
Results of League matches:
| | | | |
| --- | --- | --- | --- |
| RGHS 1 | 14 | 0 | Groote Schuur High School 1 |
| RGHS 2 | 7 | 0 | Voortrekker High School 1 |
| RGHS 3 | 5 | 5 | Rhodes High School 1 |
Water Polo
Results of matches played against Herschel on Friday 7 February:
| | | | | | |
| --- | --- | --- | --- | --- | --- |
| Date | Time | Team | Opposition | Score | Won/Lost |
| 07-Feb | 14h45 | U16B | Herschel | 0 – 8 | Lost |
| 07-Feb | 15h15 | U14A | Herschel | 9 – 3 | Won |
| 07-Feb | 16h00 | U19A | Herschel | 5 – 7 | Lost |
U16A WATER POLO TOUR – ALEX GIRLS' WATER POLO TOURNAMENT
7-8 February 2020
Report written by Coach Goble:
"This tour started off with an already well-bonded team so the fun started as soon as we headed to the airport on Thursday. We spent our first evening at the Boardwalk where the team spent some time (and money) in the Games Arcade after a dinner at Spur. Even when we headed back to the hotel, the team wanted the fun to continue so the coaches had a hard time getting them to go to bed for a good night's sleep ahead of a big day on Friday.
We woke up to loadshedding at Mill Park Inn. The BnB had prepared a filling breakfast despite the lack of power. After a team talk from the coaches, where the team was given defensive and attacking goals for the tournament, they played their first match against the DSG 1st Team. The team had a very strong defensive game and ended up drawing 3-3. We played five games on the first day, winning two (against Alex Road 2nd team and St Cyprians 1st team), drawing one and losing two (against Kingswood 1st and DSG 2nds). The highlight of the day was the game against St Cyprians because it was so fantastic to see the girls play as a unit that was proactive rather than reactive. That night the girls returned to the BnB with Mc Donalds for dinner and they had a fun evening with their coaches.
Day 2 began with a difficult game against Glenwood House, where we lost 3-0. The team was quite down but brought a lot more energy to the second game of the day against Kingswood A where we won 3-0. Collegiate 2nd was our next game and we lost 2-1 despite playing some very good polo with great team work. The tournament ended off with a bang where we beat York 1st team 3-0 in a game that showed brilliant teamwork and a culmination of all of the hard work throughout the tournament."
An email from a parent reads: "I was so impressed to see the amazing team spirit and camaraderie amongst the girls and you could see how that pulled through into their games in the tournament!  I was privileged to be able to be there to watch the tournament and it was wonderful to see.
Ms Goble and André did an incredible job of coaching and looking after the girls! My daughter thoroughly enjoyed the amazing experience and had SO much fun!!"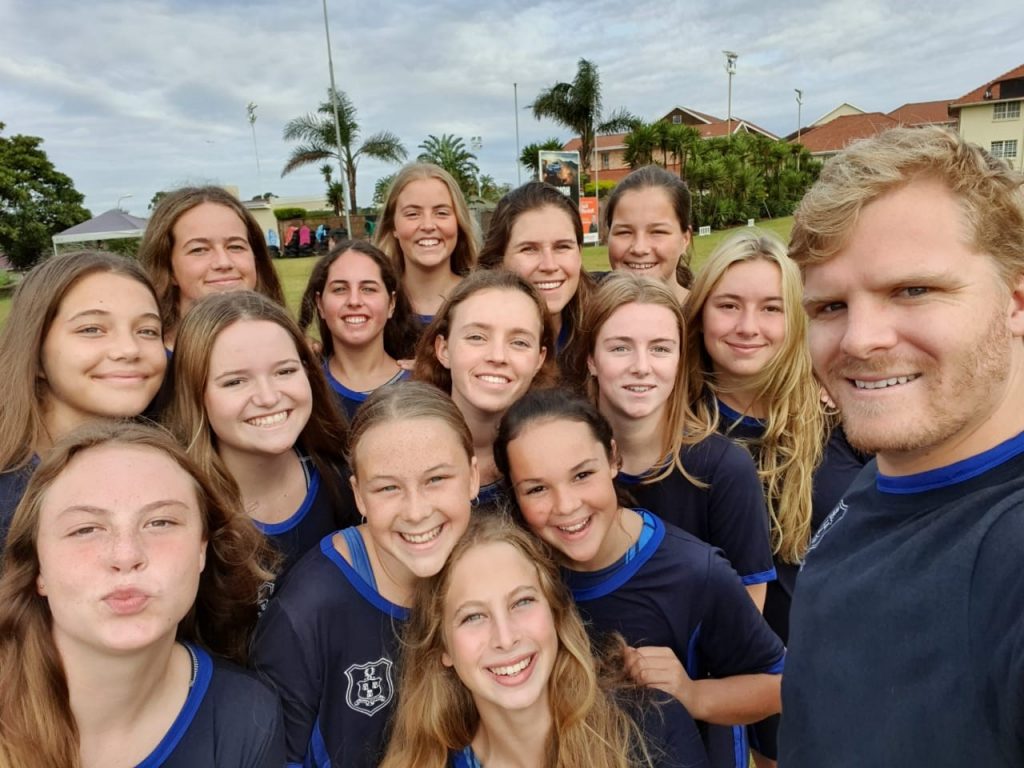 Non-school Sports
Underwater Hockey
Congratulations to Lara Perrow (Grade 8) on qualifying and being selected to represent Western Province at the SA Junior National Underwater Hockey Championships taking place at Reddam House, Helderfontein, Gauteng from Thursday 27 February to Saturday 29 February 2020.