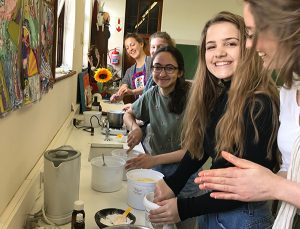 Last Saturday, the Earth Children took part in a Zero Waste Product Workshop, where they learned how to make environmentally friendly beauty products. 
They made toothpaste, moisturiser, deodorant and lip balm with ingredients such as bicarbonate of soda, coconut oil, cocoa butter, shea butter and essential oils. These products contain none of the harmful substances such as sodium lauryl sulphate, parabens, or microbeads of plastic, which are widely found in commercial hygiene products, and which are toxic for the planet as well as our bodies. Old jars are reused to store the homemade products, meaning that no single-use plastic needs to be involved.  
Commercial products not only damage our environment but are also tested on animals, causing over 100 million painful animal deaths annually. 
The products will be on display on  Wednesday 1 August at second break in Ms Chambers's classroom. Anyone interested is welcome to join the meeting and discussion about Zero waste living and product recipes.