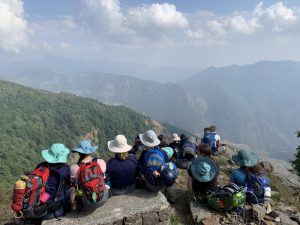 During the June-July holidays fifteen of my fellow students and I, accompanied by Ms Thompson and Ms Viljoen, embarked on one of the most incredible journeys of our lives. The world challenge group of 2019 travelled to Northern India from 13 to 28 June.
As soon as we arrived in Delhi we got straight onto a bus and, eventually, after many hours of travelling, arrived in a town named Nainital. From here we began the first part of our trip, the trek. Over the next four days we reached an altitude of 2500m and hiked a total distance of 73km. We even celebrated a birthday while looking out over the breathtaking Uttarakhand Himalayas. It definitely took a tremendous amount of willpower to complete this hike and it was no easy task but with some singing (many renditions of The Proclaimers – I'm Gonna be/500 miles), encouragement and the promise of Masala Tea and biscuits at the end of every day, we managed to push through even when we thought we couldn't walk another step (such as the day we walked 10km more than we were initially told and thought we would never survive). At the end of the hike we even enjoyed a refreshing swim in the lake (but if anyone asks, we went in 6 at a time and the water only came up to our knees).
We then travelled by train to our community project and I think we can all agree that the overnight train was a unique new experience to remember. We were completing our project through the Green Lion who are based in Udaipur, Rajasthan. We played football (or soccer as we know it) with the local children and helped paint educational murals and brighten up classrooms at one of the local schools. Our hosts kindly prepared many activities for us to fully immerse ourselves in the local culture. We were given Hindi and dance lessons from the local children and even dressed up in traditional clothing. We visited temples, watched a dance show and ate local cuisine. All of this contributed so much to our overall experience and I am sure we all learnt something from all the wonderful people who made our stay so special.
For our rest and relaxation period we visited both Jaipur and Agra. We visited many historical sites such as the Amber Fort, City Palace, Agra Fort and, of course, it wouldn't have been a trip to India without visiting the Taj Mahal. We had guides with us throughout and knowing the history of each building really enriched our experience of them. Nothing can compare to the feeling of standing in front of a place such as the Taj Mahal knowing how it came about and seeing the intricate, beautiful architecture right before your eyes. We also visited many markets with one particular stand-out moment in which we visited the most amazing fabric shop. I'm sure everyone will remember that day for years to come. We sampled food from many local restaurants and travelled by tuk-tuk for much of this part of our trip. This was both the most terrifying and exciting ride I have ever taken and the roads of India are something I never think I would be able to navigate myself with the hooting, number of drivers and, of course, all the cows.
Visiting India was one of the most eye-opening and wonderful things I have ever done, and I am so grateful to have had the opportunity to go on this trip. A big part of what made this journey so enjoyable was our World Challenge guide, Graham Carlson, who always made sure we were safe and enriched our experience.
I would definitely recommend World Challenge to anyone who may be considering it. I can definitely say I will be taking so much away from the friendships formed, places visited and stories told and I know I have come away a person changed for the better.
Article by Yakira Davidson