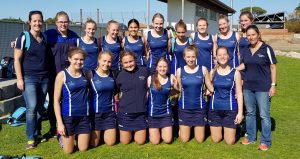 The U18 Cape Town International Hockey Festival began on Wednesday 18 July and ran until Sunday 22 July.
Matches against local and international teams took place at designated venues all over Cape Town. For the first time, there were two leagues in both the girls' and boys' sections – the gold (B league) and the green league (A league), which we participated in.
After a tumultuous pool stage in which we won two matches, drew one match and lost two matches we ended up fourth in our pool, resulting in a quarter-final against the number one team from the other pool, Rhenish. After a tight match, we went to showdowns, in which our goalie performed outstandingly and we ended up winning and going through to the semifinals which were played on Sunday morning.
Unfortunately, our semifinal was not as successful and we went 1-0 down to Parel Vallei. We played our hearts out against Pearson in our final match of the tournament. Our perseverance was rewarded with a 1-0 triumph and the A section bronze medal.
Thank you to our coach, manager, our parents and the school for supporting us throughout the week.
Words: Rebecca Bysshe