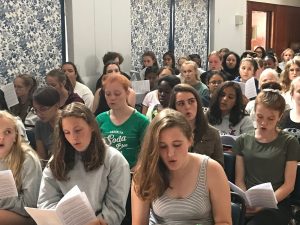 Soon, Rustenburg, SACS and Rondebosch will be presenting the touching and famous Karl Jenkins piece, The Armed Man, at the City Hall on 23 and 24 July at 19:30. It will be a night celebrating inclusivity and peace. All those involved have been working extremely hard on the production. We are very lucky to have been given the opportunity to be conducted by the passionate, world-renowned conductor, Alexander Fokkens. These quotes from students across the three different schools' choir and orchestra members on their experiences of the remarkable journey so far, provide and even more reasons why you shouldn't miss out on the upcoming performances: 
"I've loved being a part of the choir collaboration this year because of all the things I've learnt from all of the incredible teachers we have been fortunate enough to work with and all the people that I've been able to meet." – Yakira Davidson
"It has been a really interesting journey with a poignant piece of music." – Nicholas Ford
"A new and interesting experience. The production of The Armed Man is something we are very fortunate to be involved in and I am looking forward to the performances!" – Georgia Briton
"So much hard work has been put into this production; we're so looking forward to sharing it with you!" – Jameelah Jardine 
"The experience of playing such powerful music with the orchestra has been truly amazing." – Sarah Philander

"A fullfilling experience." – Likhona Xab
"It's gonna be vibe." – David Nicolay
"It is a humbling experience to be part of this amazing production." – Ross Lindsay 

"Although it has been time-consuming, it has been a good time to reconnect with friends and music." – Mary Martha MacMilla
"It is definitely worth the hard work!" – Saarah Latiff and Nina Macedo
Tickets are R150 each and are sold on quicket. We would all really appreciate your support and can guarantee you a musical experience like never before. Hope to see you there! 
Article by Tinika Navsaria