All SPORT continues throughout the examination period and girls are expected to attend.
Walking club; Yoga; Cross Country and Soccer sessions will all start at 14h15 during exams.
Hockey and Netball Teams – your coaches will discuss changes with you where possible to try to have the sessions earlier in the day. Please remember that some coaches will not be able to move earlier as they have other commitments.
Hockey, Squash and Cross Country fixtures continue throughout the examination period.
It is extremely beneficial to continue with exercise during the exam period and we trust that you will encourage your daughter to manage her time wisely.
Thank you for your support.
All Girls Festival (NGSF) – Paarl 2019
The hashtag for this year's edition of the NGSF was "Embrace the Opportunity". I can confidently say that this is what every one of the 56-member RGHS squad did.
We departed by bus for Paarl on Wednesday 1 May and arrived at our accommodation, De Hollandsche Molen, with sufficient time to enjoy a few hours settling into the newly-renovated and very spacious chalets nestled between Paarl and Franschhoek. There is something very special about the Boland – clean crisp air and a sense of peace.
Early afternoon we traveled into the heart of Paarl to register and attend the opening ceremony. Each team member received a goodie-bag full of wonderful treats, a long-sleeved T-shirt as well as a packed dinner. The opening ceremony took place at the Taalmonument Amphitheatre and it was a truly mind-blowing experience. The compère for the evening was Katlego Maboe, a well-known singer, also famous for his TV presenting skills. He was simply brilliant in the manner in which he held the entire evening together. We were treated to the Paarl Boys' High School band, Katlego singing, meeting the Nedbank robot, Pepper, and a laser light display.
The weather over the three days was mild to hot with a little wind and rain at night time – in other words, quite perfect.
Please read below short reports from each of the managers of the disciplines/ codes in which Rustenburg participated.
Cross Country – Mrs Scott
This is the first time that Cross Country was included in the programme of the 20-year-old NGSF. There were only five schools who entered this code. RGHS entered into both the Senior and Junior categories, with four runners making up a team. On Day One the eight girls raced an individual 4km route on the banks of the Berg River. The route started and finished in the Arboretum and was fast, flat and beautiful. Our top junior finisher was Caitlin Anstey, placing sixth, and the top senior finisher was Lara Rule, placing third. After Day One our senior team were placed second. In the afternoon the runners were bused to Stellenbosch where they enjoyed a guided tour around the Stellenbosch Sports Science Institute and listened to a Paralympian's story.
On Day Two the girls raced in a two-man relay over a distance of 2km each. The route took the runners around the Laborie Wine Estate. The route was tough, with sharp ascents and descents, loose gravel, but extremely scenic. In the afternoon we listened to another Olympian who shared her story and handed over the medals to the winning teams. Our Senior Team placed third and our Junior Team placed fourth.
The RGHS runners gave of their very best in both events and have returned fired up to train smarter, race tougher with the belief that they can run quicker. This was an invaluable experience for each of the eight girls.
Debating – Mr Van Dyk
This year's young team: Kristina Semmelink (Captain), Aviela-Loren Abrahams (Vice-Captain), Misbah Toefy, Shelby van der Watt and Kate Birch, responded very well to this year's challenge. Although they only won one of their debates, they ran close in all of their other debates. This was definitely both a very valuable learning experience and a fun-filled team-building exercise.
Hockey – Ms Viljoen and Ms Bernstein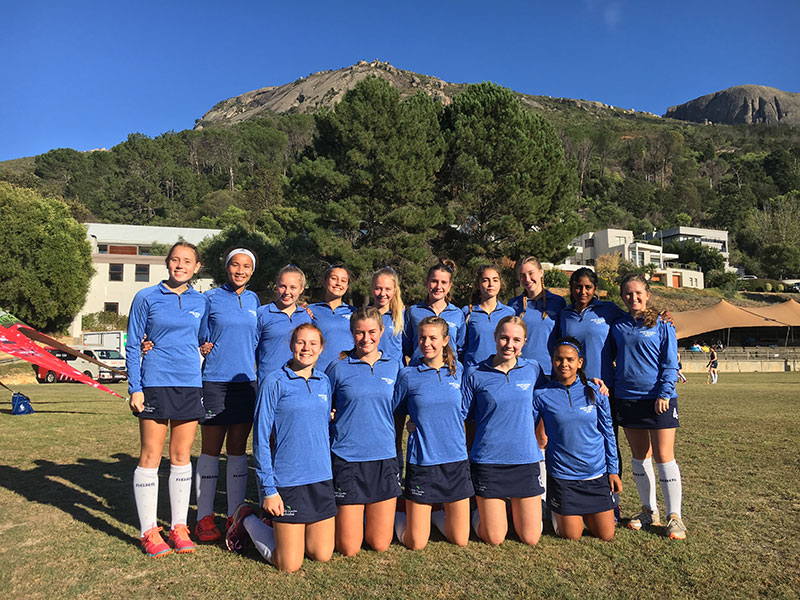 The RGHS 1st Hockey team took part in the NGSF at Paarl last week and played some exceptional hockey.
We played seven matches, winning three, drawing two and losing two. The top goal scorer for RGHS was Erin Coetzee with four goals. It has set up a great platform from which to work for the season ahead and the team is starting to enjoy playing together and creating combinations that will ensure success in the future. RGHS finished 13th out of 21 schools.
Netball – Ms Blayi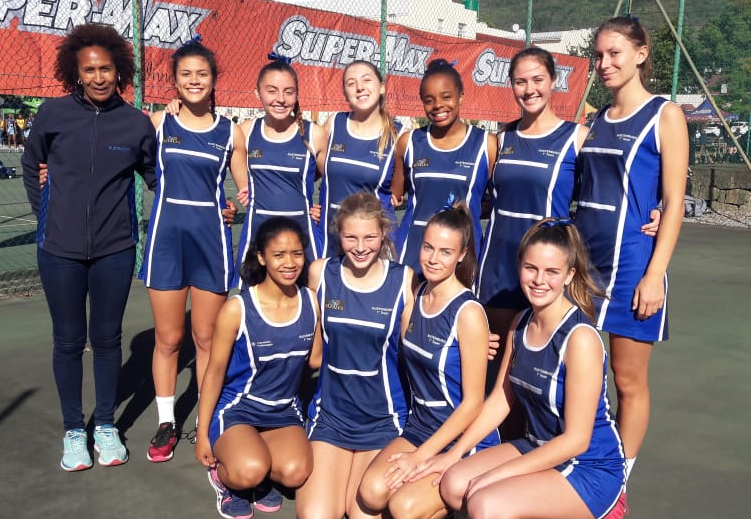 The RGHS Netball team knew from the start that they were placed in the most competitive of the two pools. Day One was a challenge with the team winning only two out of five matches. The team faced Bloemhof who were the eventual finalists and Paarl who made it to the semi-finals. Day Two saw the Team rally together and play as a unit, with every player contributing to the team's success. They played a great game against our local rivals, and 2021 hosts, Wynberg, and put in a gutsy performance against Potchefstroom. The team won three of their four matches.
Rustenburg tied fourth place in the pool with Collegiate and Potchefstroom but finished sixth in the pool due to goal difference. On Saturday, the final day, Rustenburg played for eleventh place. The players put in an amazing performance to claim victory over Jeppe.
Tennis – by Ms Langenhoven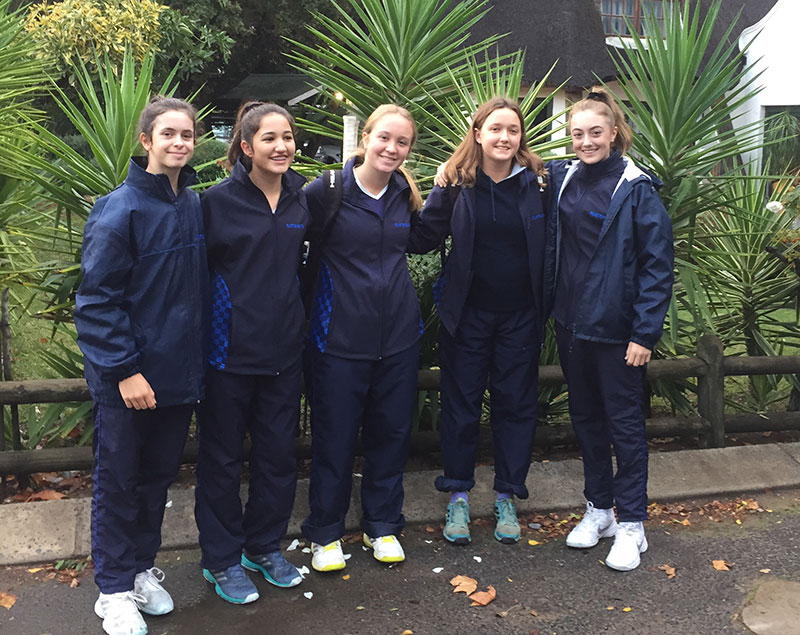 The RGHS Tennis team, Megan Phillipson, Hannah Stronach, Juliana Barrish, Catalina Ross and Sienna Syndercombe climbed onto the bus with great enthusiasm.
We played our first match against Afrikaans Hoër Meisies. RGHS caused quite a stir when we beat this strong school. We also played against Collegiate, Paarl Girls and Eunice. Although we did not beat them, we were still placed eighth out of sixteen schools. This was an outstanding result for this young group of tennis players.
Each tennis player gained invaluable experience and were extremely grateful to have been given the opportunity to represent their school.
Squash – by Ms Lawrence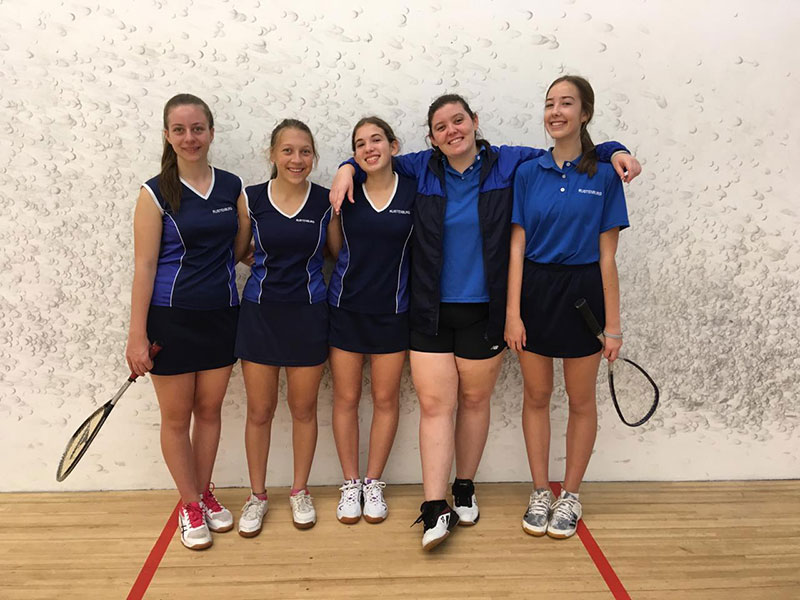 We knew before we arrived at the Paarl Squash Courts that we would face stiff opposition playing against the best players in the country. Despite this, the team worked well as one unit and were of very good spirits – cheering every point we won. Cameron Alexander, our Captain, did us proud by winning a match 3-2 against Paarl Girls' High.
We are grateful to the Paarl community who pampered us and especially for their great "geselligheid"
A big thank you to Rustenburg for allowing these girls and staff to attend this Festival. This experience is one that the girls will remember as one of the highlights of their school careers. THANK YOU!
Weekend Hockey Matches:
The hockey schedule for matches this weekend is below:
10-11 May SPRINGFIELD
DATE
DAY
TIME
TEAM
OPPONENT
VENUE
11-May
Sat
11h45
U19A
Springfield
RGHS
11-May
Sat
09h40
U19B
Springfield
RGHS
11-May
Sat
08h50
U19C
Springfield
RGHS
11-May
Sat
10h30
U16A
Springfield
RGHS
11-May
Sat
08h00
U16B
Springfield
RGHS
10-May
Fri
18h50
U14A
Springfield
RGHS
10-May
Fri
18h00
U14B
Springfield
RGHS
Other Sports News: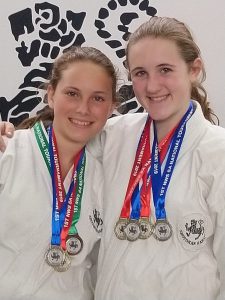 KARATE:
Eleanor Cruise and Hannah Westaway (Grade 8s) took part in the Shotokan Karate Nationals in Franschhoek on Saturday 3 May.
They received a total of eight medals between the two of them. Eleanor won three gold and two silver medals and Hannah won a gold, silver and a bronze medal.
They both competed in the following categories:
Senior female team kata – Silver medal
Cadet female team kata – Gold medal
Eleanor
Individual kata, ages 12/13 – Silver medal
Kumite, age 12/13 + 60kg – Gold Medal
Cadet mixed team kata – Gold medal
Hannah
Individual kata, cadet – Bronze medal
Both girls have been working extremely hard this year and will compete later this year to try to get into the Western Cape Team for the KSA Karate Nationals next year. Good luck to both of you as you pursue your goals.
HORSE RIDING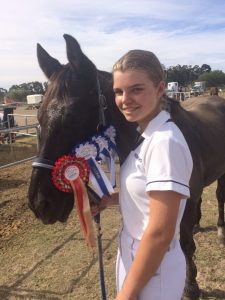 Margot Beattie (Grade 8) riding her pony JD, represented Rustenburg this past weekend at the SANESA fourth qualifier. They had a successful competition, winning their dressage class & placing second in both their 80cm jumping classes & second in their equitation class. Congratulations on these excellent results.
ROWING
Amber Wilson and Morgan Prins (Grade 12s) are setting the Rowing world alight. At the recent SA National Rowing Championships held at the Roodeplaat Dam in Pretoria on 27 and 28 April, while representing the Western Cape, their results were as follows:
27 April – Saturday
Morgan won a gold medal in the Junior Women's U18 coxed 4.
Amber won a bronze medal in the Junior Women's U18 coxed 4
Morgan and Amber won a gold medal as part of the crew in the Junior Women's U18 8s
28 April – Sunday
Amber and Morgan won a silver medal In the Junior Women's U18 pairs
Morgan was in a crew who came sixth in the Woman's coxless 4, rowing against SA university crews.
These are truly exceptional results and Rustenburg is so proud of all your achievements.