SPORT THROUGH EXAMS: 
| | | | |
| --- | --- | --- | --- |
| DATE  | EVENT  | VENUE  | COACH  |
| Tuesday 6, 13, 20 (2-3pm)  | YOGA  | RGHS – Charlies Hope  | Susie Fletcher  |
| Tuesdays 6, 13, 20 & 27 November (06h15-07h15)  | Water Polo (all welcome)  | RGHS pool  | Devon Card  |
| Tuesdays 6, 13, 20 & 27 November (18h00-19h30)  | U16A & B Water Polo  | SACS  | Ms Goble & Tamarah Pike/ Devon  |
| Thursdays 8, 15, 22 & 29 November (06h15-07h15)  | Water Polo (all welcome)  | RGHS pool  | Devon Card  |
| Thursdays 8, 15, 22 & 29 November (16h30-18h00)  | U19A & B Water Polo  | SACS  | Nicola Barrett & Tamarah Pike/ Devon  |
SWIMMING GALA RESULTS:
On Thursday 1 November our A Team swam in a "Combined" gala hosted by SACS. We swam against 3 other schools and were placed second overall. Congratulations to all swimmers. Special mention to Dani Solkowon winning the U19 50m Individual Breaststroke event. 
TENNIS: RGHS vs Herschel
Friday 2 November 
1st Team lost 35-36 
2nd Team won 44-24 
3rd Team won 48-23 
On Saturday, 3 November, 6 players from each of 6 schools participated in the inaugural Mixed Doubles Tournament held at RGHS. Pairings were drawn out of a hat on the day which resulted in Rustenburg being paired with SACS, St Cyprians with Wynberg Boys and Herschel with Bishops. A lot of fun was had by all. We wish to thank Ms Cindy Brown from Herschel for her wonderful initiative.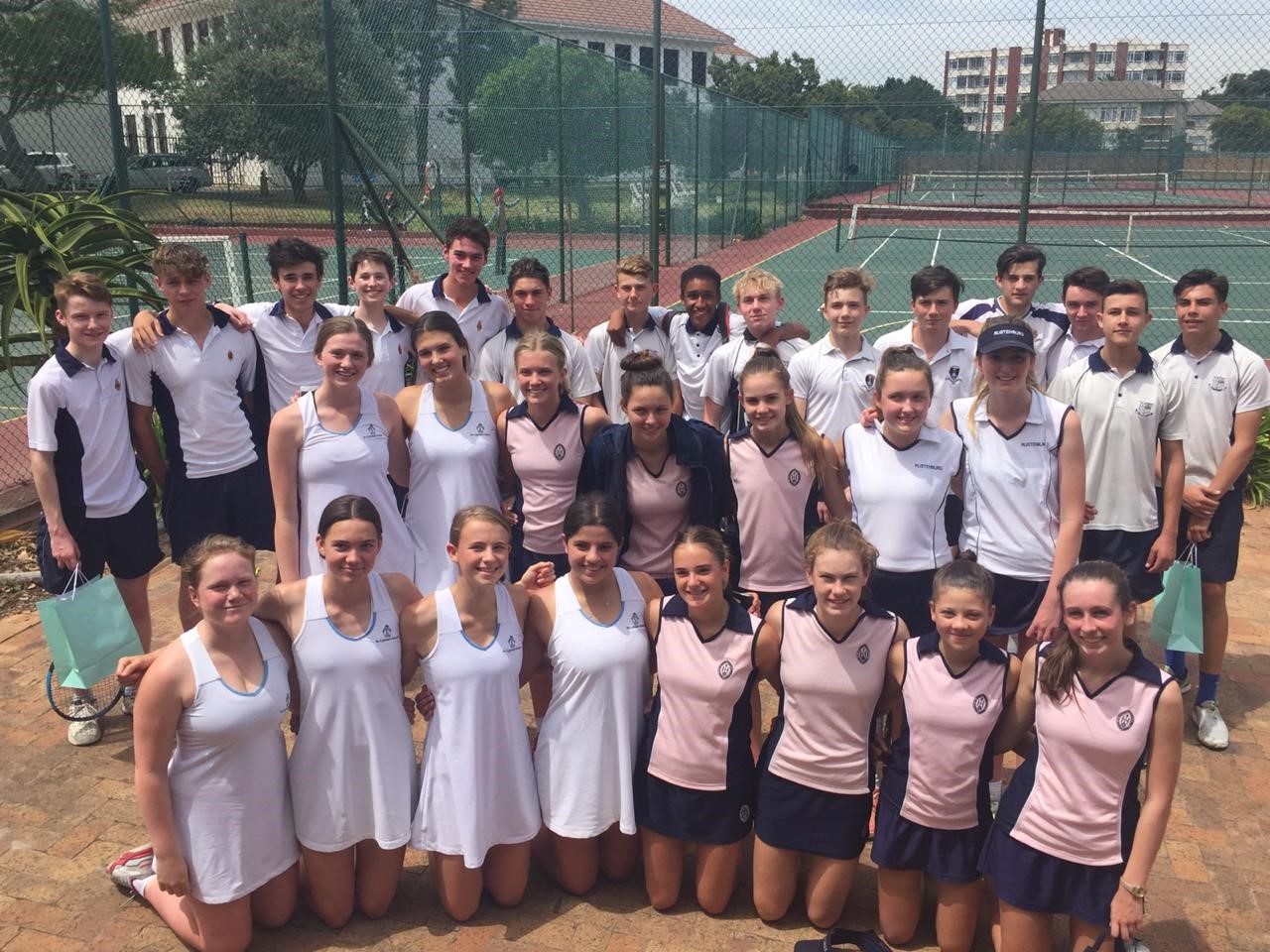 TRACK & FIELD
On Friday 2 November the RGHS athletes made history when they competed in their first ever Track & Field meeting. The meeting was hosted by Rondebosch Boys' High School on their grass facility. RBHS, Bishops, SACS and Wynberg competed. Our girls competed in the hurdles, sprints, 1500m, high jump and long jump events.
The winners in each event are: 
U15 90m Hurdles – Kelly Prowse 
U17 90m Hurdles – Lara Stulting 
U15 100m sprint – Kayla Ross 
U17 100m sprint – Danielle van Breda 
U15 High jump – Kelly Prowse 
U15 Long jump – Lara Pienaar 
U17 Long jump – Danielle van Breda 
U15 1500m – Rachel Behne 
U17 1500m – Megan Phillipson 
Congratulations to all 21 girls who put themselves on the line. Many of the girls competed in more than one event. We look forward to competing in many more events in the new year. 
TOUCH RUGBY
The new Touch Rugby season has kicked off and our 1st and 2nd Touch Rugby Teams have once again done us proud at the recent Touch Tournament held at Rustenburg.  The 1st Team walked away winners and the 2nd Team were runners up.  Other schools who participated included Norman Henshilwood High School who ended in 3rd position as well as Claremont High School and Groote Schuur High School. We are very happy to have Wynberg Girls' High School and Rhodes High School join the Touch Rugby scene this year.  The official Western Province Girls'  Touch League matches will commence in January 2019. Congratulations to all the schools that participated.
RUGBY REFEREEING
We are very proud that Jade Lawson (Gr 11) was awarded the  "WP Rugby Junior Referees – Ambassador of the Year" award at the WP Senior Rugby Referees Annual Awards Dinner in Stellenbosch on Friday night. This is proof of her hard work, commitment, dedication and passion for her refereeing. Congratulations on this fine achievement, Jade.