Good luck to our 1st and 2nd Touch Rugby Teams who are participating in the In-2-Touch Tournament on Friday 1 March.
Good luck to our Junior and Senior Tennis players participating in the PGSGU Tournament at RGHS on Saturday 2 March.
WINTER SPORT TRIALS – Please diarise these very important dates.
Girls wanting to be considered for inclusion into an RGHS WINTER SPORTS TEAM must attend the trials as set out below.
We continue with trials later this month to select teams to represent Rustenburg at the National Girls' Schools' Festival (NGSF) from 1-4 May. This year we will be travelling to Paarl and staying at De Hollandsche Molen. https://dehollandschemolen.co.za/ The cost of this tour is R3000.00 per person. The festival is being hosted by Paarl Girls' High and La Rochelle.
RGHS will be sending the following teams:
Cross Country – 4 junior + 4 senior runners
Hockey – 15 players
Netball – 10 players
Squash – 5 players
Tennis – 5 players
Debating – 5 debaters
1st Team Netball and Hockey Squads were selected at the end of 2018. These girls are invited to attend the final trials as set out below.
FINAL trial dates to select our 1st Teams to represent RGHS at the NGSF are as follows:
Cross Country – Monday 11 March 15h30-16h30 + a parkrun time/ 3000m time
Two of our 1st Teams will also be touring at the start of the season:
The 1st Hockey Team will be travelling to George on a luxury bus to participate in the York Easter Festival from 15-19 March. The cost of this tour per player is R2750.00.
The 1st Netball Team will be playing in the Springfest tournament to be hosted by Springfield in Wynberg from 16-17 March. The cost of this tournament per player is R850.00.
U14 TRIALS:
HOCKEY
Monday 4 March 15h30-17h00
Wednesday 6 March 15h30-17h00
NETBALL
Tuesday 5 March 15h30-17h00
Thursday 7 March 15h15-16h15
An U14A Hockey Team will be selected to participate in the U14 Somerset College tournament from 16-18/19 March. The cost per player is R500.00.
U16 TRIALS:
HOCKEY
Monday 11 March 16h15-17h15
Wednesday 13 March 15h30-17h00
NETBALL
Tuesday 12 March 15h30-17h00
Thursday 14 March 15h15-16h15
An U16 Netball and Hockey team will be selected to participate in the 5th edition of the Champions Cup tournament, hosted by RGHS, from 12-14 April. The cost per player is R760.00.
U19 B and C team trials will take place at the start of Term 2 – dates to be confirmed.
END OF TERM 1 SPORTS DATES:
Water Polo will end with a FUN POLO day on Saturday 9 March. For more information please email scottr@rghs.org.za and see the flyer here.
Athletics @ RBHS – middle distance training continues on Mondays & Wednesdays @ RBHS to prepare girls for Cross Country trial on 11 March @ RGHS.
Indoor Hockey ends with the league matches vs Herschel (1sts and 2nds on Tue 5 March; 3rds on Wed 6 March).
The last swimming gala is @ WBHS on 28 February.
Team Tennis will end on Saturday 2 March with the PGSGU tournament.
Hockey 5s has ended.
Cricket has ended.
Social Sport (tennis, touch rugby, yoga, soccer, walk club and run club) will end the week of Friday 8 March.
Team Touch Rugby will end on Friday 8 March.
SPORTS NEWS:
INDOOR HOCKEY
RGHS played against Westerford on Wednesday 20 February. The results were:
| | | |
| --- | --- | --- |
| | RGHS | WHS |
| FIRST TEAM | 2 | 3 |
| SECOND TEAM | 1 | 1 |
| THIRD TEAM | 3 | 4 |
At the PGSGU tournament hosted by Herschel on Tuesday 26 February our 1st Team girls played exceptionally well. The level of play by all teams seems to improve every year. The margins between winning and losing are so small. Rustenburg placed 4th and the scores were as follows:
RGHS 3 WGHS 1
RGHS 0 St Cyprians 2
RGHS 0 Springfield 1
RGHS 0 Herschel 1
Congratulations to the team and their coaches.
TENNIS
Sienna Syndercombe and Lisa Penney (both Grade 8s) represented Western Province this weekend.
The Western Province A Team came second and the B Team came third.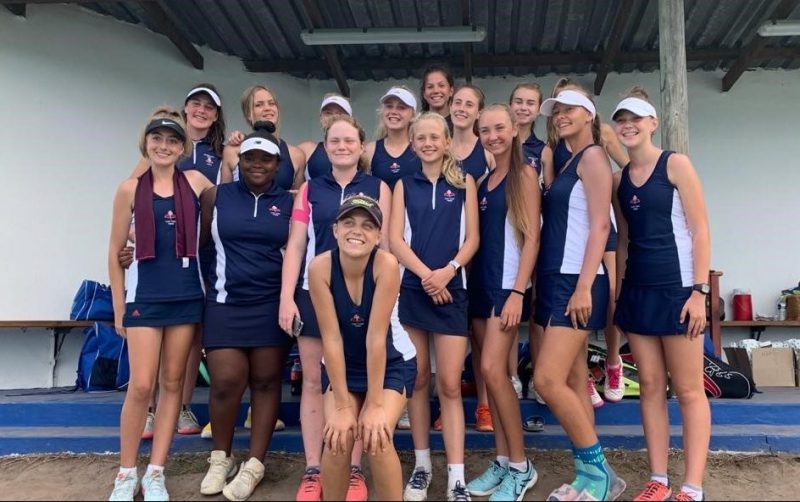 RGHS RESULTS
Tuesday 19 February
4th Team 30 – 22 5th Team
6th Team 15 -26 St Cyprians
Friday 22 February
1st Team 32-10 Jan van Riebeeck
2nd Team 46-28 St Cyprians
3rd Team 25-48 Herschel
SWIMMING
RGHS participated in the Individual Gala hosted at CURRO, Durbanville on Thursday 21 February. We placed 1st in a very keenly-contested gala.
Women Scores
Place
School
Points
1
Rustenburg A
101
2
Parklands
100
3
Curro Durbanville
82
4
Rustenburg B
77
5
St Cyprians A
62
6
Springfield
44
7
Durbanville
43
8
St Cyprians B
17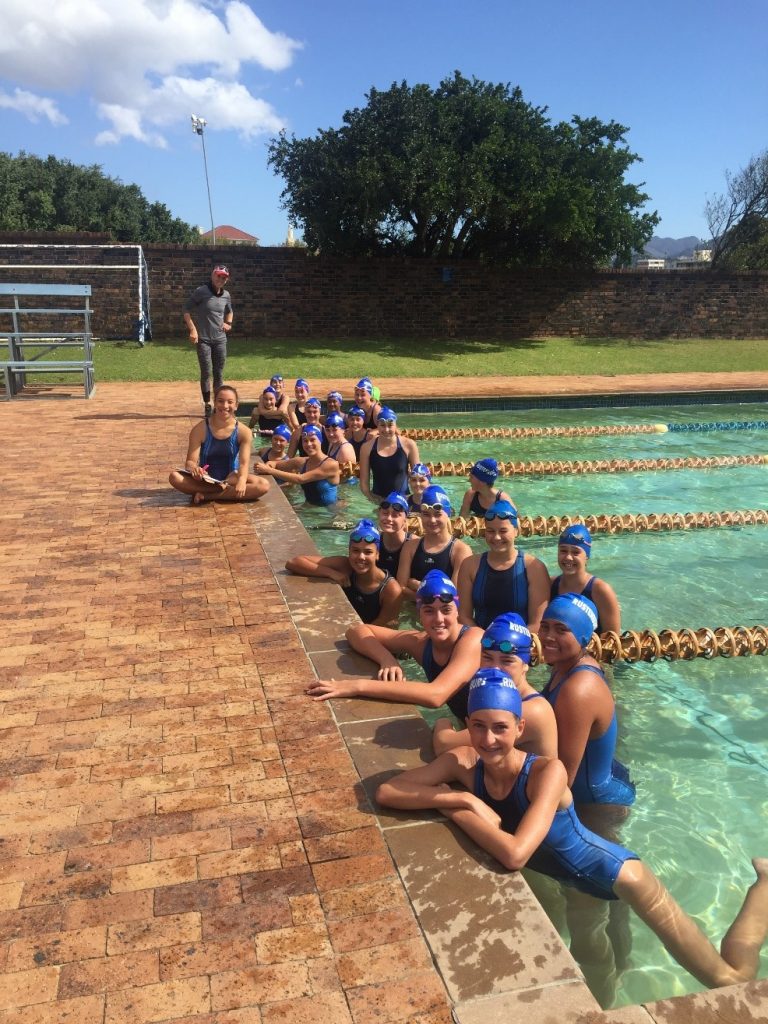 At the PGSGU Gala hosted by Springfield on Monday 25 February RGHS placed second in all age-groups (U14, U16 and U19) and hence placed second overall. The Swimming Team are a really committed group of girls and must be congratulated on their performances throughout the season. Coach Viv says they are a chatty group, but when they're in the water they train really well!
TOUCH RUGBY
Results from matches played on Friday 22 February:
RGHS 1st beat Rhodes High School 7-2
RGHS 2nd beat Norman Henshilwood HS 8-1
RGHS 3rd lost to Wynberg Girls' High School 0-1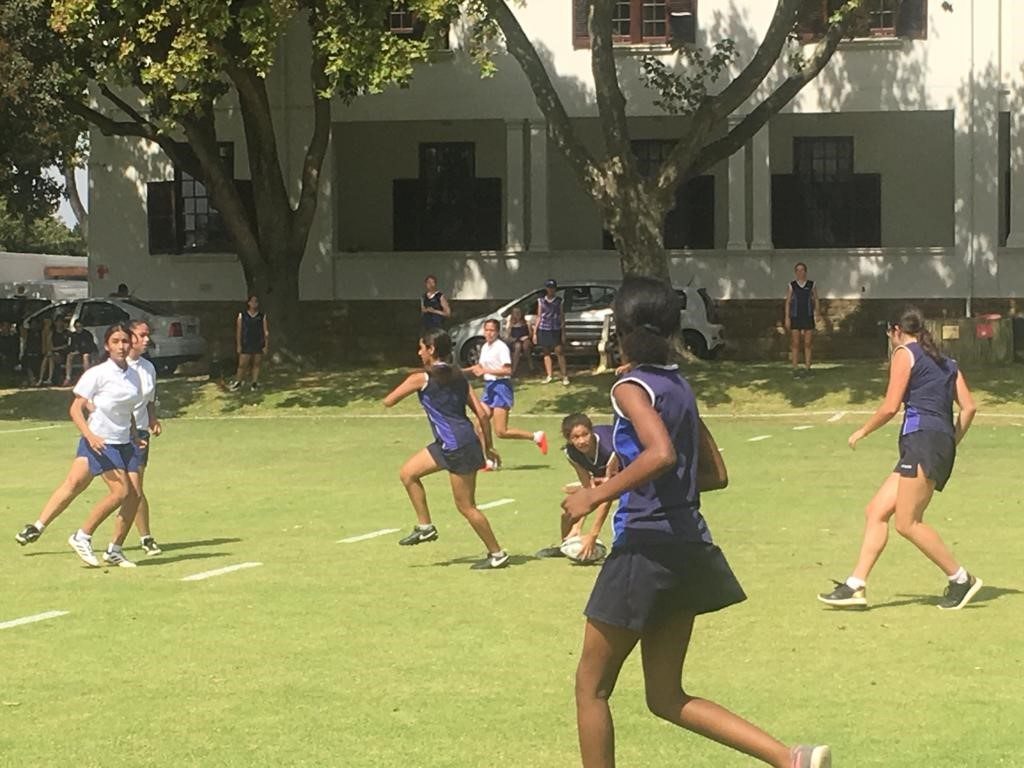 WATER POLO
In friendly water polo matches played on Friday 22 February the results were as follows:
U14B RGHS 1 Herschel 8
U16B RGHS 6 Herschel 0
U19B RGHS 1 Herschel 3
The 1st Team had a very busy weekend representing RGHS in Johannesburg at the Old Petrians Girls U19 Tournament. Coach Nicola Barrett wrote the following report:
"The U19A Water Polo Team attended the annual St Peters tournaments in Johannesburg from 20-24 February. After our first tough game of the pool rounds against Clarendon, we had an incredible dinner with guest speaker, Victor Vermeulen. He spoke about his experience as an SA cricketer with everything going for him before he had a tragic accident ending with him being paraplegic from the neck down. His talk was inspiring and gave everyone in the room a reason to fight for their goals and appreciate what they have.
The following day we had three tough games left of our pool. We played Crawford, St Mary's and Durban Girls' College. While struggling in the tough pool, it became incredibly beneficial the next day when we beat our cross-pool play-offs against Reddam Bedfordview. We then entered the semi-finals for the Shield Trophy. After beating Wynberg Girls, we were up against Alex Road High School from Port Elizabeth in the final on Sunday. The RGHS girls walked away with a comfortable 6-0 win, showing their awesome growth in defence.
It was an incredible tour ending with the best result Rustenburg has ever had at the St Peters tournament, leaving the team in very high spirits. Well done. Amazing result!"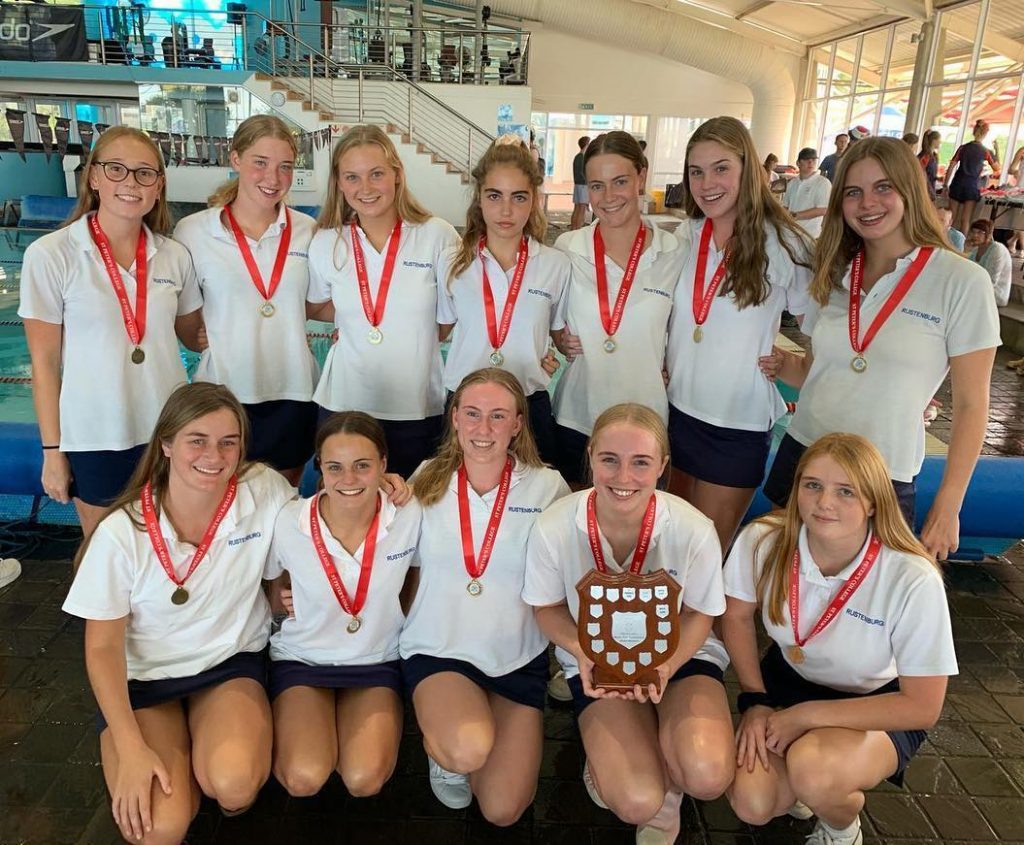 Non-School Sport
HORSE RIDING
Margot Beattie (Grade 8) competed at the SANESA 2nd qualifier this past weekend. Although the heat was unbearable at times, she and her pony JD came home with a 1st for 80cm Equitation; 3rd for 80cm Jumping Accumulator, just missing the placings; 2nd for 80cm Jumping Competition; and a 3rd & 5th for her dressage Prelim tests. They had such fun and are ready for the 3rd qualifier taking place in the 1st weekend of April.
SURF LIFE-SAVING
Hannah Hillman (Gr 10) and Rachel Behne (Gr 9) both achieved great results at the Western Cape Surf Lifesaving Championships held at the Strand. Rachel's results were as follows: Bronze medal for U15 Long run, silver medal for U15 Single Ski, and silver medal for Junior Ski Relay.
Hannah performed exceptionally well, representing Big Bay Surf Lifesaving Club. She competes in the U17 category as a 16-year-old. She showed her grit with the older girls and was fantastic in the surf, competing in 11 events over 2 days
Hannah's results were as follows: Ironlady – 3rd; Surf swim – 2nd; Board – 3rd; Ski – 7th; Run Swim Run – 5th; Flags – 8th; Taplin relay – 1st; Board relay – 4th; Tube Rescue – 3rd; Board rescue – 3rd and Double ski – 8th.
Rustenburg are very proud of both of you and wish you well for the rest of the season.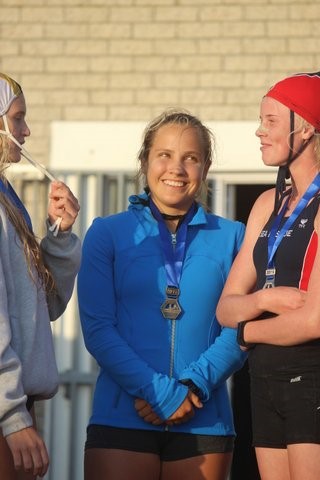 XTERRA TRIATHLON
On Saturday 23 February Megan Phillipson (Grade 11) placed 2nd in the 12-17 age category in the Sprint triathlon (400m swim; 12km mountain bike; 4.8k run) in a time of 1.34.09. Congratulations on this great result in a very gruelling event.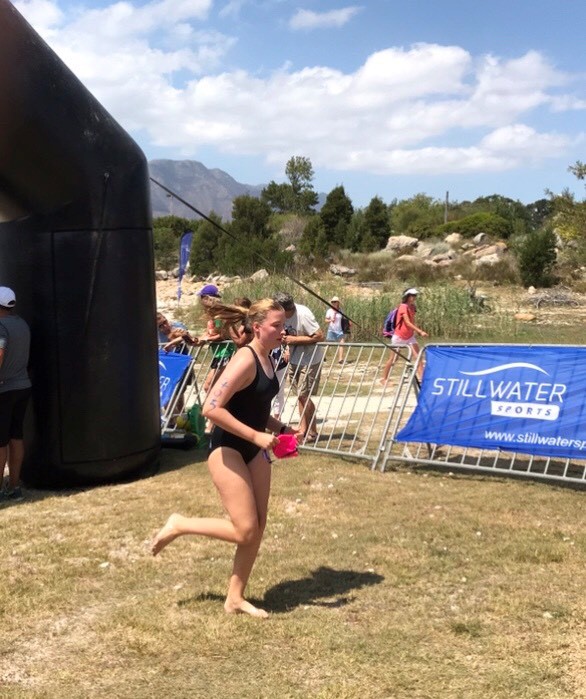 Erin Boshoff (Gr 8) participated in the Super Sprint Xterra Triathlon in Grabouw. The event comprised a 250m swim, 5km mountain bike and a 2.5km trail run.
Erin did very well in the swim leaving the water 5th girl in the whole age category (12 – 15yrs). She was lightning fast out of the transition from swimming to mountain bike. She however had to drop out towards the end of the cycling leg due to technical difficulties with her mountain bike. Her Dad says: "She was obviously very disappointed that she couldn't finish, but I was very impressed with the mature way that she handled herself and the disappointment of not completing the race. She is already talking about what training she needs to do during this year to complete this event next year again, and finish." That's fighting talk – turning a disappointment into a positive; an attitude that we can all learn from. Well done, Erin.
STAFF SPORT NEWS:
Four of our academic staff members ran a 10km road race on Saturday 23 February. Well done to each one of you.