The term ahead is a very busy one as we head into the PGSGU tournaments that round off each of the Winter Sports.
Please diarise the following dates:
PGSGU SQUASH – Friday 17 August @ WPCC
PGSGU CROSS COUNTRY – Friday 31 August @ RGHS (this is a new date)
PGSGU U14, U16 & U19 NETBALL – Saturday 1 September @ RGHS
PGSGU U14 & U16 HOCKEY – Friday 7 September @ Wynberg Girls High School
PGSGU U16 & U19 HOCKEY – Saturday 8 September @ Wynberg Girls High School
Saturday 4 August – All HOCKEY & NETBALL Teams will be playing matches against FAIRMONT @ FAIRMONT (times not yet finalised)
Saturday 18 August – RHENISH DERBY DAY – All HOCKEY & NETBALL Teams will be playing matches against RHENISH @ RHENISH (times not yet finalised)
Saturday 20 October – Open Air Movie Night @ RBHS – Water Polo tour Fundraiser – please diarise & support!
Monday 13 August – WATER POLO PARENTS: You are warmly invited to an information evening with regards to the 2019 tour to Serbia, at RGHS on Monday 13 August starting at 17h30. The venue for this meeting will be confirmed nearer the time.
Grant Mackenzie who has toured on many occasions with players from the Southern Suburbs will be doing a presentation and sharing the following information:
Serbia – training, games, site seeing (cultural experience)
Montenegro – training, games, site seeing (cultural experience)
Reason for these countries with regards to the water polo
Approximate costs?
Accommodation, flights, visas
Spending money
Q & A
We are a while away from finalising actual flight dates/ costs/ destinations/ etc, however, this tour is going ahead. Our first fundraising date is Saturday 20 October and will take the form of an 'open-air movie night'.
Should you wish to attend this meeting please email scottr@rghs.org.za as confirmation of your attendance, stating your daughter's name and grade. Please also state number of persons attending this meeting. Your daughter is most welcome to attend this meeting with you.
HOLIDAY NEWS
HOCKEY REPORTS FROM THE VARIOUS PROVINCIAL TOURS THAT OUR GIRLS ATTENDED:
Jacqueline Sissons (Gr 12), pictured below left, represented the U18A Western Province Team. They participated from 23-29 June in Pietermaritzburg. They played against Eastern Province in the final and won 1-0, therefore, also winning the Gold medals. Congratulations.
Ashleigh Noyce (Gr 11) took part in the WP U18B IPT in Pietermaritzburg during the first week of the school holidays. The standard of hockey was very high and the team had a tough start, but recovered well by winning 5 games in a row after that. It was a great tournament with both the U18 boys and girls in Pietermaritzburg at the same time. It was hard work, but great fun and there was always a lot of good hockey to watch.
Georgia Dugmore (Gr 12) (vice-captain) and Rebecca Hill (Gr 11) represented the U18 Western Province South Hockey Team and participated in the Regional Inter Provincial Hockey Tournament in Bloemfontein during the July holidays.  Their team won GOLD! They drew their first match and then convincingly won their remaining 6 matches, with 24 goals scored and only 4 goals conceded throughout the tournament. Congratulations on this fantastic result.
Nika Hofmeyr (Gr 10) captained the U16B Western Province Team. The U16 IPT was played from 7 to 12 July 2018 in Pietermaritzburg. Rustenburg did not have any players in the WP A team. The team played some beautiful hockey and finished third in the A division.  Nika's team finished fourth in the B division after two narrow, hard-fought losses in the semi-finals and third place play-offs. This young team consisted of a number of relatively inexperienced players. But what they sometimes lacked in precision they more than made up for in passion! They played and laughed and learned to exhaustion! Nika is very grateful for the experience and relished the opportunity to watch the very exciting 'tests' between the SA Schools U18 boys and girls teams against the travelling U18 Australian teams.
Rachel Noyce, Josie Malherbe and Azrah Dick (all Gr 9) took part in the U16 Zonal tournament in Bloemfontein during the middle week of the school holidays. They arrived in Bloemfontein in good spirits after the 12 hour bus ride. The team played well and finished in fourth place, but were lucky to be awarded the bronze medals as Namibia (who finished second) were not allowed to receive medals in the zonal tournament. The girls really enjoyed the tour, played good hockey and made a lot of new friends.
WEEKLY NEWS:
CROSS COUNTRY
On Friday 20 July 18 RGHS runners took part in the league race held at SACS.
There were some very good performances by our runners after a lengthy holiday. It was also very encouraging to see so many Rustenburg Girls participating.
HOCKEY
Cape Town International Festival Report: by Andi Bernstein
The RGHS 1st Hockey Team took part in the 14th Annual International Hockey Festival, hosted by TEAM Sports, from 18-22 July 2018. We were drawn in a tough pool and had mixed results over the first three days:
Wednesday 18 July:
Match 1 vs Paarl Gimnasium
A tight match with a lot of midfield action and very few penalty corners, RGHS got the upper hand early in the game with a great field goal by Nika Hofmeyer. We were unable to hold this lead, despite playing well in defence, and conceded a goal late in the second half, with the end result a 1-1 draw.
Match 2 vs Parel Vallei
The second game of the day was even tougher and the girls did extremely well to defend for large parts of this match. Parel Vallei were stronger in getting to the 50/50 ball and had a couple of quick strikers running to receive the long ball. This resulted in them scoring in the first half, and we were just unlucky in not being able to get the equalizer. Final score 0-1
Thursday 19 July:
Match 3 vs DF Malan
Having played DF Malan just before the holidays, we knew that they would come out fighting for every ball. RGHS were better technically and dominated the ball possession. We scored off a penalty corner from Ashleigh Noyce, with the end result 1-0
Match 4 vs Somerset College
Knowing that we had to win and score lots of goals, the girls seemed determined to step up their game and go forward in numbers. This resulted in scoring early in the game and allowed the team to relax and continue to keep the ball for long periods of time. The final result was a well deserved 6-0, with goals from Courtney Wheeler (2); Rebecca Hill; Nika Hofmeyer; Jacqueline Sissons and Sharna Naidoo
Friday 20 July:
Match 5 vs Chisipite (Zimbabwe)
The team conceded an early goal within the first two minutes and struggled throughout this match. The pace of the Chisi strikers and central midfielder were hard to manage and they got away from the defence on numerous occasions. They scored two quick goals at the start of the second half but we continued to fight and got one back through Rebecca Hill. Final score 1-3
Match 6 QUARTER FINALS vs Rhenish
In our best match of the week, we knew it was going to be exceptionally tough to play Rhenish (seeded 1st in their pool) when we had only ended 4th in our pool. We had nothing to lose as the underdogs in this contest and the girls played so well in keeping them out of the circle and preventing them from scoring. The tied match meant we went straight to showdowns, which we won 3-2 without our final player even having to take her showdown!!
Goals scored by Courtney Wheeler, Sarah Firth and Jacqueline Sissons and this meant we knocked out the defending champions and made it through to the top 4!!
Sunday 22 July:
Match 7 SEMI FINALS vs Parel Vallei
Once again we had to face Parel Vallei and despite all our efforts they scored a goal late in the second half to beat us 1-0
Match 8 Third place playoff vs Pearson (PE)
At this stage of the tournament on a very hot day, both teams were exhausted and it was a matter of which team kept the ball and prevented the other from scoring! RGHS were fantastic in doing just that!! Sarah Firth scored a superb deflection goal off a ball from Jacqueline Sissons to win the game 1-0 and deservedly win the BRONZE medal!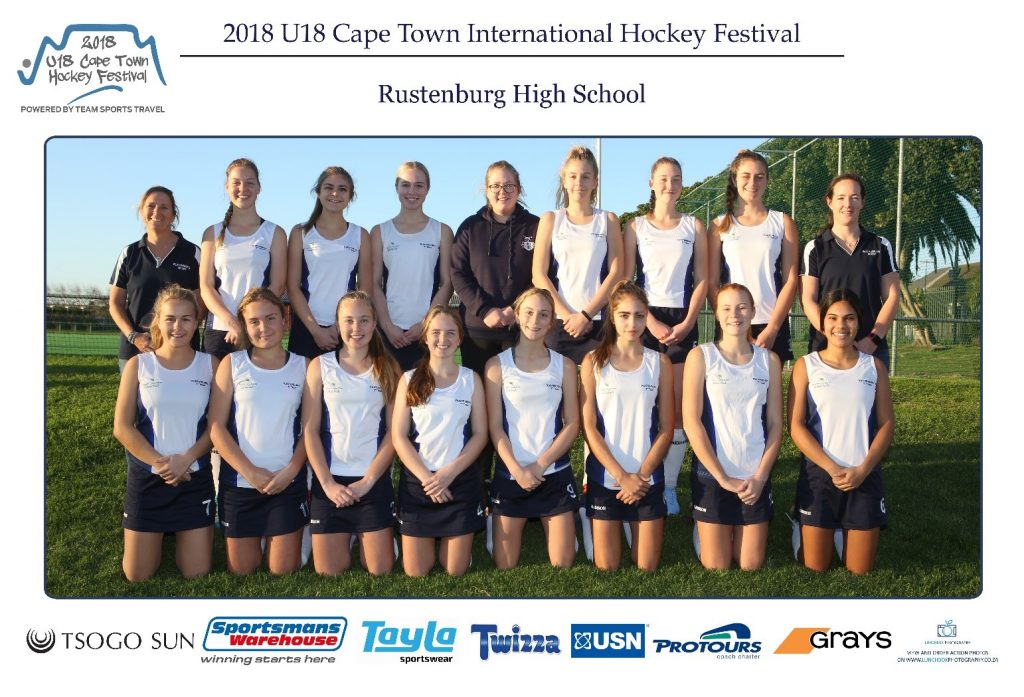 LEAGUE MATCH RESULTS:
| | | | | |
| --- | --- | --- | --- | --- |
| DATE | DAY | TEAM | Result | Score |
| 20-Jul | Friday | U19B | Lost | 1-2 |
| 20-Jul | Friday | U19C | | |
| 20-Jul | Friday | U16A | Won | 1-0 |
| 20-Jul | Friday | U16B | Won | 2-1 |
| 20-Jul | Friday | U14A | Lost | 0-1 |
| 20-Jul | Friday | U14B | Won | 3-0 |
HOCKEY FIXTURES:
| | | | | | |
| --- | --- | --- | --- | --- | --- |
| DATE | DAY | TIME | TEAM | OPPONENT | VENUE |
| 30-Jul | Mon | 16h30 | U19A | St Cyprians | Hartleyvale |
| 28-Jul | Sat | 09h50 | U16A | St Cyprians | RGHS |
| 28-Jul | Sat | 09h00 | U16B | St Cyprians | RGHS |
| 28-Jul | Sat | 08h00 | U14A | St Cyprians | RGHS |
All players to report at least 30 minutes before the start of their match to their coach at their playing venue.
NETBALL
On Thursday 19 July Rustenburg played their league matches against St Cyprians @ RGHS.
Both the 1st Team match and the U14A matches were extremely close and nail-biting for the spectators. Netball at it's very best!
The results were as follows:
RGHS U19A won 27-26
RGHS U19B won 14-11
RGHS U16A won 18-9
RGHS U16B won 32-2
RGHS U16C won 21-4
RGHS U14A drew 10-10
RGHS U14B won 16-6
SQUASH
Results from the first Squash matches played in Term 3 on Friday 20 July:
Boys U19C league – RGHS A Team 4 vs Bishops 11
South Girls league – RGHS B Team vs Springfield 14
NON SCHOOL SPORTS:
DANCING
Congratulations to the following dancers:
Kirsten Okkers (Gr 8) – she has been selected to dance in Scotland at the Edinburgh Dance Festival from 2 – 12 August 2018.
Kathia Oppelt (Gr 10)
Jaime Gillett (Gr 11)
Kathia and Jaime returned to South Africa on Wednesday 25 July after an incredible opportunity to dance in Italy. The first week of this opportunity was spent sightseeing in Rome and travelling along the Amalfi Coast with their dance school teachers and 7 other dancers. The second week was a week full of workshops at the World Dance Movement's annual dance festival, held in Castellano Grotte, East Coast of Italy.
Every year, dancers and teachers from all over the world gather for a week's worth of workshops. This year Kathia and Jaime and 7 others were chosen from their dance school "Dance Co" to attend and participate.
On Sunday evening, 22 July, each individual dance school danced in a competition in various categories. Their dance group won their category and the GOLD medals in the Junior Small Group Category. What an exceptional achievement. Congratulations to both Kathia and Jaime on this fantastic result.
ARTISTIC (SYNCHRONISED) SWIMMING
Kaitlyn Doms (Gr 8) was selected to participate in the Mediterranean Comen Cup in Seville from 26-29 July. She is currently attending a training camp in Durban with her team mates. We wish her all the very best for the competition later this week and congratulate her on her selection to this team.