Sports matches are taking place. Swimming galas, Tennis and Water Polo matches are up and running. Thank you for supporting your daughters by motivating them to continue with the sports programme for the next two weeks.
School Sport
On-the-Move Update
(Totals as of 19 October 2021)
Congratulations to 4 participants who have achieved the SILVER (50kms) standard:
| | | | |
| --- | --- | --- | --- |
| RR Total in kms | FIRST NAME | SURNAME | FORM |
| 51 | Jade | Collard | A3 |
| 52 | Alex | Arendse | A5 |
| 50 | Sienna | de Pomeroy- Legg | A5 |
| 50 | Meera | Beattie | B5 |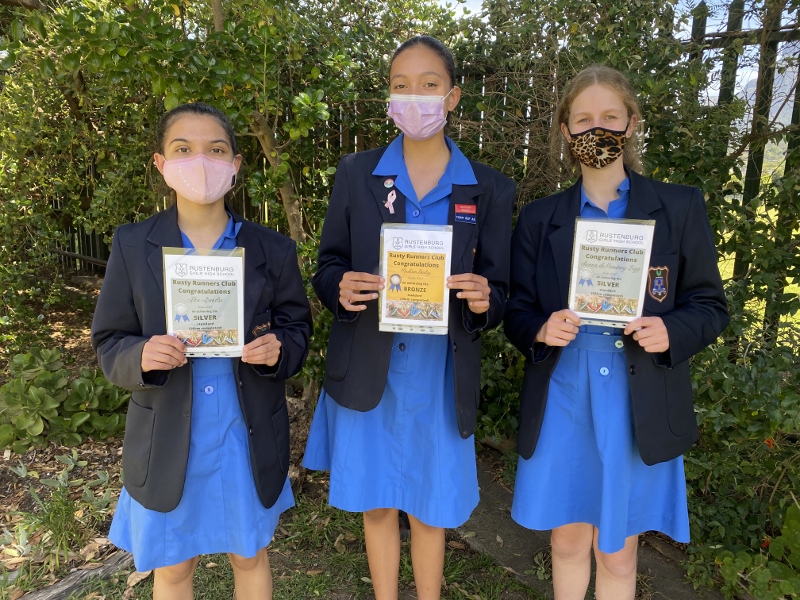 Congratulations to the following participants who join the Rusty Runners Club (RRC). There are now 55 members in the RRC.
Bronze Award:
| | | | |
| --- | --- | --- | --- |
| RR Total in kms | FIRST NAME | SURNAME | FORM |
| 25 | Sienna | Calow | A4 |
| 27 | Madison | Bailey | A5 |
| 25 | Caitlin | Wilson | B4 |
| 25 | Michaela | Smith | B3 |
Tennis
On Friday 15 October two RGHS teams played matches against St Cyprians at Rustenburg. The teams were fairly evenly matched and some excellent tennis was on display.
The scores were as follows:
A TEAM: RGHS 35 – St Cyprians 36
B TEAM: RGHS 21 – St Cyprians 31
On Tuesday 19 October our 4th and 5th Tennis teams played against Herschel at Rustenburg.
The scores were as follows:
4th TEAM: RGHS 24 – Herschel 28
5th TEAM RGHS 21 – Herschel 31
More Tennis news:
Congratulations to Magaret Krieg (Grade 8) who has been selected as a member of the Three Anchor Bay High School Team who will be competing in the National Finals of the Rising Stars Tournament in Johannesburg this coming weekend. Good luck and enjoy the tournament.
Margaret has also been selected to take part in the Interzone Tournament from 30 October to 1 November. She was selected from her results in the zone tournaments played throughout the year.
Water Polo
Western Province Representatives
At the end of Term 3, a number of our learners took part in the Western Province Water Polo trials. Congratulations to the following learners who were selected for the various WP teams:
WP U19B:
Anna Gray (Grade 11); Hannah Hillman (Grade 12); Jamie Kelly (Grade 11)
WP U16A:
Stella Lazarus (Grade 10)
WP U16B (Non-Traveling Reserve):
Caitlin Reed (Grade 10)
WP U15B
Kylie Henry (Grade 9)
WP U15B (Non- Traveling Reserve):
Caroline MacDonald (Grade 9)
WP U14A
Tatum Malherbe (Grade 8); Bella Murray (Grade 8)
WP U14B
Ashleigh Briers-Danks (Grade 8)
Non-School Sport
Deep Sea Angling
Karla Rautmann (Grade 10) participated in the 2021 SADSAA Senior Bottom Fish Nationals in Struisbaai this past week. This is one of the 3 most prestigious boat angling competitions held in SA each year for senior anglers. Provincial, SADSAA and Protea anglers all compete against each other in teams of three in this competition which this year boasted 14 participating teams. Karla, still technically a junior angler at 16 years old, was the youngest participant.
We are extremely proud of her and her team. The Western Province Senior Ladies Team, consisting of Adele Palmer (captain), Amanda van Staden and Karla Rautmann, won a silver medal in the woman's division of the competition. Although it is a team and not an individual competition, individual standings are also given. Karla was the second-best angler in the ladies' division and ended up in 11th position overall out of 42 anglers.
Congratulations on once again making RGHS so proud of your achievements.
Rowing
RGHS rowers competed with their club, Peninsula Girls (PGRC) in the Spring Regatta at Elgin on 17 October.
In the Open category, Alice Wannell (Grade 11) came 2nd in the U19 pairs and 2nd in the U19 coxed quad. Darcy Gliddon and Hannah Murphy (both Grade 9s) won a medal for 1st in the U16 Doubles event with Robin Day in 2nd place with her Herschel partner.
Robin won a medal for 1st in U16A Scull (single) in which Darcy came 2nd.
Lyla Cahill (Grade 8) won medals for 1st place in both her events – U15A scull and doubles.
This was the first regatta for the following Grade 8 learners who did extremely well in scull, doubles and quad events: Shannon McDiarmid, Taylor Deacon, Sarah Williams and Sienna Calow.
Congratulations on these outstanding results.
These rowers are competing in a Sprints regatta and a Heads race next weekend at Misverstand dam and we wish them all the best.