Please diarise the following dates:
Tuesday 1 October: Term 4 starts
Wednesday 2 October: Indoor Hockey trials @ RGHS (15h30-17h00)
Thursday 3 October: Indoor Hockey trials continue @ Westerford Indoor Centre (18h00-19h00) for selected players.
Thursday 3 October: U16 Water Polo trials @ Pinelands HS (17h30-19h30)
Friday 4 October: Touch Rugby trials @ RGHS (14h30-16h30) – all players
Monday 7 October: League Tennis matches start
The Term 4 Sports timetable is on the RGHS website for your convenience. Sport as per this time table will take place from Monday 7 October to Friday 1 November.
Hockey
PAST PUPILS AFTERNOON OF HOCKEY:
On Wednesday 18 September a huge amount of fun was had by all. Sadly the Netball matches did not take place as there were too many last minute withdrawals and we were left with insufficient players to fill the teams.
The U14As took on the U16A teams:
The U19B Teams played a Parents/ Coaches Team:
The 1st Hockey Team vs Past Pupils Team:
U19A (1sts) 0 Past Pupils 1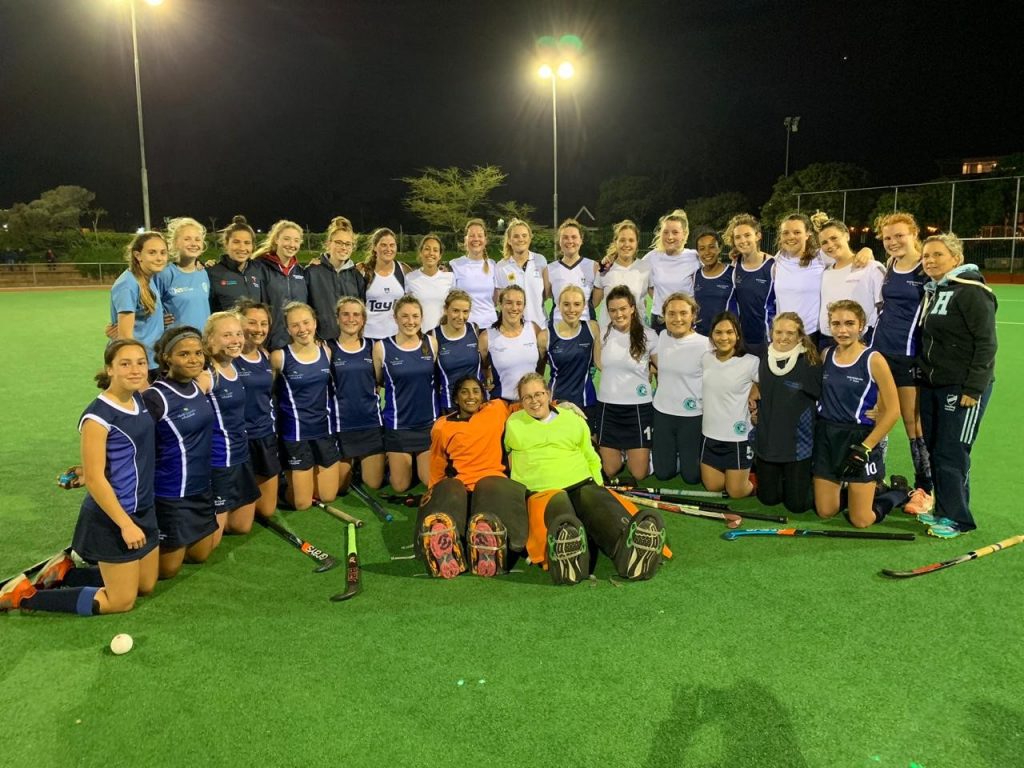 Touch Rugby
Good luck to the following girls who will be representing Western Province at the Junior Touch Rugby Nationals this coming weekend, to be held at Hamiltons Rugby Club.
These girls all attended their capping ceremony held at RBPS on Wednesday 18 September.
U15A: Jesse Daniels; Alhaan Emeran; Georgia Haarhof; Kathryn Hendricks; Aaleyah Khan; Sarah Krone; Saarah Magiet; Layla Worrall;
U17A: Hudaa Arend; Ameerah Behardien; Alexandra de Meuter; Yasmeen Kazi; Isabella Little; Azhar Phillips; Hanaan Shaikjee; Danielle van Breda; Skye Williams.
U17B: Arzoo Bray; Razan Hasan; Nuhaa Hendricks; Ammaarah Samaai; Imaan Samodien.
U19A: Erin Hector; Erryn Morrison.
We are also very proud of a number of RGHS Past Pupils who will be coaching these teams:
U15A: Britney Price and Zoe Naude.
U17A: Razaan Phillips
U19A: Neda Isaacs
Rugby Refereeing
Congratulations to Jade Lawson (Grade 12) who has been selected to referee at the annual International Mauritius 7s Tournament to be held in Mauritius from 25 to 31 September. Jade will be refereeing in the U13 Boys and Ladies divisions. Jade departs on Tuesday 24 September on this exciting and challenging adventure. RGHS wishes you the best of luck as you play your part in this International event.
Water Polo
Good luck to our 1st Water Polo Team who are taking part in the Mackenzie Cup Tournament being hosted by Reddam Constantia from 20-22 September.
Seven of the team are in Grade 12; thank you for your commitment to Water Polo over the past 5 years. May this be your best, most enjoyable tournament of them all.
Alexa Edwards; Georgia Hill; Hannah Schaefer; Jamie Van Schoor; Rebecca McConnell; Ruby Wares; Teagan Salmon (all Gr 12s); Kayla Henry; Mia Lazarus (Gr 11s); Hannah Hillman; Robyn van Zijl (Gr 10s); Anna Gray; Jaime Kelly; Rose Williamson (Gr 9s).
You can follow along on the link below:
https://www.mycomlink.co.za/fixture_list.php?eid=11873&dlim=~
Swimming
Congratulations to Erin Daffarn (Grade 9) and Ashlee Pretorius (Grade 8) on being awarded their Age Group Full WP Colours for swimming. Congratulations on this excellent achievement.
Non-School Sport News!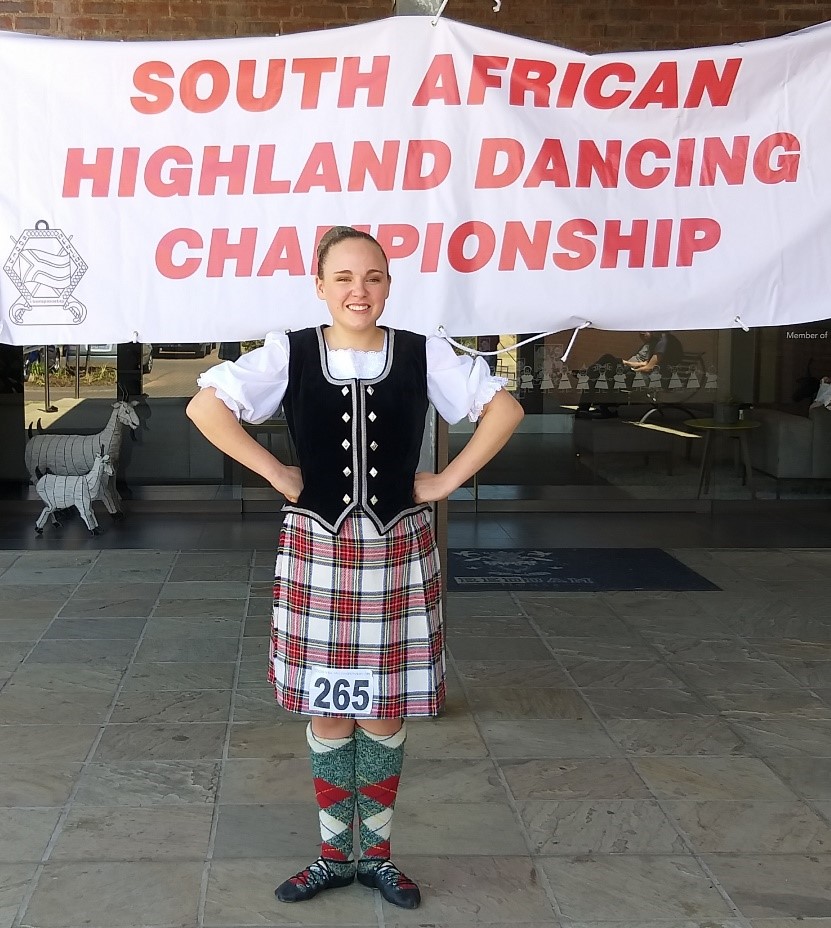 Highland Dancing
Bella Francisco (Grade 8) attended the 88th South African Highland Dancing Championships in Johannesburg. It was held at Reddam House, Johannesburg, on Saturday 14 September.
Bella competed in two sections, Highland and National, which is 8 dances in total. She competed in her new category, Intermediate 14 years and older. There was an International panel of judges, two of the judges especially flying in from Scotland.
Bella won 5 medals. She placed second overall in the Highland Section, winning the Boyes Shield. This section includes the Highland Fling, Sword Dance, Seann Triubhas and Reel of Tulloch. (She unfortunately turned over on her ankle during a dance in the afternoon session, but bravely continued to compete in the National section).
Congratulations on these outstanding results, Bella.
Trial Running Series
The events are as follows:
29 Sept 2019 – Blouberg beach 8km. Will take place at Eerste steen. Race Briefing: AJ Calitz will provide a few tips on beach running. Conservation 5 mins and then start. Sunrise 06:28. Rodney to check the tides. Aim for 08:00 start. Entrance into the grounds are R16/p.
12 Oct 2019 – Jonkershoek, Stellenbosch 5km. Race Briefing: Christiaan & Landie Greyling will provide a few tips on technical running. Friends of Jonkershoek will give a 5 mins conservation briefing and then start. Sunrise 06:10. Aim for 08:00 start.
31 Oct 2019 – Tygerberg 8km. Race Briefing: trail running tips presenter – tbc. Friends of Tygerberg will give a 5 mins conservation briefing and then start. 08:00 start
Entry fee will be R25 per scholar per entry.
Each scholar will receive a card with a QR code at registration, which is their timing chip. Should the card not be handed in at the finish line, the scholar will be liable for a further R10.
The series will be part of the 'carry your own' campaign to eliminate waste and pollution. We encourage scholars to carry their own water that can be refilled at water stops (only for 8km distance races)