Good luck to our U19A Water Polo Team as they participate in the OLD PETRIANS tournament this weekend, 21-24 February in Johannesburg. Good luck to all players and coaches, Nicola Barrett and Ms Goble. We wish you a successful and enjoyable tournament.
WINTER SPORT TRIALS
Please diarise these very important dates. Girls wanting to be considered for inclusion in a RGHS WINTER SPORTS TEAM must attend the trials as set out below.
We continue with trials later this month to select teams to represent Rustenburg at the National Girls' Schools Festival (NGSF) from 1-4 May. This year we will be travelling to Paarl and staying at De Hollandsche Molen. https://dehollandschemolen.co.za/ The cost of this tour is R3000.00 per person. The festival is being hosted by Paarl Girls' and La Rochelle.
RGHS will be sending the following teams:
Cross Country – 4 junior + 4 senior runners
Hockey – 15 players
Netball – 10 players
Squash – 5 players
Tennis – 5 players
Debating – 5 debaters
The 1st Team Netball and Hockey Squads were selected at the end of 2018. These girls are invited to attend the final trials as set out below.
FINAL trial dates to select our 1st Teams to represent RGHS at the NGSF are as follows:
Hockey – Monday 25 February 15:30-17:00
Netball – Tuesday 26 February 15:30-17:00
Cross Country – Monday 11 March 15:30-16:30 + a parkrun time/ 3000m time
Two of our 1st teams will also be touring at the start of the season:
The 1st Hockey Team will be travelling to George on a luxury bus to participate in the York Easter Festival from 15-19 March. The cost of this tour is R2750.00 per player.
The 1st Netball Team will be playing in the Springfest tournament to be hosted by Springfield in Wynberg from 16-17 March. The cost of this tournament per player is R850.00.
U14 TRIALS:
HOCKEY
Monday 4 March 15:30-17:00
Wednesday 6 March 15:30-17:00
An U14A Hockey Team will be selected to participate in the U14 Somerset College Tournament from 16-18/19 March. The cost per player is R500.00.
NETBALL
Tuesday 5 March 15:30-17:00
Thursday 7 March 15:15-16:15
U16 TRIALS:
HOCKEY
Monday 11 March 16:15-17:15
Wednesday 13 March 15:30-17:00
NETBALL
Tuesday 12 March 15:30-17:00
Thursday 14 March 15:15-16:15
An U16 Netball and Hockey team will be selected to participate in the 5th edition of the Champions Cup tournament, hosted by RGHS, from 12-14 April. The cost per player is R760.00.
U19 B and C Team trials will take place at the start of Term 2 – dates will be announced.
END OF TERM 1 SPORTS DATES:
Water Polo will end with a FUN POLO day on Saturday 9 March.
Athletics @ RBHS will end on Tuesday 19 Feb. Only middle distance training will continue on Mondays & Wednesdays @ RBHS to prepare girls for Cross Country trial on 11 March @ RGHS.
Indoor Hockey ends with the league matches vs Herschel on Wednesday 6 March. PGSGU tournament is @ Herschel on Tuesday 26 Feb.
The last Team Swimming session will be on 26 February. The PGSGU gala is @ Springfield on 25 February.
Team Tennis will end on Saturday 2 March with the PGSGU tournament.
Hockey 5s will end on Wednesday 27 Feb (due to outdoor hockey trials taking place on the astro the following 2 Wednesdays).
Social Sport (tennis, touch rugby, yoga, soccer, walk club and run club) will end the week of Friday 8 March.
Team Touch Rugby will end on Friday 8 March.
SPORTS NEWS
CRICKET
RGHS played a match against the President High School at RGHS on Monday 18 February.
Notable performances by:
Jodie Blows (Gr 8) scored 47 runs and 3 wickets (a hatrick – 3 wickets in consecutive balls)
Alida van der Merwe (Gr 12) scored 30 runs
Jade Lawson (Gr 12) took 3 wickets
RGHS won the match convincingly by 60 runs. Coach Hendricks was very impressed with the RGHS performance.
INDOOR HOCKEY
RGHS played Indoor matches on the WGHS outdoor astro on Wednesday 13 February. The results were as follows:
1st TEAM: RGHS 3 – WGHS 1
2nd TEAM: RGHS 1 – WGHS 7
3rd TEAM: RGHS 4 – WGHS 1
TENNIS
We are so very proud of 3 of our Junior tennis players for being selected to represent the Western Province as follows:
Juliana Barrish (Gr 9) – U15 Team to participate in the TSA Interprovincial in Pretoria 15-19 March
Sienna Syndercombe (Gr 8) – U15A Team to participate in the South Interprovincial in George from 22-24 February
Lisa Penney (Gr 8) – U15BTeam to participate in the South Interprovincial in George from 22-24 February
Wishing you all the best in your respective tournaments!
RGHS Tennis results:
Tuesday 12 February
5th Team 36 – 13 Herschel
Thursday 14 February
2nd Team 44 – 41 3rd Team
7th Team 36 – 4 St Joseph's
SWIMMING
RGHS participated in the Relay Gala hosted by SACS on Thursday 14 February. We placed 2nd behind Herschel. Our U14 girls did particularly well winning 3 or their 4 relays.
Three of our swimmers participated in the Cape Mile Swim at the Eikenhof Dam in Grabouw over the weekend.
Congratulations to Erin Hartzenberg; Daniella Solkow (Grade 12s) and to Megan Renecle (Grade 9).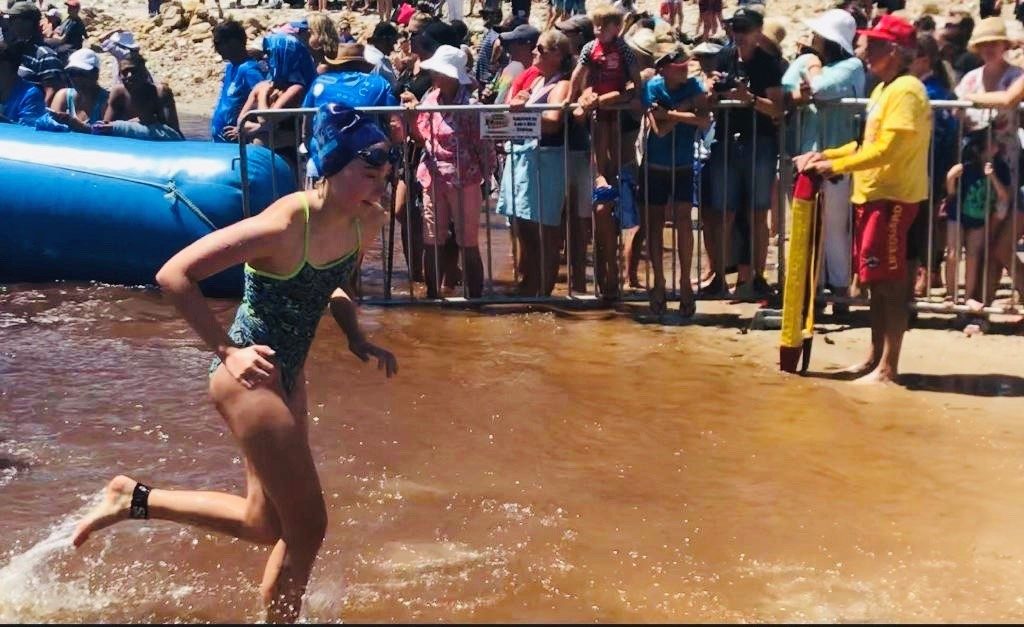 Gala results: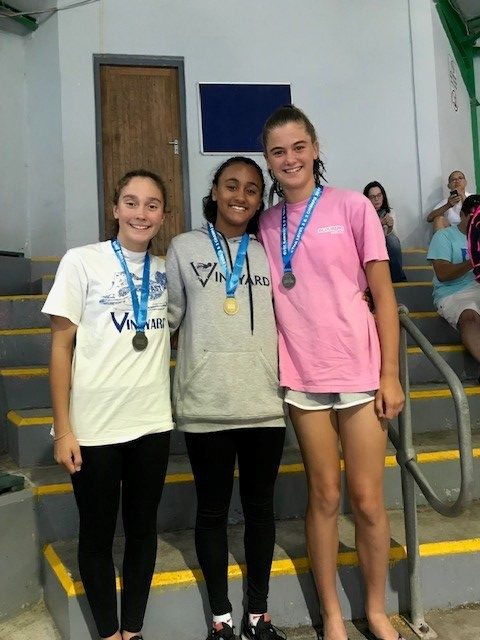 Jenna Renecle (Grade 8) swam in the Cape Town Aquatics Championships in Strand and came home with three medals:
Bronze – 50 Free
Bronze – 100 Free
Silver – 50 Breast
TOUCH RUGBY
Results from 1 March:
RGHS 1 beat Wynberg Girls' High School RGHS 5-1
RGHS 2 beat Voortrekker High 6-0
RGHS 3 beat Norman Henshilwood 5-1
Results from 8 March:
RGHS 1 beat RGHS 3 SCORE = 8-1
RGHS 2 drew with Claremont High School SCORE = 3-3
Your support will be so welcome as we continue with league matches on campus:
Friday 22 Feb:
RGHS1 vs Rhodes High School
RGHS 3 vs Wynberg Girls' High School 1
RGHS 2 vs Norman Henshilwood 2
Friday 1 March:
RGHS 3 vs Rhodes High School
WATER POLO
The U14A RGHS team played in the Dave Pitcairn tournament hosted by Reddam from 15-17 February. The girls learnt so much from this experience and bonded as a team. They placed 11th out of 16 schools. One parent had this to say:
"We would just like to say a special thank you to Tamara and Devon for all their hard work and dedication to the girls this past weekend!  We realised that it was a busy weekend, but we really appreciated how they both kept the girls motivated and happy and in great spirits throughout the tournament whether they won or lost their games! We as parents could see the great team spirit amongst the girls and as my daughter said after the weekend: 'We all feel like sisters now!' "
NON-SCHOOL SPORT
ROWING
Last weekend, Amy Basson and Danielle Henry competed in the prestigious Buffalo Regatta in East London. The girls competed in the U15 category and both qualified for the singles final and came second in the double final. Their squad, with other Peninsula Girl's Rowing Club members, came a very close second to Clarendon, a girls rowing school in the Eastern Cape. This was a memorable experience for them and they are looking forward to a well-deserved "rest" as they plan their off-season training. Congratulations on an excellent season!