CHAMPIONS' CUP
What a weekend it was! Rustenburg hosted the 5th annual U16 Champions' Cup Hockey and Netball tournament from 12-14 April. 18 Hockey teams and 18 Netball teams from across the country descended onto the school campus from 10h00 on Friday morning.
There was a carnival atmosphere on campus with an athletes' village, hydration station and many vendors on site selling beverages, coffees, breakfasts, burgers, pancakes, chair cushions and sports equipment.
The competition was of a very high standard and the visitors were treated to exceptional levels of play and outstanding sportsmanship from all teams. It was a treat to witness the SA umpires for both the Netball and Hockey matches in action.
The Hockey final was an all-Eastern Cape affair with DSG beating Woodridge in showdowns after the full-time score was 0-0. The Bronze medals went to St Cyprians.
In the Final of the Netball tournament the trophy was won by St Stithians after they beat Rustenburg 14-11 in a very exciting match. This match was played indoors due to the rain that descended on the festival atmosphere on Sunday. The Bronze medals went to Reddam Constantia.
We look forward to hosting this event again in 2020.
This event would not have been possible without the help of so many people. A huge thank you to the RGHS academic, administrative, cleaning and ground staff who assisted us throughout the weekend. Thank you also to the pupils who helped pack lunches for the visiting schools as well as the many parents who, inbetween supporting their daughters, assisted in the tuckshop and the Coke Can.
We are also grateful to our sponsors: SPUR, Peninsula Beverages, African Lumber Traders and MyCom Link.
VIEW THE CHAMPIONS' CUP GALLERY (photos: MyComlink)
SPORTS RESULTS
Champions Cup 2019 Final Positions
DSG
Woodridge
St Cyprians
Springfield
Herschel / Bloemhof
Stellenberg / Fairmont
Parel Vallei (Plate Winners)
Wynberg
Somerset College
Reddam – Constantia
Rustenburg Colts
Westerford
Wise-up
Rustenburg
Curro- Durbanville
Edgemead
St Stithians
Rustenburg
Reddam
Wynberg
St Anne's / Parel Vallei
Bloemhof / Fairmont
Edgemead
Herschel
DSG / St Cyprians
Springfield / Wise-up
Westerford
Norman Henshilwood
Somerset College
Oakhill
Swimming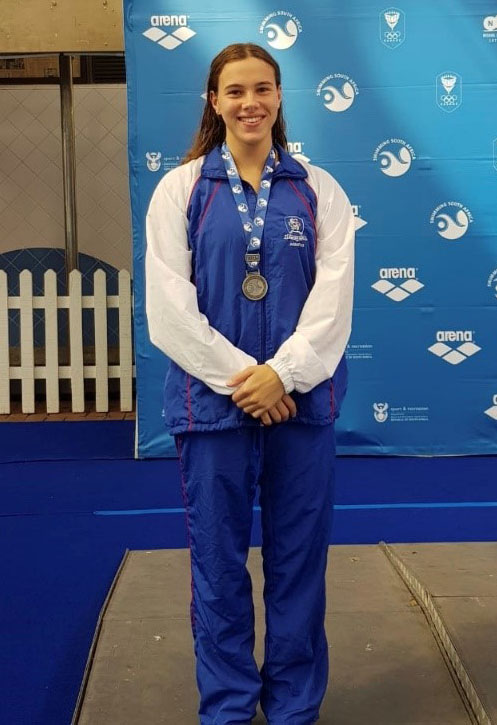 Daniella Salkow (Grade 12) is congratulated on her results from the SA National Aquatic Championships. She swam for Western Province and medalled in her 50 Free (Youth category) and in the WP 4 x 50m freestyle relay team.
Her results were as follows:
50 FREE – 27.17 – place 2 in YOUTH – Silver medal
100 FREE – 1.00.60 – place 35 overall
50 BREAST – 36.22 – place 34 overall
10 BREAST – 1.18.81 – place 38 overall
4×50 Free Relay – placed 3rd – Bronze medal
Squash
The Squash league has started and the RGHS teams got off to a good start.
RGHS A team beat Wynberg 11-5
RGHS B team beat Fairbairn College 10-6.