Good luck to our U14A Water Polo Team and their coach, Devon card, as they participate in the Dave Pitcairn tournament this weekend, 15-17 February. The Tournament is hosted by Reddam Constantia and we encourage you to support this team if you are in the area. The matches are:
Match 1 vs Kingswood @ 08:10 Fri 15 February
Match 2 vs Pearson @ 13:25 Fri 15 February
Match 3 vs St Stithians @ 08:45 Saturday 16 February and on to the cross-pool matches that will start at 13:25 on Saturday afternoon.
WINTER SPORT TRIALS
Please diarise these very important dates. Girls wanting to be considered for inclusion into a RGHS WINTER SPORTS TEAM must attend the trials as set out below.
We continue with trials later this month to select teams to represent Rustenburg at the National Girls' Schools Festival (NGSF) from 1-4 May. This year we will be travelling to Paarl and staying at De Hollandsche Molen. https://dehollandschemolen.co.za/ The cost of this tour is R3000.00 per person. The festival is being hosted by Paarl Girls' and La Rochelle.
RGHS will be sending the following teams:
Cross Country – 4 junior + 4 senior runners
Hockey – 15 players
Netball – 10 players
Squash – 5 players
Tennis – 5 players
Debating – 5 debaters
The 1st Team Netball and Hockey Squads were selected at the end of 2018. These girls are invited to attend the final trials as set out below.
FINAL trial dates to select our 1st Teams to represent RGHS at the NGSF are as follows:
Hockey – Monday 25 February 15:30-17:00
Netball – Tuesday 26 February 15:30-17:00
Cross Country – Monday 11 March 15:30-16:30 + a parkrun time/ 3000m time
Two of our 1st Teams will also be touring at the start of the season:
The 1st Hockey Team will be travelling to George on a luxury bus to participate in the York Easter Festival from 15-19 March. The cost of this tour is R2750.00 per player.
The 1st Netball Team will be playing in the Springfest tournament to be hosted by Springfield in Wynberg from 16-17 March. The cost of this tournament per player is R850.00.
U14 TRIALS:
HOCKEY
Monday 4 March 15:30-17:00
Wednesday 6 March 15:30-17:00
An U14A Hockey Team will be selected to participate in the U14 Somerset College Tournament from 16-18/19 March. The cost per player is R500.00.
NETBALL
Tuesday 5 March 15:30-17:00
Thursday 7 March 15:15-16:15
U16 TRIALS:
HOCKEY
Monday 11 March 16:15-17:15
Wednesday 13 March 15:30-17:00
NETBALL
Tuesday 12 March 15:30-17:00
Thursday 14 March 15:15-16:15
An U16 Netball and Hockey team will be selected to participate in the 5th edition of the Champions Cup tournament, hosted by RGHS, from 12-14 April. The cost per player is R760.00.
U19 B and C Team trials will take place at the start of Term 2 – dates will be announced.
WATER POLO
Alex Road Tour feedback:
Five Grade 10s and eight Grade 8s traveled to Port Elizabeth to take part in the Alex Road u19 tournament. They were accompanied by head coach, Ms Goble, and assistant coach, Devon Card. The team was asked to choose 3 goals to take into every game, one for attack, one for defense and one for their attitude. They did their coaches proud in every game, especially with their incredible defense against some of the top first teams in the country. The team had a lot of fun and returned to Cape Town exhausted and  well bonded as a unit. Well done to all of the team members.
CRICKET
Congratulations to Jodie Blows (Grade 8) on her selection as a member of a Western Province Invitational VI to play a 40 overs match against a team from the UK.
TRACK AND FIELD
On Friday 8 February Rustenburg hosted a Triangular Athletics meeting. We participated against St Cyprians and Wynberg Girls' High. The meeting took place at Rondebosch Boys' High School as they kindly offered us the use of their wonderful grass facility. I wish to thank all the athletes who participated as well as the RGHS staff and girls who assisted as officials. There was an excellent atmosphere and we have received so many wonderful compliments from spectators and participants alike.
Rustenburg had 27 athletes toe the line. A number of these girls participated in more than one event. Congratulations to each and every one of you.
There were two new records set – indicated in red below.
The yellow indicates records set for the first time.
AGE
EVENT
SURNAME
NAME
TIME
DATE
U15
90mH
Prowse
Kelly
17.5
02-Nov-18
U17
100mH
Stulting
Lara
21.7
02-Nov-18
U15
100m
Ross
Kayla
14.2
02-Nov-18
Malherbe
Annie
12.3
08-Feb-19
U17
100m
Van Breda
Dani
15.2
02-Nov-18
Malherbe
Josie
12.96
08-Feb-19
U15
200m
Malherbe
Annie
28.63
08-Feb-19
U17
200m
Lethbridge
Isabella
32.9
08-Feb-19
U15
400m
Krone
Sarah
1.22.19
08-Feb-19
U17
400m
Bhamjee
Qailah
1.17.4
08-Feb-19
U15
800m
Billimore
Kira
2.49.59
08-Feb-19
U17
800m
Bhamjee
Qailah
3.03.53
08-Feb-19
U15
1500m
Behne
Rachel
6.27.3
02-Nov-18
U17
1500m
Phillipson
Megan
6.10.9
02-Nov-18
U19
1500m
Lodwick
Kate
6.27.13
08-Feb-19
U17
3000m
Rule
Lara
12.07.00
08-Feb-19
U15
Long Jump
Pienaar
Lara
3.47
02-Nov-18
U17
Long Jump
Van Breda
Dani
3.61
02-Nov-18
U15
High Jump
Prowse
Kelly
1.30m
02-Nov-18
U15
Shot Put
Lawrence
Melissa
6.9m
08-Feb-19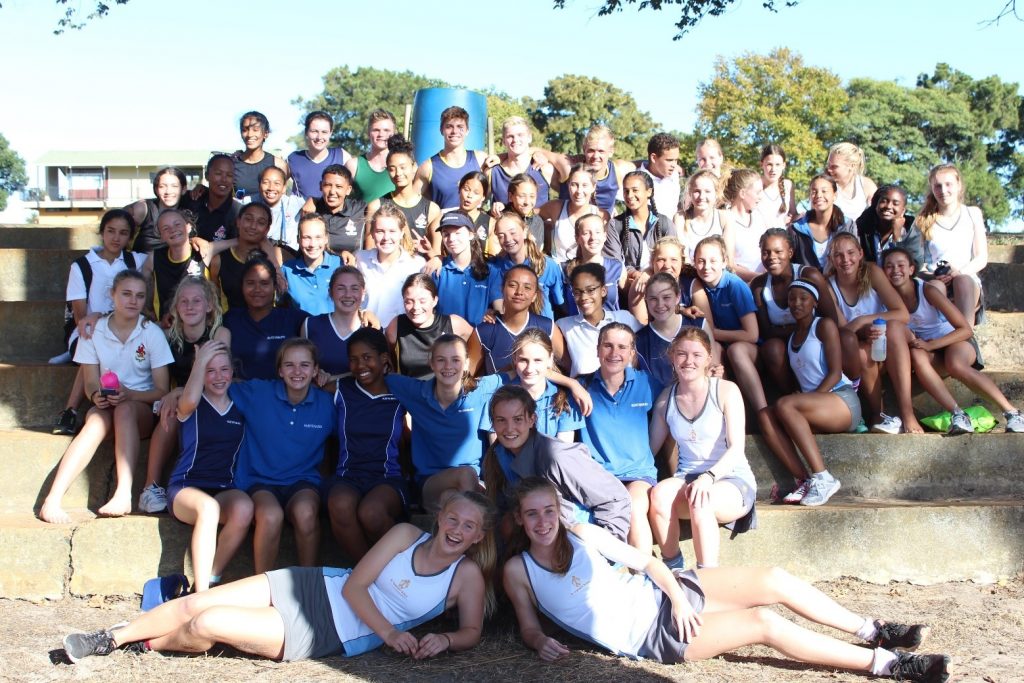 INDOOR HOCKEY
Results from matches played last week:
First Team: RGHS 2 PINELANDS 3
Third Team: RGHS 2 PINELANDS 3
TENNIS
Results from matches played last week:
Tuesday 5 January:
4th Team 42-33 Westerford
6th Team 13-34 Fish Hoek
Friday 8 February:
1st Team 21-48 St Cyprians
2nd Team 48-19 Springfield
SWIMMING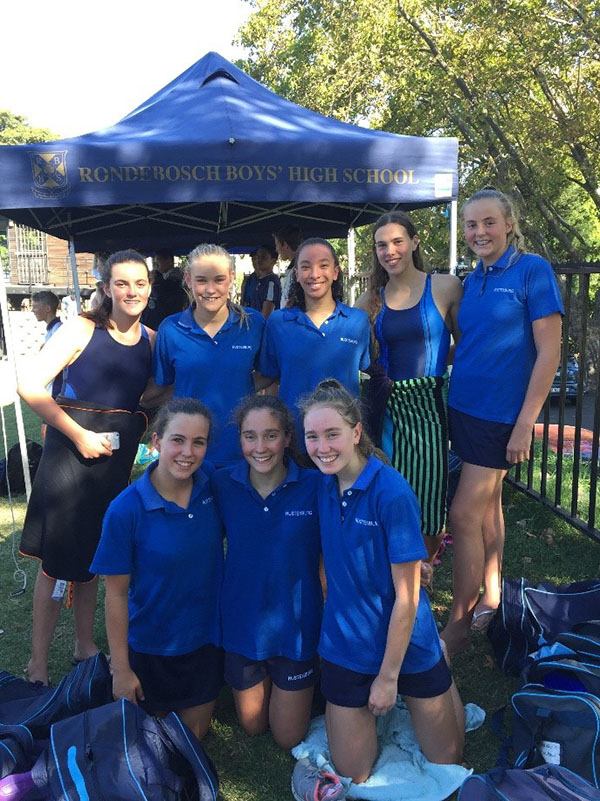 RGHS participated in the Individual Gala hosted at RBHS on Thursday 7 February. We placed 3rd behind Herschel and Rhenish.