Soccer, Walking Club and Social Netball will continue until Thursday 20 September.
In order to keep the girls active through September, your daughter is encouraged to join a fitness and running group that will meet on Monday 17 and Wednesday 19 September from 15:15-16:00. We will meet on the field in sports clothes and trainers.
The new Term 4 Sports schedule is available here and all sport will start on Monday 15 October as per this schedule. All girls are busy signing up for these sessions at the moment.
We have added YOGA and ATHLETICS (Track and Field) to the programme:

Yoga is already fully subscribed. Should your daughter, however, still want to be included, she is encouraged to put her name on the waiting list.
Track and Field: Rondebosch Boys has invited us to join them for training at their grounds. As they have all the equipment and coaches in place, we are very excited about this new partnership. Sign-up sheets have filled up quickly – parents will be receiving an email with more details shortly.
Events:
CAPE TOWN MARATHON – the 10km and 42km events take place on Sunday 23 September. We are aware of a number of girls who have signed up for the 10k. Please keep us informed of results and let us know of parents who are doing the full marathon (scottr@rghs.org.za). See you on the road!
Water Polo Tour Fundraiser Saturday 27 October: The Open Air Pop-up Cinema Night is taking place at Villagers Rugby Grounds, Claremont – please diarise & support!
Hockey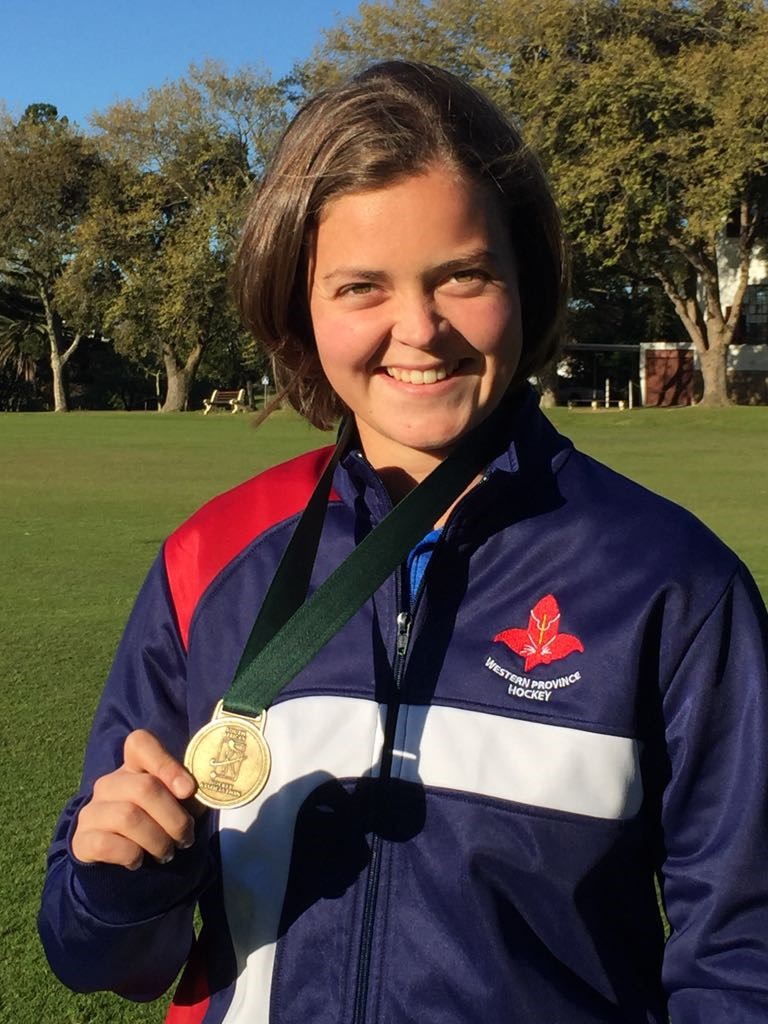 Congratulations to our RGHS U14A Hockey coach, Sasha Sievertsen (pictured right) who is a member of the WP U21 team who won the SA U21 IPT this past weekend. Gold medallists – well done, Sasha!
Rustenburg competed at the PGSGU Hockey Tournament that took place at Wynberg Girls' High School on Friday and Saturday. We had mixed results. Best of the age-groups was the U19A Team who finished second. Both the U16s and U14s finished fifth.
U19 HOCKEY MATCH REPORT
The 1st Hockey Team had an exceptional Inter-Schools tournament, remaining unbeaten throughout the morning.
We beat both Springfield and St Cyprians, against whom we had drawn our league matches, and drew to both Herschel and Wynberg, where we had lost to them in the league! We, therefore, improved on all our league results against these 4 schools.
I am unbelievably proud of how far this amazing group of players has grown and developed this year, and they have always given their best under the excellent leadership of both Courtney Wheeler (Captain) and Jacqueline Sissons (Vice-Captain)
The Scores were as follows:
Beat Springfield 2-1
Goalscorers: Sharna Naidoo and Gemma Watermeyer
Beat St Cyprians 1-0
Goalscorer: Jacqueline Sissons
Drew Herschel 0-0
Drew Wynberg 1-1
Goalscorer: Jacqueline Sissons