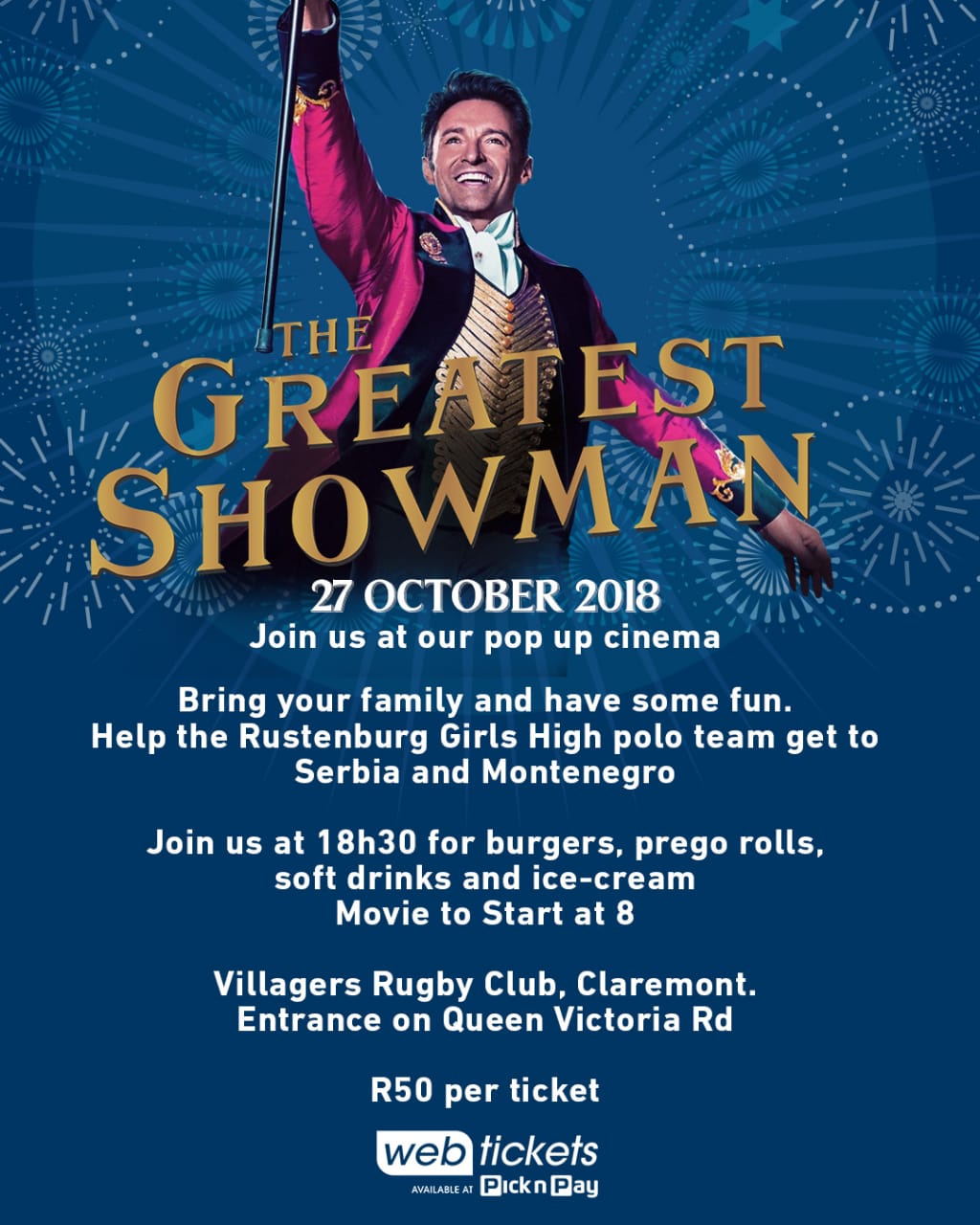 The new Term 4 Sports schedule is available here and all sport will start on Monday 15 October as per this schedule. There is something for everyone to participate in with YOGA and ATHLETICS (Track and Field) having been added to the programme. 
Sport Fixtures Term 4
Water Polo
WATER POLO KNOCKOUT TOURNAMENT: 12 & 13 October at Reddam Constantia.
Matches start at 15:00 on Friday and continue through to 17:00 on Saturday. The RGHS U14A; U16A and U19A Teams will be participating.
Swimming
SWIMMING GALAS – Term 4 2018
18 OCTOBER 
Combined Gala @ Rondebosch Boys' High 
25 OCTOBER 
Individual gala @ Herschel 
1 NOVEMBER 
Combined Gala @ SACS 
Tennis
TENNIS MATCHES – Term 4 2018 
 
 
Week 1  
Teams 
Opponent 
Venue 
Friday 12 October 
1st & 2nd 
St Cyprians 
St Cyprians 
Tuesday 16 October 
3rd, 4th & 5th 
St Cyprians 
RGHS 
Week 2  
  
  
  
Tuesday 23 October 
4th & 5th 
Springfield 
Springfield 
Friday 26 October 
1st, 2nd, 3rd 
Springfield 
RGHS 
Week 3 
  
  
  
Tuesday 30 October 
4th & 5th 
Herschel 
RGHS 
Friday 2 November 
1st, 2nd, 3rd 
Herschel 
RGHS 
Sports Awards
The Rustenburg Sports Awards Assembly was held on 9 October. We were privileged to have Kristin Bellingan, a past pupil who matriculated in 2016, as our guest speaker. Kristin currently represents South Africa in three sporting codes; swimming; surf lifesaving and pool lifesaving. Kristin represented South Africa at the Commonwealth Games in Australia earlier this year. Her message was both inspiring and encouraging, urging the learners to participate in all that is offered and ensure that they follow their dreams.
Congratulations to all the winners listed below:
Special Awards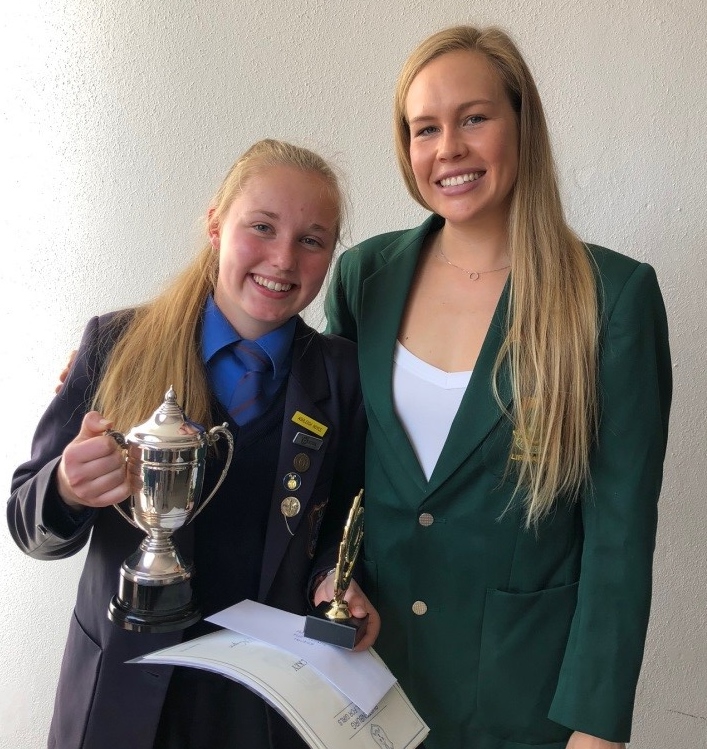 NICOLA BARRETT CUP
Ashleigh Noyce received the Nicola Barrett Cup for all round sporting excellence, showing team loyalty and good sportsmanship. Ashleigh played in the 1st Hockey Team and the 1st Indoor Hockey Team. She also represented the U18B WP Hockey Team as well as the PSI U16 Indoor Cape Seals Team. Ashleigh represented Rustenburg at the National All Girls Festival for Tennis and ran in the Inter-schools Cross Country event.
RUSTENBURG TEAM OF THE YEAR
The Rustenburg Team of the Year Trophy was awarded to the 1st Hockey Team. They won the silver medal at the Spar Tournament, the bronze medal at the Cape Town International Festival and they placed fifth at the National All Girls Festival.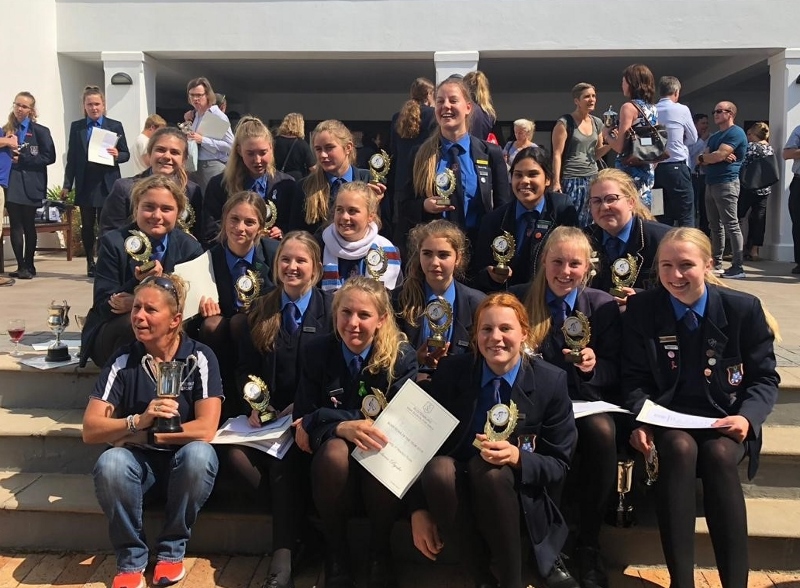 SENIOR SPORTSWOMAN OF THE YEAR
Hannah Schaefer
1st Team Water Polo
1st Team Hockey
WP U16B Water Polo
SA U17 Water Polo
JUNIOR SPORTSWOMAN OF THE YEAR
Rachel Noyce
U16A Hockey
U15A Cross Country
PSI Indoor Hockey
U16 Zonal Hockey Team
U15 Zonal Cross Country
Awards
SPORT
AWARD
CRICKET
Most promising junior
Megan Carollesen
CRICKET
Most promising senior
Jade Lawson
CRICKET
Full Colours
Alida van der Merwe
CRICKET
Excellence in Cricket
Alida van der Merwe
CRICKET
Morag McCleod Trophy:
Player who has shown enthusiasm and encouraged the game of cricket at Rustenburg

Carmen Wilson-Harris
CROSS COUNTRY
Merit
 Rachel Noyce
CROSS COUNTRY
Merit
 Zaina Abrahams
CROSS COUNTRY
Merit
 Olivia Key
CROSS COUNTRY
Merit
 Kate Lodwick
CROSS COUNTRY
Has shown commitment, enthusiasm and improvement throughout the season
Kate Lodwick
CROSS COUNTRY
Merit
 Rebecca Behne
CROSS COUNTRY
Displayed consistent enthusiasm, reliability, loyalty and excellent leadership.
Rebecca Behne
CROSS COUNTRY
Most improved runner
 Rachel Behne
CROSS COUNTRY
Most promising runner
 Lara Rule
CROSS COUNTRY
Best Junior Runner
 Lara Rule
CROSS COUNTRY
Half colours
 Megan Phillipson
CROSS COUNTRY
Best Senior Runner
 Megan Phillipson
HOCKEY
Team
Mila Guerrini
HOCKEY
Team
Kayleigh Beattie
HOCKEY
Team
Jamie van Schoor
HOCKEY
Team
Zahraa Waggie
HOCKEY
Merit
Josie Malherbe
HOCKEY
Merit
Rachel Noyce
HOCKEY
Half colours
Hannah Schaefer
HOCKEY
Half colours
Rebecca Hill
HOCKEY
Full colours
Ashleigh Noyce
HOCKEY
Most valuable U14 player
Catalina Ross
HOCKEY
Most promising U14 player
Hannah Lavery
HOCKEY
Tracey Hall Trophy:Most outstanding U14 player
Kelly Prowse
HOCKEY
Most Improved U16 Hockey Player
Robyn van Zijl
HOCKEY
Most Improved U16 Hockey Player
Laila Samodien
HOCKEY
Half colours
Nika Hofmeyr
HOCKEY
U16 Hockey:Most outstanding Player
Nika Hofmeyr
HOCKEY
Shown excellence and consistency throughout the season
Georgia Dugmore
HOCKEY
Shown excellence and consistency throughout the season
Sharna Naidoo
HOCKEY
Shown excellence and consistency throughout the season
Sarah Firth 
HOCKEY
Merit
Justine Crook
HOCKEY
Shown excellence and consistency throughout the season
Justine Crook
HOCKEY
Most Improved Hockey Player
Gemma Watermeyer
HOCKEY
Full colours (re-award)
Jacqueline Sissons
HOCKEY
Pietersen Hockey Trophy:Displayed outstanding and consistent enthusiasm, reliability, loyalty and good sportsmanship
Jacqueline Sissons
HOCKEY
Shown excellence and consistency throughout the season
Jacqueline Sissons
HOCKEY
Lianne do Rego goalkeeping trophy
Caroline Schreiber
HOCKEY
Shown excellence and consistency throughout the season
Caroline Schreiber
HOCKEY
Hockey player of the year
Courtney Wheeler
HOCKEY
Shown excellence and consistency throughout the season
Courtney Wheeler
INDOOR HOCKEY
Merit
Sarah Firth
INDOOR HOCKEY
Half Colours
Ashleigh Noyce
INDOOR HOCKEY
 Certificate of excellence for a consistently high standard of play for the last three years 
Jacqueline Sissons
INDOOR HOCKEY
Half Colours
Caroline Schreiber
INDOOR HOCKEY
Certificate of excellence for a consistently high standard of play for the last three years 
Caroline Schreiber
INDOOR HOCKEY
Half colours
Courtney Wheeler
INDOOR HOCKEY
Indoor hockey player of the Year
Courtney Wheeler
NETBALL
Most improved U14 player
Anna Gray
NETBALL
Most improved U14 player
Chloe Williams
NETBALL
Most promising U14 Netball player
Charite Strauss
NETBALL
Team
Kayla Henry
NETBALL
Team
Jaime Cooper
NETBALL
Merit
Chloe Kruger
NETBALL
Merit
Ayla Figueira
NETBALL
Merit
Kayla Johnson
NETBALL
Half colours
Isabella Little
NETBALL
Most promising junior netball player
Isabella Little
NETBALL
Long term service and loyalty to the 1st Netball team (2 years)
Chloè Kruger
NETBALL
Long term service and loyalty to the 1st Netball team (2 years)
Meg Wilson
NETBALL
Long term service and loyalty to the 1st Netball team (3 years)
Amber Jossie
NETBALL
Baguley trophy:Most improved player
Tegan Makovini
NETBALL
Long term service and loyalty to the 1st Netball team (2 years)
Ayla Figuera
NETBALL
Shooter with the best goal average
Ayla Figuera
NETBALL
Netball player of the Year
Sarah Murashiki
SOCCER
Most committed player
Nicole Oosthuizen
SQUASH
Most improved and committed player
Roxanne Comyn
SQUASH
Most promising and consistent player
Amy-Rai Bernberg
SQUASH
Francois Botha Trophy:Most enthusiasm for the game and has encouraged greater interest in the game at Rustenburg
Cameron Alexander
SQUASH
Full Colours
Jordyn Campbell
SQUASH
RGHS Best Squash Player:No. 1 player
Jordyn Campbell
SWIMMING
Merit
Olivia Key
SWIMMING
Half Colours
Hannah Faure
SWIMMING
Full Colours
SWIMMING
Most promising junior swimmer
Rose Williamson
SWIMMING
Full Colours
Daniella Solkow
SWIMMING
Most promising senior swimmer
Daniella Solkow
SWIMMING
Merit
Rebecca Behne
SWIMMING
Barbara Marais Trophy:Swimmer showing hard work and team spirit
Rebecca Behne
TENNIS
Team
Mila Guerrini
TENNIS
Merit
Alida van der Merwe
TENNIS
 Most promising tennis player
Nicola Miller
TENNIS
Team
Josie Knutsen
TENNIS
 Most improved tennis player
Josie Knutsen
TENNIS
Best Junior Tennis Player
Juliana Barrish
TENNIS
Best Senior Tennis Player
Megan Davidson
TOUCH RUGBY
Merit
Aarzoo Bray
TOUCH RUGBY
Merit
Erin Hector
TOUCH RUGBY
Half Colours
Jade Lawson
TOUCH RUGBY
Full Colours
Nishaat Hendricks
TOUCH RUGBY
Full Colours
Iman Cassiem
TOUCH RUGBY
Half Colours
Azraa Rawoot
TOUCH RUGBY
Long term service and loyalty to the Touch Rugby
Azraa Rawoot
TOUCH RUGBY
The player who has excelled, shown enthusiasm, loyalty and good sportsmanship in the game at Rustenburg
Amber Jossie
WATER POLO
Excellence in Water Polo and in her leadership of the U14A Team
Rose Williamson
WATER POLO
Excellence in Water Polo
Anna Gray
WATER POLO
Excellence in Water Polo and in her leadership of the U16A Team
Mia Lazarus
WATER POLO
Most improved U16 Water Polo player
Madison Beley
WATER POLO
Team
Teagan Salmon
WATER POLO
Merit
Kayla Henry
WATER POLO
Merit
Jamie van Schoor
WATER POLO
Merit
Alexa Edwards
WATER POLO
Full Colours
Ruby Wares
WATER POLO
Merit
Georgia Hill
WATER POLO
Laura Barrett trophy: Most passionate Water Polo player
Georgia Hill
WATER POLO
Merit
Rebecca McConnell
WATER POLO
Lisa Stirrat trophy:Most improved water polo player
Rebecca McConnell
WATER POLO
Full Colours
Hannah Schaefer
WATER POLO
 Excellence in Senior Water Polo
Hannah Schaefer
Western Province Certificates
NAME
SPORT
TEAM / TOURNAMENT
AVIELLA ABRAHAMS
TOUCH RUGBY
WP U17B
HUDAA AREND
TOUCH RUGBY
WP U17B
REBECCA BEHNE
LIFESAVING
WESTERN CAPE
AARZOO BRAY
TOUCH RUGBY
WP U17B
JORDYN CAMPBELL
SQUASH
U16 WP
IMAN CASSIEM
TOUCH RUGBY
WP U17 A
KAYLA CURRIE-GUMWO
UNDERWATER HOCKEY
BOLAND
ALEXANDRA DE MEUTER
TOUCH RUGBY
WP U17A
AZRAH DICK
INDOOR HOCKEY
PSI U14 SHARKS


HOCKEY
U16 SOUTH ZONE
ALEXA EDWARDS
WATER POLO
WP U16B
YLARA ESAU SALIE
FIGURE SKATING
JUNIOR WP
JULIET FIET
SURFING
CAPE WINELANDS TEAM
CAMILLA FREDDY
RYTHMIC GYMNASTICS
WESTERN CAPE
RAZAN HASSAN
TOUCH RUGBY
WP U15
ERIN HARTZENBERG
SWIMMING
WESTER CAPE A TEAM
ERIN HECTOR
TOUCH RUGBY
WP U17A
NISHAAT HENDRICKS
TOUCH RUGBY
WP U17A
KAYLA HENRY
WATER POLO
WP U16B
GEORGIA HILL
WATER POLO
WP U16B
REBECCA HILL
HOCKEY
WP U18 SOUTH ZONE
HANNAH HILLMAN
WATER POLO
WP U15A
NIKA HOFMEYR
INDOOR HOCKEY
PSI U16 CAPE SEALS


HOCKEY
WP U16B
YASMEEN KAZI
TOUCH RUGBY
WP U17B
JADE LAWSON
TOUCH RUGBY
WP U17A
MIA LAZARUS
WATER POLO
WP U15A
ISABELLA LITTLE
NETBALL
WESTERN CAPE U16
JOSIE MALHERBE
INDOOR HOCKEY
PSI U14 SEALS


HOCKEY
U16 SOUTH ZONE
JENNA MARTIN
ARTISTIC GYMNASTICS
WESTERN CAPE
REBECCA McCONNELL
WATER POLO
WP U16B
ERRYN MORRISON
TOUCH RUGBY
WP U17A
ASHLEIGH NOYCE
HOCKEY
WP U18B


INDOOR HOCKEY
PSI U16 CAPE SEALS
RACHEL NOYCE
HOCKEY
WP U16 SOUTH ZONE


INDOOR HOCKEY
PSI CAPE SHARKS
AZHAR PHILLIPS
TOUCH RUGBY
WP U15
KELLY PROWSE
ATHLETICS – HIGH JUMP
WP U14
IMAAN SAMODIEN
TOUCH RUGBY
WP U15
HANAAN SHAIKJEE
TOUCH RUGBY
WP U15
HANNAH SCHAEFER
WATER POLO
WP U16B
ZOE SITHOLE
TOUCH RUGBY
WP U15
JACQUELINE SISSONS
HOCKEY
WP U18A
DANIELLA SOLKOW
SWIMMING
WESTERN CAPE SENIOR
ZAHRAH SOLOMONS
TOUCH RUGBY
WP U17B
ALIDA VAN DER MERWE
CRICKET
WP U19 GIRLS
ANKE VAN JAARSVELD
INDOOR HOCKEY
PSI U16 WEST COAST BARRACUDAS
JAMIE VAN SCHOOR
WATER POLO
WP U16B
GEMMA WATERMEYER
INDOOR HOCKEY
PSI U16 SUNBIRDS
RUBY WARES
WATER POLO
WP U16B
ZAANDRE BARRETT-THERON
NETBALL
WC LADIES A TEAM


TOUCH RUGBY
WP LADIES A TEAM
National representatives
| | | |
| --- | --- | --- |
| ALIDA VAN DER MERWE | CRICKET – U19B SCHOOLS TEAM | Dec 2017 |
| KAITLYN DOMS | SYNCHRONISED SWIMMING  U13-U15 | July 2018 |
| HANNAH SCHAEFER | WATER POLO U17A | Dec 2017 |
Junior Sportswoman Award Nominees
Winner = Rachel Noyce
Grade 8 – Kelly Prowse
Grade 9 – Sage Canter, Azrah Dick, Hannah Hillman, Josie Malherbe, Rachel Noyce, Robyn van Zijl
Senior Sportswoman Award Nominees
Winner = Hannah Schaefer
Grade 10 – Nika Hofmeyr, Isabella Little
Grade 11 – Ashleigh Noyce, Hannah Schaefer, Alida van der Merwe
Grade 12 – Jaqueline Sissons
Team of the Year nominees
U15 Cross Country Team
PGSGU winners
U14A Water Polo
2nd at Dave Pitcairn Tournament
U14A Netball Team
PGSGU winners
2nd in league
U19A Netball Team
PGSGU winners
3rd in league
U19A Touch Rugby
Won league + 2nd at Century City tournament
U19A Hockey Team (Winners)
Placed 3rd in GC league

2nd at PGSGU/ 2nd at SPAR/ 3rd at CT Festival