The issue of violence against women has been prominent worldwide for centuries but after the recent events close to home such as the deaths of Uyinene Mrwetyana, Jesse Hess, Leighandre Jagels, Janika Mallo, Lynette Volschenk, Meghan Cremer and many others, it has caused the majority of South Africans to stand up against something that has been normalised within our nation.
As an all-girls school in Cape Town, we have experienced shock, anger and sadness and so we have decided to stand up and channel these sentiments and fight the fight that has been a long time coming. Our school has taken a stand by silently protesting with posters on Wednesday morning (4 September 2019) near the school entrance. Students where also encouraged to come to school with an item of black to show their support.
Additionally, our school are wearing black outfits for the rest of the week and raising funds for the IHATA shelter for abused women and children.
We are hopeful that these small actions are the beginnings of a massive period of transition that is going to take place within our school community as well as our country as a whole.
Many other schools in our area have taken similar actions. Rondebosch Boys' High invited the Rustenburg RCL and any other students who where able to join them, so they could hand over a tribute board showing their support. The women who recently lost their lives were honoured with the playing of The Last Post.
When some in our community where asked to comment they said:
"Even though she was one of thousands of rape victims, this one hit South Africa in a different way. Women are tired of hearing rape stories and we want change. The murder of Uyinene Mrwetyana was the last straw for women, and we are not gonna stop fighting until we see change and until all women are safe in South Africa"- Georgia Briton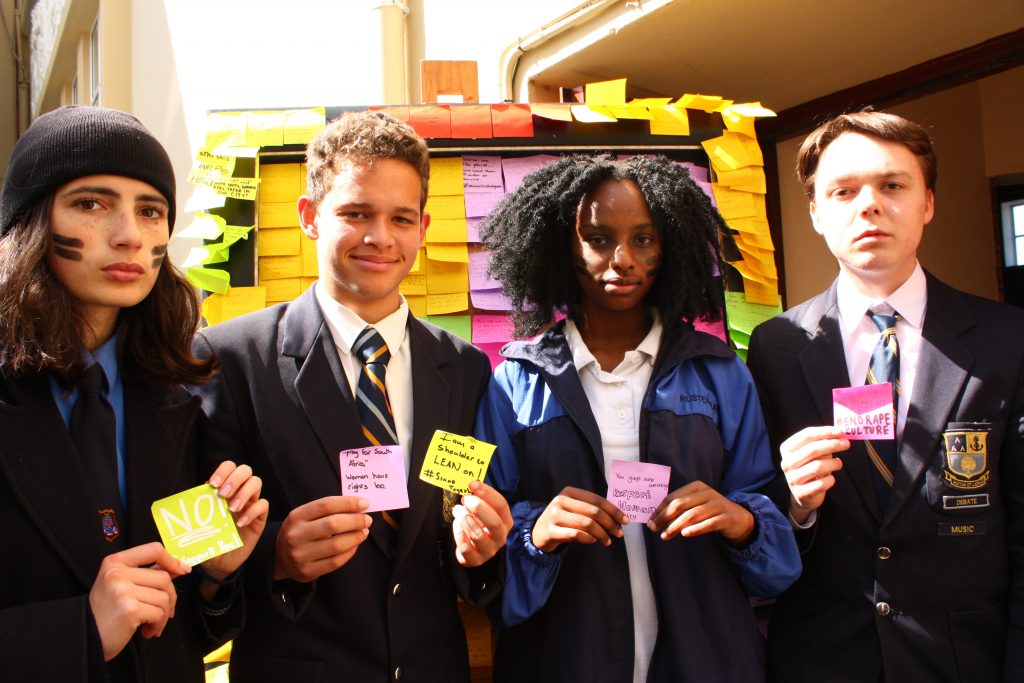 "Why is it that the world has come to the point where the vulnerable are targeted instead of the protected?" – Rebecca Layman
"It breaks my heart that this has been happening for so long before the whole Uyinene story. Privilege was never a shield or weapon to hide behind and it's only now that people realise that. South Africa is one of the most unsafe countries for women and children and I can't help but wonder if someone close to me will be next." – Will O'Carroll
Rustenburg teacher, Ms Julie Campbell commented: "There is currently a groundswell of sadness and anger around the violence women are facing in this country. When the school decided to wear black for awareness, solidarity and in mourning for those who have lost their lives to gender-based violence, I thought that we should also try to raise awareness beyond the confines of the school grounds. This was where the idea of the silent protest outside the entrance of the school was born. We wanted to keep up the momentum of women acknowledging the crisis that is gender-based violence in this country. The number of girls who were prepared to take part showed how vital raising awareness of this issue is, and how deeply it affects us all. I hope that today will have been only the beginning of continued engagement with this important issue."
To all the women and men in our community we encourage you to stand up and fight with our school as well as our whole country and put an an end to the #femicide and the hashtags #metoo #metooagain #aminext.
By Lekia Thaver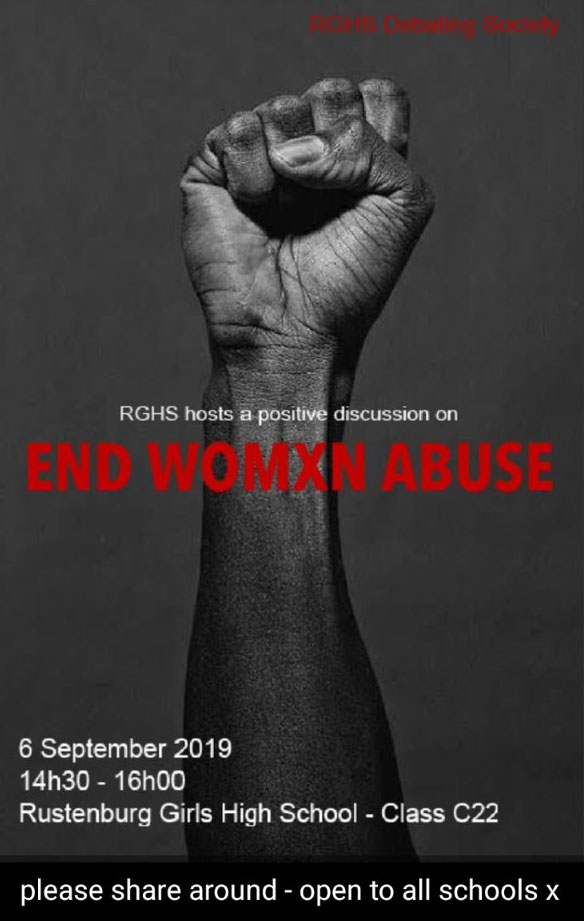 @RustenburgGirls joined our Boys for a moment of silence & The Last Post for all women who are victims of violence. The Boys also presented the Girls with messages of support & hope to take back to their school.#EnoughIsEnough pic.twitter.com/xSc8OvnviB

— Rondebosch Boys' HS (@Rondebosch_Boys) September 4, 2019