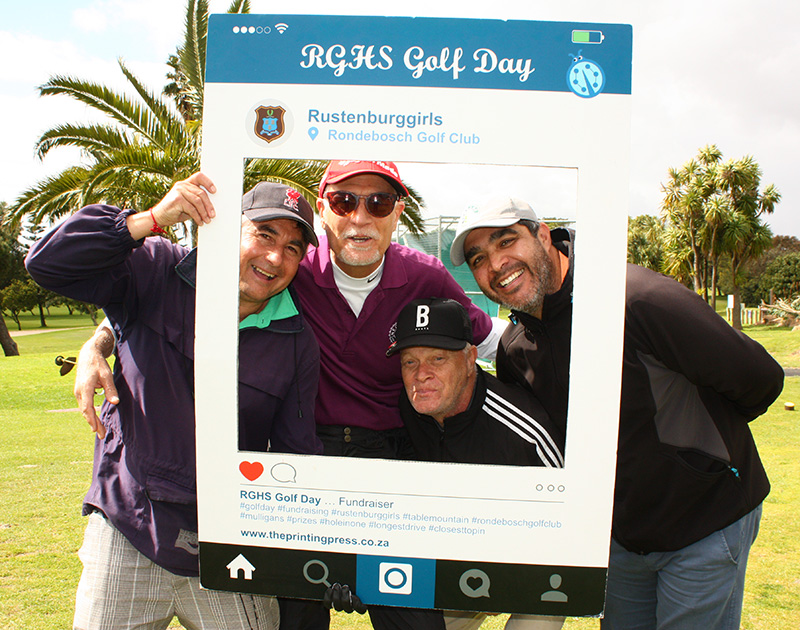 The Annual RGHS Golf Day was held last week at the Rondebosch Golf Club in windy conditions, with the occasional spot of drizzle. The players cheerfully rose to the occasion and did not let the weather dampen their spirits – to be fair, the fire engine and snow mound filled with drinks on the 18th green may have helped lighten the mood. The Golf Day was a fundraiser toward the Water Purification project, and thanks to the generosity of players and sponsors, close to R40,000 was raised. The Water Purification Project, which was switched on last month, has already saved R55 134.00 in municipal water bills by taking us off the grid.
We are immensely grateful to all our participants and sponsors who made the day both possible and profitable – special mention must be made of the Matric Dad team of Mike Feldon (DoseTech), Mark Wilson (Snow productions) and Peter Bauer (Hose Manufactures) who have been loyal supporters since the first Golf Day in 2015. It was their display on the 18th Green, including the fire engine borrowed from the Volunteer Wildfire Services (https://vws.org.za/) that was the highlight of the round. The winning team was from Nedbank, led by Peter McKay.
Our sponsors make it worth participating through their generous donation of prizes, which keep the players coming back – we extend our thanks to the following: Groot Constantia Wine; Awesome Tools; BanjoPro; Trump & Timbal Coffee; The Eatery; Tag Rugby; Edwards Office National; Infinetix; The Health Connection; Hussar Grill, Rondebosch; SA Breweries; Bidvest Waltons; Vox Telecom; Engage School Management Solutions; Personal Trust; Spar/Build it; DoseTech/Snow Productions/Hose Manufacturers; Netto Invest; Old Mutual International; La Cuccina/Pruvit; e-Classroom.