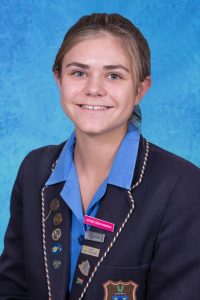 Principal Michael Gates released a statement saying: "We as a school are immensely proud of Justine's excellent results in her NSC examination and that she was awarded the Top Learner in a Quintile Five School. She was driven and completely dedicated to achieving the high standards that she set for herself, not only in academics, but on the sports field and in achieving a Gold Standard in the President's Award. Justine has made full use of the learning opportunities offered to her, even when undergoing personal struggles. This is indicative of the success she will achieve when she sets her mind to it. We wish her happiness as she builds her future on these very sound foundations. I would like to thank all the staff of Rustenburg Girls' High School for their commitment to our learners' achievements. By creating a positive learning environment our teachers, administrators, grounds and cleaning staff have all made a contribution."
Gates added: "Justine is confident, determined, self-disciplined and an exceptional academic. She is a talented problem solver, with exceptional insight and analytical skills." 
Justine Crook-Mansour was Rustenburg's 2018 Dux Scholar and consistently achieved an aggregate of over 95%. In her matric year she was awarded prizes for English Home Language, Afrikaans First Additional Language, Mathematics, Life Orientation, Physical Sciences, and French Second Additional Language. In addition, she was presented with the Karen Wiese Trophy which is awarded to someone who, in the opinion of her peers, has overcome great difficulty with dignity. Sadly, Justine's father passed away during her preliminary examinations.
Head of Department, Brigid Ryan, who got to know Justine as her Grade Head in Matric and as part of the World Challenge group that travelled to Sri Lanka on a 16 day trip said, "Justine is a very intelligent young woman who always gives of her very best in all that she does. She has excelled academically throughout her high school career."  
Justine has served the school well as a school leader and has served the community through outreach groups Habitat for Humanity and Interact. She was editor of the school's student publication, "The Bug" and served as a First Aider. Justine has earned the respect of her peers and educators. 
A talented and dedicated sportswoman, Justine represented the school in tennis and cross country. She played club and school hockey from Grade Eight and was part of the 1st Team that toured Belgium and the Netherlands in 2017.  
In 2016, when Justine did the World Challenge expedition, her team spent time at a school on a small tea plantation where they worked very hard painting buildings and digging trenches for water pipes. They also completed a challenging hike in the Knuckles Mountain Range. During this time she showed herself to be a natural leader, able to handle responsibility in a mature fashion, and endured hardships and illness without complaint. She was caring and compassionate in her interactions with the children at the school. 
Justine has also attained the Bronze, Silver and Gold Standards of the President's Award, the South African equivalent of the Duke of Edinburgh Award, which is an admirable accomplishment reflecting her commitment and dedication.