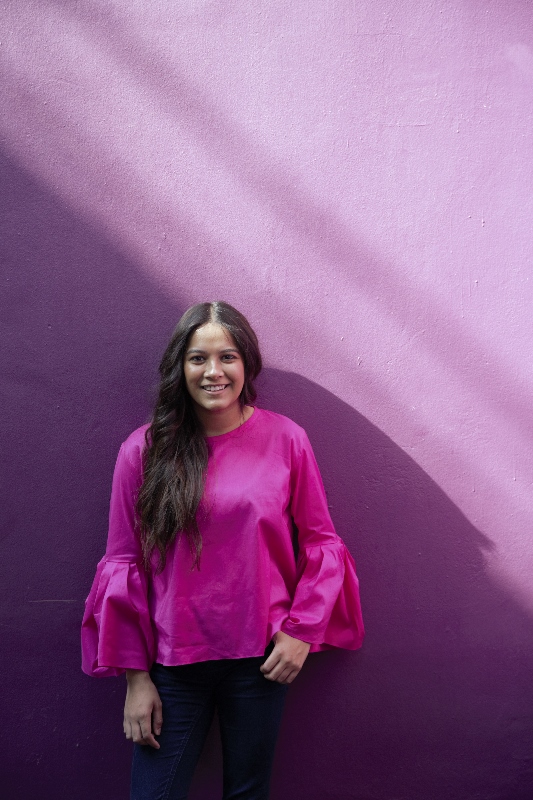 Aaliyah Vayez matriculated from Rustenburg in 2015 with an exceptional academic record and a history of involvement in a variety of spheres.
She attended UCT and completed her Bachelor of Social Sciences degree with Distinction and is currently completing her Honours degree in International Relations.
The year after she left school Aaliyah completed an 8-week Global Citizenship Programme at UCT around social justice and, in 2018, she was a core debator at the Amnesty International Youth Summit, a panelist at the #MyBodyMyRights Summit and she attended a Young African Leadership Initiative sponsored by Usaid, Mastercard Foundation and Unisa. Earlier this year Aaliyah was granted a full scholarship to attend a four week intensive course on BRICS Diplomacy and Global Governance at the Fudan University in Shanghai, China.
Aaliyah has shown the attributes necessary to make a meaningful impact in the betterment of the lives of others and we are proud to boast her as one of our Rustenburg alumnae.
Below her speech delivered on Friday, 11 October 2019:
Good morning Mr. Gates, teachers, staff, family, friends and, of course, to the matric class of 2019
My name is Aaliyah Vayez, I am 22-year-old women of color. I am the last product of love between an Indian entrepreneur and Cape Malay superwomen, both of whom put their faith in the institution that is Rustenburg from my first day of grade one to my final valedictory four years ago in this very hall. I am a budding activist and humanitarian. With a passion for empowering others, high functioning anxiety and being a general chatterbox – I am constantly moving into new spaces, meeting new people and opening myself up to the unfamiliar in order to authentically pursue my own ambitions. The titles, achievements and even self-identification previously mentioned do not however mean that I have entered the adult world, as so many of you are about to do, as someone who has it all figured out.
I am here because I am one of you, I am a young woman trying to make something bigger and better of myself in the world we share. I am often unsure of who I am in certain spaces, unsure of what I'm saying, if my actions are correct and if how I present myself is in fact presentable. All of these uncertainties exist as I navigate my way through a world that continues to reel backwards asking women to put their bodies on the line for the right to life and causes far bigger than themselves. It is in this same overwhelming world that I, as so many of you do, witness the unspoken poetry of how women walk through the world, not only as students, friends and daughters, but as revolutions and revolutionaries with poise, presence and power. These women show and teach young girls like us how to embrace a fuller existence, that celebrates not what we are told to be but who we choose to become. And so, from one to another, here are my lessons on the three Fs – feelings, failure and finding happiness.

FEELINGS
I start with feelings because I believe that feelings are real forces. They pre-empt every decision and action we make so it is immensely important that we talk about our feelings instead of ignoring them, silencing the feelings of others or even discouraging ourselves from having feelings. Like an internal Google Maps, feelings are going to guide the way you navigate the challenges, successes and setbacks to come so it is important to let them. As our generation has made the world take a serious look at the state of mental health all over the world, more people are beginning to identify with things like depression and anxiety, seeing features of these in their own behaviour and the behaviour of others. Because of this, I encourage you to talk about your feelings, no matter what they are, trust your feelings enough to let them intervene when your thoughts become too much.
But what does trusting your feelings really mean? In my case, the night before my final matric exam saw me break down in front of my parents, unable to explain my tears or anxiety regardless of how well I'd prepared. Trusting my feelings meant talking through why I was feeling anxious, understanding that my feelings couldn't be explained by my studying. I had to accept that feeling nervous was part of the process and it was okay to call out to my support systems for help.
This is just one experience that has taught me to stop when I'm not feeling okay, to listen to what I'm feeling and welcome the feeling with both arms in order to understand it. But understanding your feelings isn't only for when you're feeling down. Look around, grasp the sense of collective love and investment you have in one another and in the futures you are about to create. I can just about touch the funny mixture of nervousness and excitedness that is radiating off all of you – open your heart to these feelings because they are yours before they are anyone or anything else's. By doing this, you are acknowledging a very true part of yourself that will be able to blossom in everything you do.
FAILURE
Failure is no easy topic to discuss, emotion to experience or situation to overcome. The word itself invites a spiral of negative connotations which often exaggerate the situation at hand – be mindful of this. Often we think we've failed because we aren't going fast enough, aren't achieving enough, or even living enough. This feeling of 'enough' comes with a sense of competition, like we are competing against others, as if our success must come at the expense of something or someone else. My advice is forget the fast lane, and redefine what your 'enough' really is because therein lies all the limits you've placed on yourself which often define what 'failure' is. This definition can include being open to life redirecting your path and trusting that where you are going is where you are supposed to be.
Contrary to endless timelines of perfect lives on Facebook, Instagram & Twitter, nobody's journey to success is easy. We all stumble, make mistakes, face obstacles or experience 'failure'. It is important to understand that these moments actually make us more in tuned to where we are supposed to be. They remind us of our capabilities, our aspirations and redirect our paths to what we are meant for. Having high functioning anxiety often leads me to be over prepared for just about any and every situation, so when I hit face an obstacle it takes a very conscious effort and reminder from my mother here today, that I need to ask not why this is happening but what it is here to teach me so that I can choose to be in the right place to receive the lesson I need. If you ask these questions, you take control over the impact this lesson will have on me.
So ask every failure, difficult time or crisis – what are you here to teach me? The lesson and its purpose will come, you've got to believe that it will come and when it does you've got to be ready for to it and appreciate where you are now.
HAPPINESS
I chose finding happiness as a topic to discuss today with the intention of emphasizing how important it is for every one of you to pursue your own happiness going forward. There is a misconception that happiness is simply the absence of sadness, or that happiness only comes in one consistent or immediately recognizable form – this is, as I've said a misconception. Happiness is achieved much more than the amount of times we weigh up
what we're feeling now to when we were supposedly happy. Gwendolyn Brooks wrote that "we should live not for battles won, or for the end of the song, but live in the along". I believe she meant that we should live and derive our happiness from the power of the present going forward.
I'd like to think she hinted at life means living for more than simply yourself, your happiness or desires but being part of something big enough to give your everything to. Life will, if its hasn't already, show itself to be a reciprocal exchange between what you put in and what you get out. In this case, to move forward in happiness you have to give back – to the world, to your community, to your friends or family. Sitting in this hall today means that you have been enriched in countless ways , there is no better way to make your mark on the world and forge your own happiness and the happiness of others than to share your riches in abundance.
When you do this good, I hope you strive for more than simply the warm and fuzzy feeling that service provides but because doing good actually makes you better, happier. In doing so, I believe you will become a member of the sorority of compassion and the fraternity of service, where happiness and fulfilment come naturally.

CLOSING
In closing, I hope that some of the lessons I've shared today give you something meaningful to think about around where you are, who you want to be and how you're going to get there.
I have so often learnt that the role of the girl child is, to disrupt, to remold and to create. To disrupt systems which suppress our feelings, to remold this country into a place where we are all given equal opportunity regardless of our so-called failures and to create a space in which our humanity is recognized, and our happiness may be pursued.
May you enter into this new phase of your life, adorned with the accolades received today, doing just this. Thank you.
Aaliyah Vayez E15