Notice
: Undefined index: ids in
/home/rghsorg/public_html/wp-content/plugins/essential-grid/public/essential-grid.class.php
on line
6001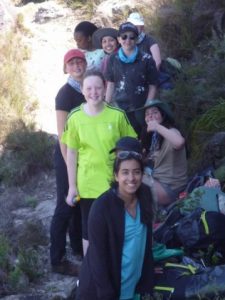 During the holidays, a group of 18 Grade 10 learners attended the Outward Bound camp at Elgin. They were divided into two groups, and completed a number of activities on a semi-rotational basis. The activities included a 17.3 km hike, camping, raft building, community work, solitaire, rock climbing and abseiling.  
While there was a definite physical dimension linked to many of the activities, skills such as team-work, co-operation, self-reflection and self-belief were engendered. These are lifelong skills that can be incorporated into many facets of "ordinary" life, for instance, problem-solving, conflict-resolution, and holistic leadership.  
What follows are a few snapshots representing the kind of activities the participants completed: 
The long hike on Day 2 through mountainous terrain was a demanding and challenging way to begin the course. Our participants, nevertheless, completed the hike with smiles and did not give up. 

After each day, tents needed to be set up at selected camp sites. Camping and cooking meals over a gas stoves certainly took students out of their comfort zone!

Raft building using basic resources fostered the need for co-operation and team work. 

Debriefing the various activities and moments shared were expertly handled by the group instructors.

 Rock climbing and abseiling activities certainly taught the participants to overcome fears and obstacles. Impressively, all completed the steep vertical cliff face abseil.