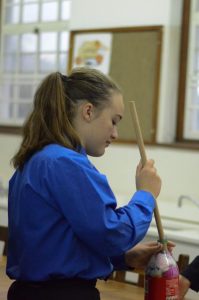 Mandela Day, July 18th, is an annual international day honouring Nelson Mandela. By donating 67 minutes of our time – one for every year of Mandela's public service – people can do good in the world and impact humanity positively.
On Friday the 22nd of June, as part of the school's contribution to Mandela Day, many different activities took place all over the school – different societies, service groups and classes all participated in some sort of service for 67 minutes. The Earth Children Society continued making Eco-bricks, some girls assisted the ground staff with their work, other girls packaged gifts of toys, and the Busty Bugs made reusable sanitary pads from the donated fabric collected in the drive that took place this term, to name just a few.
Groups of girls from across the grades worked together on tables positioned on our central quad to make sandwiches and package them as part of the sandwich drive driven by our Interact Society, who sorted out the loaves of bread, spreads and other products donated by the girls. This year, 378 loaves of sandwiches were made,157 more than last year's 221 loaves. The loaves were distributed amongst the people of Haven Night Shelters.
To commemorate Mandela Day, Grade 11 student, Aleya Dugmore, presented a speech which was both moving and empowering. She captured the essence of Mandela Day and paid tribute to not only the life of Tata Madiba but also our country's struggle during Apartheid and some of the social consequences that many South Africans still struggle with today. The Jabulani Choir sang a beautiful rendition of Asimbonanga, an Anti-Apartheid song released in 1987, which was extremely touching to the girls and staff in final assembly.
Every year, Mandela Day is a great success, this year was no exception. Many thanks to all the teachers and staff who put in the time to help out.
Article written by Victoria King, Becca Bysshe, and Nicole Oosthuisen.
Help Hannah Help Others:
By Zaina Abrahams
The learners of the Grade 11 class, D1, were eager to assist their fellow classmate, Hannah Schaefer, during the 67 minutes of service for Mandela Day. Hannah is trying to support the organisation, 'Think Twice', which is fighting against child abuse. Hannah is extremely passionate about tackling this issue that is, unfortunately, common not only in South Africa but across the entire world. She is achieving this by raising money through creating bracelets and selling them for R25. Her organisation is called, 'Help Hannah Help Others (H3O)'. When her classmates heard of Hannah's efforts to fight against child abuse, the girls decided that they would also help Hannah in creating the bracelets. It was not only a fun experience to make these gorgeous pieces of jewellery, which support a worthy cause, but it was also a rewarding time of giving back to benefit others. Hannah was able to make over 100 bracelets and raise R2500 for 'Think Twice', with the help from her peers. This excludes the money she has raised in the past. I hope that many more people support Hannah Schaefer's amazing initiative. Hannah and the many Rustenburg girls that took part in 67 minutes are doing fantastic work to improve the world and create a positive difference.