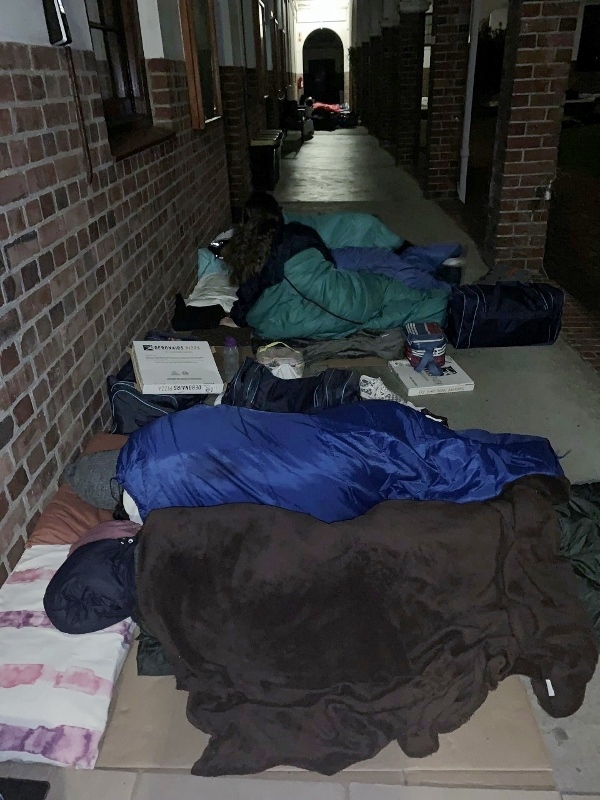 On Thursday 19 September, the Rustenburg Interact Society hosted a sleepout at school. The evening was to promote awareness for the homeless and houseless. The girls slept outside in the hallway of the main quad on pieces of cardboard with only their sleeping bags.
Speakers from Haven Night Shelter in Claremont gave eye-opening talks on their experiences and what the shelter does. A social worker at the shelter spoke about the difference between houseless and homeless and how they help people who come through their shelter.
Sedrick Irasmus, who was helped at the Haven Night shelter, shared his life story and how he struggled with homelessness. He spoke about how being in the shelter helped change his life for the better and how he now gives back to the community to help others. He hopes that people will now look at homeless people with more respect and understanding. The rest of the evening was spent making care packages for the shelter. The girls wrote lovely messages in cards and packed in some toiletries.  
Going into the evening, many girls were looking forward to the experience. Jaime McGown (Grade 10) said she was "excited to hear from the Haven Shelter, because it is always very touching and it opens your eyes and makes you think when you see people on the street."
Alyssa Gussenhoven (Grade 8) said that she "hopes that everything we have done is going to put a smile on someone's face and bring about awareness." 
Erin le Roux (Grade 10) found the experience informative and inspiring as they stayed at school, in the cold while it was raining, and said  "having the speakers was a cool way to actually understand the things people go through and their lives on the streets."  
The girls really enjoyed sleeping out, learning more and giving back to the community. They walked away with a deeper understanding of their community and they will remember the experience for a long time.  
by Roxanne Comyn