Notice
: Undefined index: ids in
/home/rghsorg/public_html/wp-content/plugins/essential-grid/public/essential-grid.class.php
on line
6001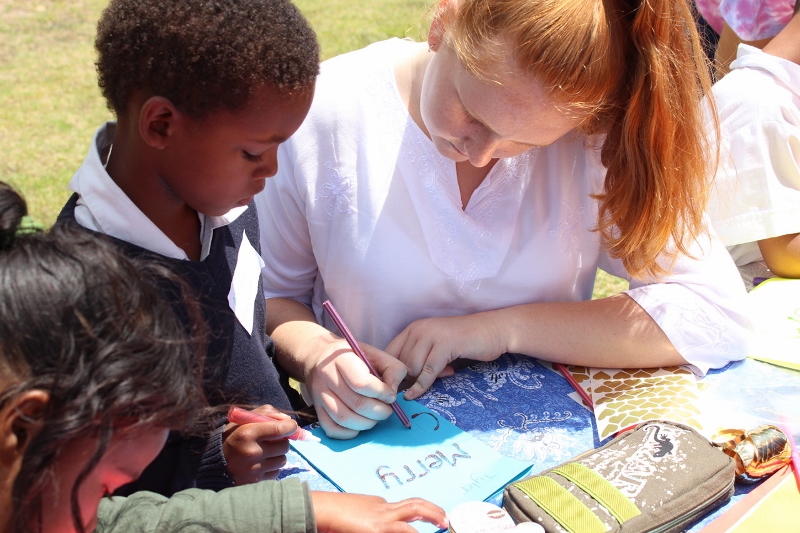 The annual Christmas Party for the children of Klipfontein Primary School, held on the Rustenburg meadows this year, is hosted by Interact and joined by SACS, Bishops, and Rondebosch Boys. The day is also aided by various school societies that arrange activities and games for the event.

Rustenburg volunteers helped the children make their way around all the tables and get involved with the games and activities. This year the games included musical chairs hosted by the Pride Campaign, a fun race with the Earth Children, cookie-making by Helen Keller, ten-pin bowling by the Retro Society, a sack race with Jabulani, pass-the-parcel and shaker-making by the Music Society, and face and nail painting by Ignition and the Afrikaans Vereniging respectively. The boys from SACS, Bishops, and Rondebosch played soccer with some of the children on the fields. The Media Centre booth displayed children's books in Afrikaans, English, isiXhosa, and Swahili. The children were given the chance to sit and read on the cushions and blankets in front of the booth.

Interact has hosted the Christmas Party and Easter Egg Hunt for the Klipfontein Primary School children for the past fews years and have developed great bonds with the children, some of whom they have seen every year, and watched as they grew older. The children always respond to the day with great joy and don't want to leave when it is time to go.

We asked a member of the Interact committee, Katie Watt (Grade 11), how she felt at the end of the day. Her response was:
"Anyone at the Christmas Party would see that they are such sweet kids and that they really love the day. Everything went smoothly. We got to do something good for children who perhaps don't get days like these ever. Klipfontein Primary is an underprivileged school, and most of the children are in need. Just seeing their faces and that they don't even want to leave, them hugging the volunteers that take them around, and knowing that we gave them a wonderful day and shared the Christmas spirit, makes it all worthwhile."
The 2018 Interact Christmas Party was once again a great success and we are sure the children are looking forward to next year. Many thanks to all the students, teachers, and other staff involved that made the event possible.
Article by Nicole Oosthuisen
Photos: Rebecca Mortley