Notice
: Undefined index: ids in
/home/rghsorg/public_html/wp-content/plugins/essential-grid/public/essential-grid.class.php
on line
5961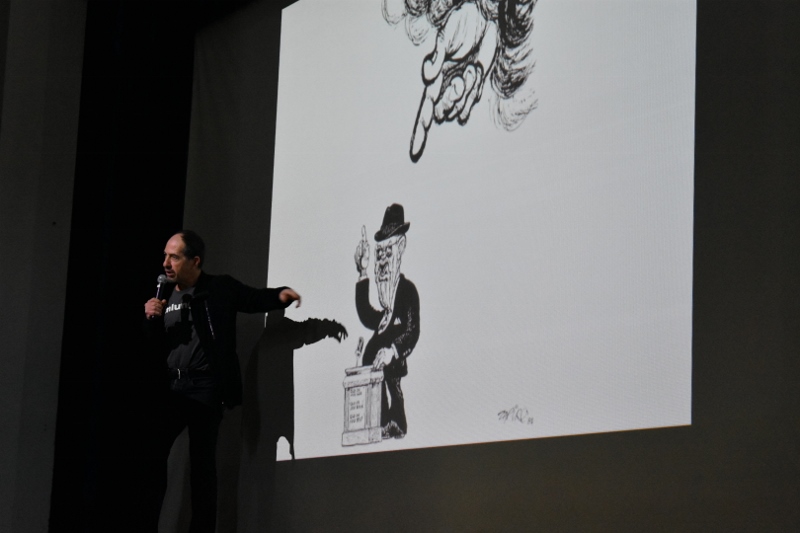 This year's annual Grades 10 and 11 History Heritage Day Assembly kicked off with an original song, "Rainbow Nation", written by Emma Bergh (Grade 11, 2013). It was a special collaboration of past and present History students when acoustic guitarists Ashley Gardiner and Laura Hartmann (Grade 11, 2013) accompanied the band (Cassandra Scheepers on piano, violinist Erica Whittal, Tanya van der Merwe on bass and vocalists: Alexa Muller, Victoria King, Zimthandile Witbooi, Kaden Rieper and Lungelo Mashaba).
Jonathan Shapiro, aka Zapiro, our guest speaker, used some of his famous cartoons as a springboard for his talk on the struggle history of South Africa. His humorous delivery and clear explanations of a wide range of his works kept the audience  spell-bound as he revealed his craft as both a cartoonist and a speaker.
Further highlights were the performances by Ms T. Scharneck's Grade 10s of their creative responses to Cape Slavery. Both Lauren Heiberg's haunting song "Why?" and Ansila Sloman's poem, "Tell me, why?" captured the impact of slavery on children.
Ending on a high note, the chorus of "Rainbow Nation": 
"we're a nation that belongs to all of its people
Filled up with love, acceptance and freedom.
She takes you in without any question
Our Rainbow nation."
echoed down the corridors long after the assembly was over.
Mr C. van Dyk