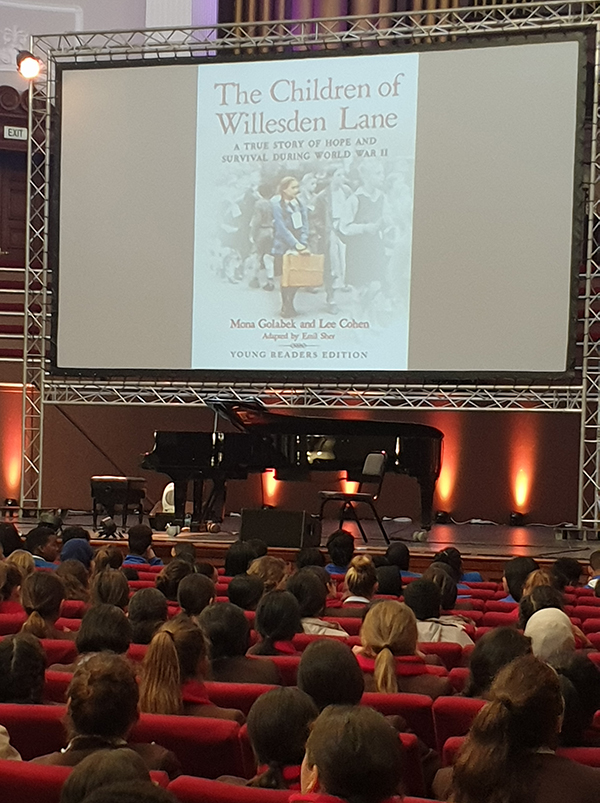 On 14 August the Grade 9s set off to the City Hall to see an unforgettable performance by pianist and author, Mona Golabeck. In the performance, she shares her mother's story of the Holocaust, and it inspired us all to strive for our goals. In the heart-wrenching performance, she told the story through music and acting out different parts of her mother's life. We could see the pure and raw emotion behind this.
The Grade 9s read Mona Golabeck's book, "The Children of Willesden Lane", donated by the Holocaust and Genocide Centre. The book tells the story of her mother, Lisa Jura's, life as a Jew during the Holocaust; the struggles she faced; the people she me; and how music was what kept her going. Lisa Jura, musical prodigy, escaped Nazi-ruled Vienna on the Kindertransport to London, but struggled to keep going and make something of herself. She became determined and inspired others through her love, passion and skill for music. This is definitely a must-read!
A tremendous amount of effort and time was put into Mona Gloabeck's performance and book. She and her mother are incredible women who had the courage to share this story. We are forever grateful for this experience to have heard Mona Golabeck speak, read her book and listen to her music. We praise her for her efforts in making people aware of what her mother and so many others went through. It has encouraged us to keep music close to our hearts as, in the most difficult of times, it will be what keeps us going.
By Saarah Gaffoor