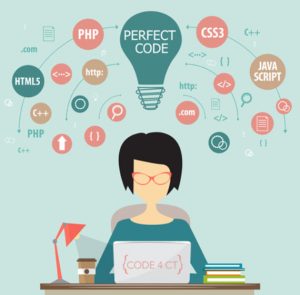 Code4CT (Code for Cape Town) is perpetually trying to grow the female representation in the coding world by holding courses during the holidays and on weekends. The ability to code has become an integral skill to obtain.
Four Rustenburg Girls' High School students gained full scholarships to attend a two-week coding course in the holidays (25 June – 29 June and 3 July – 6 July), which was run by Code4CT. This took place in the American Corner of the Cape Town Central Library.  Zaina Abrahams and Alexandra Austin could attend the full course where they learnt how to create and animate web pages using HTML, CSS and jQuery. The girls were rewarded at the end of the course with an interactive speech by the team of the international, technology-powered education programme, Siyavula.
The learners were exposed to the fantastic opportunities that coding can provide. With such a small portion of coders being female, there is a lot of movement to grow the number of female coders. No matter what your passion, interests or beliefs are, coding will be useful to succeed and create a profession out of what you want to pursue.
Zaina and Ally have made great memories and learned numerous skills during these holidays. They will now be attending another course called 'Beginner Javascript' to further their abilities in coding.