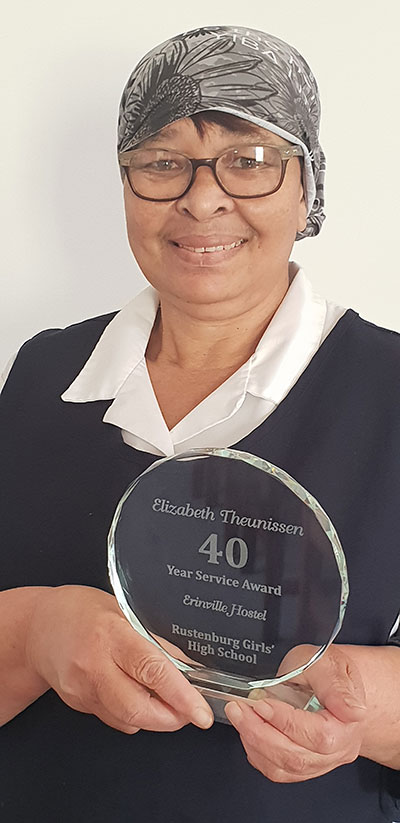 Congratulations to Ms Elizabeth Theunissen who has been presented with a 40 year Service Award for outstanding long service and dedication to Rustenburg and Erinville Hostel.
Elizabeth Theunissen started working in Erinville's kitchen and cleaning the dorms and the Superintendent's flat when she was twenty years old under Miss Thomson. When she started working here forty years ago, it was compulsory to live in, as the kitchen ladies had to be on duty until 21:30 to serve tea. This changed over time and she bought her own house over twenty years ago where she still lives with her family. Her first born daughter matriculated from Rustenburg Girls' High School and Elizabeth is very proud of this.
On asking Elizabeth what kept her here in the same job for so long, she said "I love the girls, because they are like my own children. And the love I get back makes me happy and comfortable." She has seen many changes for the better over the years for both the staff and the girls.
Elizabeth has five years until retirement and she sees no reason not to be here until then. We applaud and thank her for her loyal and dedicated service. This is a great achievement not earned by many.